Page 4 of 4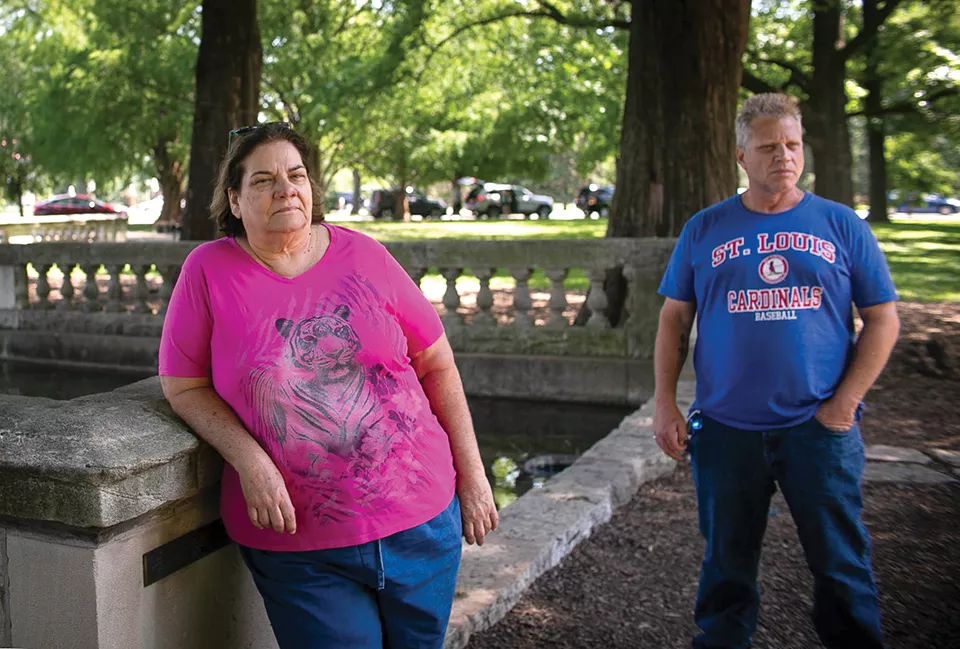 JEN WEST
Robyn's mother Saundra Mihan and brother Tom Mihan have waited decades for an arrest in her vicious murder.
THE MISSING MISSING
Kenna Quinet is a professor of criminal justice, law and public safety at the University of Indiana-Indianapolis and one of the few academics who study serial killers. She has appeared as an expert in A&E's The Killing Season and, among many other works, published "The Missing Missing" in the academic journal Homicide Studies.
Despite a career studying serial killers, and sex workers as victims of serial killers in particular, the package killer's murders were entirely unknown to her. She finds them intriguing.
"You have the three known victims," Quinet says. "But then you probably have some number of missing women from the same area whose bodies were never found and who might also be victims. Then you have the 'missing missing,' women who were never reported missing, even though they went missing and their bodies were never found. They're not on anybody's radar. That number of three could grow pretty quickly."
Depending on who you ask, there are anywhere from 100 to as many as 2,000 active serial killers in the country right now. And although serial murder in the U.S. has declined overall, it has declined much less for prostitutes. If you are a victim of a serial killer, Quinet says, it is highly likely you're also a sex worker.
And that, in many cases, allows these killers to stay off law enforcement's radar. Says Quinet of these victims, "It turns out, nobody gives a shit."
Quinet notes that serial killers who stay in the public's consciousness, like Ted Bundy or Charles Manson, tend to kill white, affluent women or college students or men. Earlier this year, the Oxygen network released an entire docuseries about the Smiley Face Killer, in which a pair of former New York City detectives investigate the deaths of college-aged men who drowned over the course of two decades, across several states, allegedly all at the hands of the same individual.
Nevermind, Quinet says, that a lot of these guys were drunk when they drowned and the only connection between the cases was a smiley face spray painted somewhere in the general vicinity.
Quinet finds it "ridiculous" that at a time when the public is interested in true crime stories, media companies are manufacturing farces like the Smiley Face Killer and "redoing the Bundy case for the millionth time."
"Good luck getting the public to pay attention to a serial murder case happening now involving prostitute victims, much less to an unsolved case from the 1990s," she says. "Good luck with that."
Yet despite the lack of public awareness in the package killer case, tantalizing clues have left some people convinced they know who did it.
SUSPECT #1
It's a myth that serial killers don't stop," Quinet says. "There's some interesting work that's been published on serial murder as leisure activity. If you look at serial killers, it really is their hobby. People get really immersed in their hobbies for a time and then just wander off."
Discussing the case, Burgoon mentions numerous persons of interest but only names one suspect by name, a man who was in his thirties at the time and lived on Miami Street. Saundra Mihan, not knowing what Burgoon shared, also names this man and says that she knows he killed her daughter. Chris Day quickly volunteers the same name as Sandy Little's killer as well.
This man had come to the police's attention a few months before the series of killings began. According to Burgoon, one night a naked woman ran up Cherokee Street screaming that the man was trying to kill her. Other women who worked the South Side Stroll told detectives this man had tortured them. He had previously been booked on suspicion of attempted rape. At the time of the killings he owned a station wagon, the sort of vehicle that would have been necessary to transport a body.
Burgoon says that after the first murder, of Robyn Mihan, he and other detectives questioned this suspect for several hours, holding him overnight. After the discovery of Jane Doe in Maryland Heights, the suspect was at home waiting for the police. He'd seen on the news about the body and figured the police would be paying him a visit.
During the discovery of Sandy Little's body, in February 1991, the suspect was in California, a fact confirmed by San Diego police. However, it's not clear if this suspect was in California in September when Sandy disappeared. Her body "was basically bones," Burgoon says, meaning she had likely been killed not long after being abducted. An accomplice could have dumped the body.
The specifics of Robyn's case also bring to mind an accomplice. Think about the last time you carried a mattress. You likely had help. Now imagine carrying two mattresses with a body in between.
There is also the matter of where he kept these women and their corpses for a combined 308 days. How does someone do that without anybody, a roommate, a neighbor, noticing?
Today, the man lives in St. Louis. A sign on his front door states in no uncertain terms that he doesn't want visitors. He did not respond to a note with a brief summary about the story, asking him to call.
Quinet says that even though it's a myth serial killers never stop, sometimes they don't stop on their own accord. Maybe they're killed. Maybe they're put in jail for something else.
SUSPECT #2
On July 15, 1993, a nude woman escaped from the basement garage of a duplex in High Ridge, Missouri.
The woman told police she had been working a stroll in East St. Louis when Frederick Brown forced her into his car at gunpoint. Later, Brown raped her, tied her up and gagged her before locking her into a plastic luggage container, the kind that sit atop cars. It was a space of three square feet and in his basement.
When Brown left for work, the woman managed to escape, sliding between the space where the two pieces of plastic came together. Jefferson County police arrested Brown when he came home later that day. He is now serving life in prison for kidnapping, armed criminal action and rape.
One police source who would only speak on background says that, to his mind, this is the man who most likely killed Robyn Mihan, Brenda Jean Pruitt, Sandy Little and perhaps others.
Brown was described in media reports at the time as a cabinet maker, a craftsman, which would explain the precise wiring of the mattresses in Mihan's case.
He had also worked off and on as a long-haul truck driver. He'd claimed to be in the Northeast during the time of the previous murders, but police could put him at a truck stop along I-70 the same night Little's body was dropped along that highway.
Brown operated his woodworking business out of a building in Rock Hill, next door to one of only two Biener Hardware locations in St. Louis. It was a Biener Hardware sticker that was affixed to the plastic trash can Brenda Pruitt's body was found in.
A man named Gene Kirkpatrick later occupied the same Rock Hill work space as Brown. Kirkpatrick says that he knows next to nothing about Brown, though he does remember Brown owned a black Labrador. The bodies of the three women all had traces of animal hair on them.
The woman who escaped Brown's home was working a different area than the other victims, but as Quinet says, "The idea that serial killers don't change their M.O., another myth. They change their M.O. all the time. They want to kill as many people as they can for as long as they can. They don't want to get caught."
However, there is this: The homemade box Sandy Little was found in had been jury-rigged together, imprecise cuts marked with a pen rather than with a woodworker's pencil. It's hardly the sort of object that would be made by someone who worked with wood professionally.
The evidence is entirely circumstantial, but that may not always be the case. Sergeant Jodi Weber of the O'Fallon Police Department recently re-examined the Sandy Little case. She says that right now, physical evidence recovered with Sandy's body is at the St. Charles County crime lab being tested for DNA.
Earlier this year, police testing physical evidence for DNA led to charges being brought in the murder of Angie Housman, who was killed in 1993. At the time, the case led to countless hours of police investigation, but no closure. This June, police announced that clothing found at the scene had yielded DNA belonging to a convicted child molester already in prison for another crime.
Brown and I emailed back and forth in the lead up to the publication of this story. He's currently in a medium security facility in Licking, Missouri, and says he has been denied parole three times due to the "circumstances and seriousness surrounding the crime." We talked in a general way about his 1993 case before I brought up Mihan, Pruitt and Little. I asked him directly if he had anything to do with their murders.
"To answer your question as simply and concisely as possible, no," he says. "I had absolutely nothing to do with any of those murders. Though I sincerely feel for the families and friends of those individuals. I know what it's like to seek closure for the loss of a loved one, I lost a son at the young age of 15, and not only couldn't I be there for him, there was nothing that could be done, if this matters to anyone."
He adds, "I owned the cabinet shop next-door to Biener hardware, that whole block (property and buildings) was owned by one family, and two of the family members had businesses in the back of my shop along with access to my shop and equipment. So, did the police do their due diligence and investigate them?...Or, and here's a thought outside the box, maybe there's no connection what-so-ever between the three cases and they just might want to consider the more difficult task which is, treating them all on an individual basis, looking for motives other than similarities? Knowing how the justice system works, including law enforcement, they're more interested in closing a case than actually having the person responsible."
NO CLOSURE
Robyn Mihan, Sandy Little and Brenda Jean Pruitt represent three of St. Louis' 4,567 homicides since 1990. Of course, when you add to that number the ones left behind, the number of victims becomes impossible to tally.
It's hard to say how many of those homicides went unsolved. Establishing a clearance rate for the past 30 years is tricky, but the Washington Post found that during one of those decades, from 2007 to 2017, fewer than half of the homicide investigations in St. Louis led to an arrest.
In this case, the lack of closure doesn't seem to be for a lack of police trying. Detectives crawled into the HVAC in the building where Brown worked, looking for dog hairs to compare to those found on Mihan and other victims. They traveled south to St. Petersburg, Florida, and north to Michigan when similar killings happened in those states. Last year, when the media reported that a man in prison in California confessed to killing scores of people throughout the 1970s, '80s and '90s, one retired detective says the first thing he did was call the cold-case division and make sure they were following up.
Requests for police reports and investigative files in these cases were mostly denied by local police departments, who cited the fact that those documents are part of an investigation that is still ongoing. With the exception of Joe Burgoon, it was difficult to get law enforcement to speak candidly on the record.
The families of victims, however, were eager to tell the stories of the loved ones they'd lost.
"They meant something to someone," says Geneva Talbott, Sandy Little's sister. "Regardless of the demons on their backs."
Several of the family members say that in the wake of losing a loved one they became voracious readers of true crime books, ones about serial killers in particular. You can't help but wonder if they're looking in other stories for the closure that's been denied to them in their own.
On the morning of March 26, 1990, the police finished with their questions, delivered their grim news and left Saundra Mihan's house. At that moment Saundra knew exactly what she had to do. Just weeks earlier she'd encouraged her daughter Robyn to give up her second child for adoption. Now that Saundra had lost her own daughter, she had to have her grandbaby back.
"I basically lived over at the Department of Social Services," Saundra says. "Everybody over there knew me very well because I was trying to find this girl."
Despite Saundra's efforts, the state refused to provide information about the family that had adopted her. Saundra knew the child's birthday but not the name she'd been given.
She thought of her constantly, every Christmas, every birthday, every family gathering. Years turned into decades, and Saundra raised her older granddaughter, also named Saundra, and told her bits and pieces about Robyn. There were things the younger Saundra discovered on her own, but she never knew she had a sister. The elder Saundra figured she'd already put enough on the young woman she was raising.
In 2014, young Saundra was in her mid-twenties, working her way toward a nursing degree, when she got a Facebook message. She called her grandma.
"This girl says that if my mother's name is Robyn, then she's my sister," she said.
Robyn Mihan's two daughters, born just one year apart, are now reunited. And if you sit down with Saundra Mihan — grandmother, great-grandmother and the mother of a woman murdered far too young — she'll show you pictures. For now, it is her only happy ending.
Ryan Krull is a freelance journalist and assistant teaching professor in the department of communication and media at the University of Missouri-St. Louis.