Page 2 of 4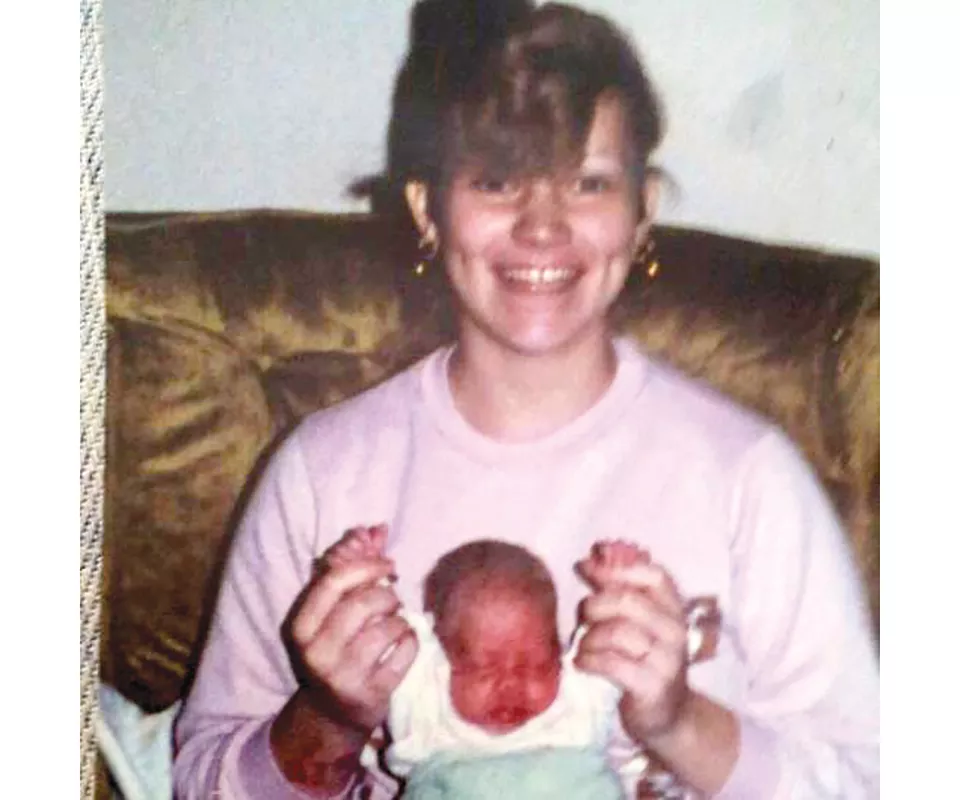 COURTESY SAUNDRA MIHAN
Robyn Mihan was a mother at sixteen and murdered at eighteen.
Saundra Mihan says that not long after her daughter's death, the police told her they'd searched a suspect's apartment and found candle wax, which had also been found on Robyn's body. The Post-Dispatch would later report that St. Louis police were ready to make an arrest, but because Robyn had been found in Silex, it was up to Lincoln County's prosecuting attorney's office to bring the charges. It was reluctant to do so. The assistant prosecuting attorney gave a quote to the Post-Dispatch that seemed to imply that the city police were hoping to arrest the suspect simply to gather more conclusive evidence on him.
Saundra was quoted in the same article: "If you got enough evidence on him, what does it matter what county it's in?"
Today, Saundra says she's still appreciative of some of the officers, like Burgoon, who treated her humanely. But in the months after the killing, she often felt left in the dark. A lot of the cops, she says, acted as if the murder of her own daughter was none of her business.
In an effort to identify the Maryland Heights Jane Doe, police released to the media a clay cast of what experts believed her face had looked like. This yielded nothing. Her body had been so badly decomposed, only a print from her ring finger could be of any use, and a computer database search found no matches. Police followed up with Biener hardware, since the body had been found in a 35-gallon trash can marked with its name. Biener had two locations at the time, one in Webster Groves and the other in north St. Louis County. The store said that thieves often stole their cans in the middle of the night.
Saundra grew increasingly frustrated with the lack of progress. In the days after the discovery of that second body, Saundra asked local news stations to come to her work and interview her there. Wanting to light a fire underneath investigators, she appeared on the front page of the Post-Dispatch holding a photo of Robyn. She wanted the city to know her daughter's life mattered.
"I'm sorry other girls had to be killed like this," Saundra said.
No one knew at the time that the third victim had already been missing for more than a month.
"He had two people," Burgoon says. "Whoever it was had a couple of bodies at the same time."
JEN WEST
Sandy Little often crashed in the spare bedroom of her stepsister, Barb Studt, while navigating a chaotic home life in south St. Louis.
SANDY LITTLE
Sandy Little had a lot of suitors in her late teens and early twenties. When the phone rang, she'd answer "Hi!" then pause for a beat. Depending on whose voice was on the other end, she'd very likely continue, "You have reached Sandy Little. I can't come to the phone right now but if you leave a message ...." The men never got wise.
When Sandy crashed with her stepsister, Barb Studt, friends and hangers-on materialized in the living room, drinking, having a good time. Studt usually had to work the next morning and would go to bed with the motley, ever-shifting crew around Sandy still going hard. But under Sandy's watchful eye, in the morning nothing had ever been stolen, everything was intact. During that period of her life Sandy could shut the party down as effortlessly as she got it going.
Sandy almost certainly did not inherit this social nature from her mother. Multiple people who knew Sandy's mother, Carolyn Little, say that she was intellectually disabled in some way, had the intelligence of a thirteen-year-old. She was profoundly self-centered, ill-suited to raising her three children. Carolyn had trouble pronouncing Sandy's name. It came out like Candy, and throughout childhood that nickname had stuck.
A stabilizing influence entered the Little children's lives when Robert Talbott married Carolyn. Studt, Talbott's daughter from his first marriage, was mystified by her father's attraction.
"I wondered what my dad saw in this woman," Studt says. Later she decided her dad married Carolyn because of the kids. "He felt like she couldn't take care of them, and he was absolutely right. As soon as he was gone, she lost custody of them."
After Talbott died in 1980, Sandy, her brother David and half-siblings Geneva, James and Robert Jr. bounced around in the foster care system. At one point they were adopted by a family in Homer, Alaska, but free-spirited Sandy was too much for those parents. They offered to keep the other children but couldn't deal with her. Perhaps Sandy, the oldest of the siblings and approaching her teens, couldn't handle Homer, Alaska (population 2,209).
Back in Missouri, Robert Jr., who was four years younger than Sandy, remembers being picked on by an older kid at a Presbyterian home for children in Farmington, Missouri. In the lunchroom one day Sandy told him to point out the bully. She knocked him out in his chair.
"She was like that," Robert says. "She protected us."
Sandy and her siblings eventually wound up back in south St. Louis, near Cherokee Street, living with their mother and her new partner. Their stepsister Studt lived nearby, and Sandy often crashed in her spare bedroom. On nights when Sandy stayed with Carolyn, Carolyn charged her $20 a night as rent.
"I always used to worry about the drugs," Studt says. "She and I would talk about it. That's why I let her live with me, because she didn't do them with me. But when she went back to her mom's, they were all on drugs there, and they hung with a bunch of drug heads."
Sandy walked the South Side Stroll to fund her habit as well as to meet daily expenses and her mother's demands for rent. She lived for a time with her aunt Diane Little, who kicked her out for using hard drugs.
Diane understood that prostitution was her niece's way of providing for her baby. "If she had stuck to prostitution [but] stayed away from the hard drugs, shooting dope, she could have continued living with us," Diane Little later told the Post-Dispatch.
At twenty, Sandy got pregnant. It was a boy. She moved in with the baby's father and his mother, a place that brought with it some measure of stability.
"That boy was her world," Studt says. "She was so excited to have him. She was so happy."
In 1990, Sandy was raising her child, supporting a drug habit and trying to get clean. She made earnest attempts to get steady work, taking a job at a fast food place, but continued to walk the street. It was dangerous. That May, her good friend Sandra Cain, who also worked the Stroll, was found dead on Highway 44 near the Compton overpass. According to the Post-Dispatch, police at the time didn't know "whether Cain had been chased onto the highway, thrown out of a car or thrown off the Compton overpass." Sandy Little had been the last person to see her alive.
The following month, the body of another woman who walked the Stroll was found in a trash bin in Laclede Park in south city.
That August, Studt saw Sandy walking the Stroll.
"What are you doing?" Studt asked.
Sandy said she needed money to buy formula.
On the Tuesday after the long Labor Day weekend, Sandy's boyfriend's mother reported her missing. Sandy would be officially missing for nearly five months.