Page 4 of 4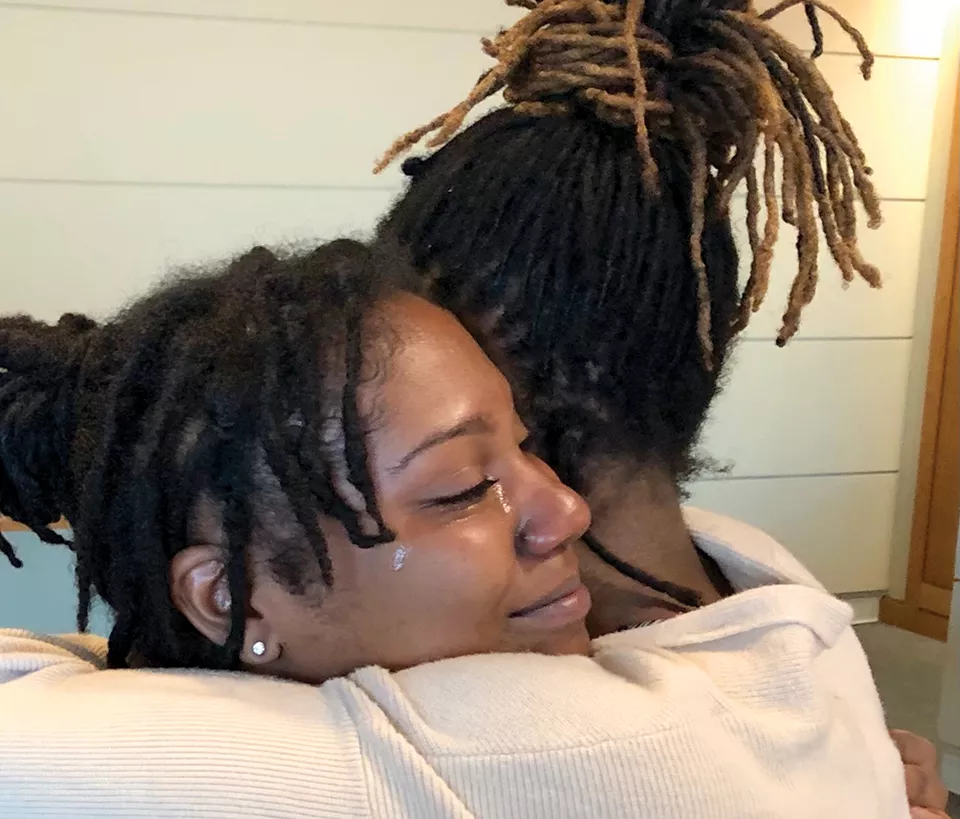 COURTESY THOMAS SANFILIPPO
Deja Holland, left, embraces Najae Jordan after their trial in December 2019.
After the trial, Jordan and Holland were finally free of criminal charges that had tangled round their lives since their arrests in August 2016. But in turning down Bell's offer to defer prosecution, they had rejected a choice many defendants have taken in the past: Known variously as agreements for "deferred prosecution" or "release dismissals," similar policies have historically been used in both St. Louis and St. Louis County.
These sorts of dismissal agreements "really mislead about what defendants' rights are," says Peter Joy, a law professor at Washington University and coauthor of a 2018 research paper that weighed the legal ethics of such agreements' use.
The paper concluded by arguing that prosecutors "should not be allowed to use such release-dismissal agreements" and that those who do are taking "serious ethical risks" around a conflict of interest.
It appears that Bell took that exact risk in 2017. Submitted as an exhibit in a pending civil lawsuit, the deferred prosecution agreement offered to Jordan and Holland was a two-page form letter that appears to have been originally drafted for use in criminal cases involving a victim.
In the cases of Jordan and Holland, Bell had made some adjustments. A copy of the document shows Bell had added several strike-throughs marked with his initials: He erased the agreement's three listed "special conditions," which would have forced the signer to complete an anger management program, perform 25 hours of community service and have "no contact with the victim during the deferral period."
With those conditions deleted, all that was left were the provisions protecting Riverview and its police from civil litigation — although there was also a paragraph stating that the person signing the release agreed "that there was probable cause for my arrest and that my arrest was not based on false information."
In an interview, Joy explains that while the U.S. Supreme Court considers deferred prosecution agreements legal on a case-by-case basis, they cannot be applied as a blanket public policy. He also believes the agreements are likely unenforceable as legal documents: He says he has yet to find a single case where a prosecutor made good on a threat like the one spelled out in the Riverview dismissal release, which reads: "If I do violate any condition ... I understand the charge will be re-filed and I will be prosecuted."
Joy points out that most people reading those words don't have a lawyer. They're scared, cornered and looking for a way out. They're willing to do anything.
On the other side of the equation is a municipal prosecutor, whose role is to handle criminal matters only, not to defend the city's civil liabilities — that's what the village attorney or city counsel is for.
For Joy, a prosecutor crossing that line isn't just trying to do someone else's job, but also damaging their own.
"Here is the clash of these interests for the prosecutor," Joy says. "If this person really committed this crime, then the prosecutor should perform the law enforcement function and go forward. If there's no crime, the prosecutor is obligated to dismiss the case — not dismiss it while extracting this liability on behalf of the city."
It's not just Joy who feels that way. In January, it was none other than St. Louis County Prosecutor Wesley Bell criticizing a City of St. Louis policy very similar to the one he had overseen in Riverview. As revealed in lawsuits, defendants in St. Louis had for years been given the choice of having their resisting-arrest charges dropped if they signed a one-page "release" to protect the city "from any and all liability arising from my arrest."
In remarks to the St. Louis Post-Dispatch in January 2021, Bell said, "I am aware of this policy in the city of St. Louis and always disapproved of it," adding, "It seems inherently wrong and unethical."
Thanks to Wesley Bell's persistent prosecution, Riverview ultimately spent more than three years trying and failing to convict Holland and Jordan on a collection of criminal charges.
But at trial in December 2019, Bell wasn't there to see their vindication.
By then, he had moved up in the world, winning a resounding election for St. Louis County prosecuting attorney in August 2018; Bell beat seven-term incumbent Bob McCulloch, winning the campaign on a promise of creating a progressive prosecutor's office that would, among other things, hold bad cops accountable.
Bell has done that, to some degree, including the filing of felony assault charges against two Velda City cops last summer for shooting and injuring a driver fleeing a traffic stop.
But what Bell left behind in Riverview has come back — in the form of a civil rights lawsuit. Filed in August by SanFilippo, the suit's defendants include officers Groves, Lakebrink and Pedroli, as well as Riverview village attorney Christopher Graville.
As for Bell, the suit accuses him of aiding in a conspiracy to lead a "sham prosecution" against Jordan and Holland, "for the sole purpose of hindering their ability to secure their rights" after being racially profiled and illegally arrested.
"Wesley could have stopped this at any time, and should have stopped it during the deposition of Sgt. Groves, because it was clear in that moment what the true motives of the stop and detention were," SanFilippo says now; he points out that during the months of Bell's campaign as a reformer in the county prosecutor's office, he was simultaneously prosecuting two Black women whose only suspicious activity had been walking near the wrong corner while in sight of the wrong cops. (It's unclear if Groves or Lakebrink have faced any repercussions. A Riverview police representative tells the RFT that Groves is still with the department but Lakebrink is not.)
Bell has pushed back against the lawsuit through his spokesman Chris King, who told the Post-Dispatch in August that the Riverview police officers involved in the arrest had "conducted themselves with restraint and professionalism."
Jordan read King's comments in disbelief. "That was surprising to me," she says. "It's just like they're doing this all over again. Like, please, give us a break. You guys have been telling the story and narrative for so long. Just let us tell our side."
Last month, the RFT reached out to Bell's office with questions about his role in the prosecution of Jordan and Holland. Through King, Bell declined a request for an interview, citing the pending litigation that names him as a defendant.
Instead, King provided a statement defending Riverview's use of a deferred prosecution agreement in the case, writing, "The facts can be disputed, but it was the city's belief that the defendant punched an officer."
Bell, through his spokesman, initially denied hearing Groves' comments about "Neanderthalling" and "Thug University" during the 2017 deposition, or even being in the room. But Bell appears on video footage of Groves' deposition and is listed as present in the official transcripts.
King writes, "Mr. Bell is not aware of those statements being made by Groves and they would have had no bearing on any charging decisions."
"All things considered," King's statement continues, "in this matter the defendants [were] never faced with jail time and, because of the nature of the allegations, offering deferred prosecution, where the defendant admits guilt but is only required to stay out of trouble, does not appear unreasonable and is in line with progressive policies that Mr. Bell has put in place."
Follow Danny Wicentowski on Twitter at
@D_Towski
. E-mail the author at Danny.Wicentowski@RiverfrontTimes.com