Page 2 of 4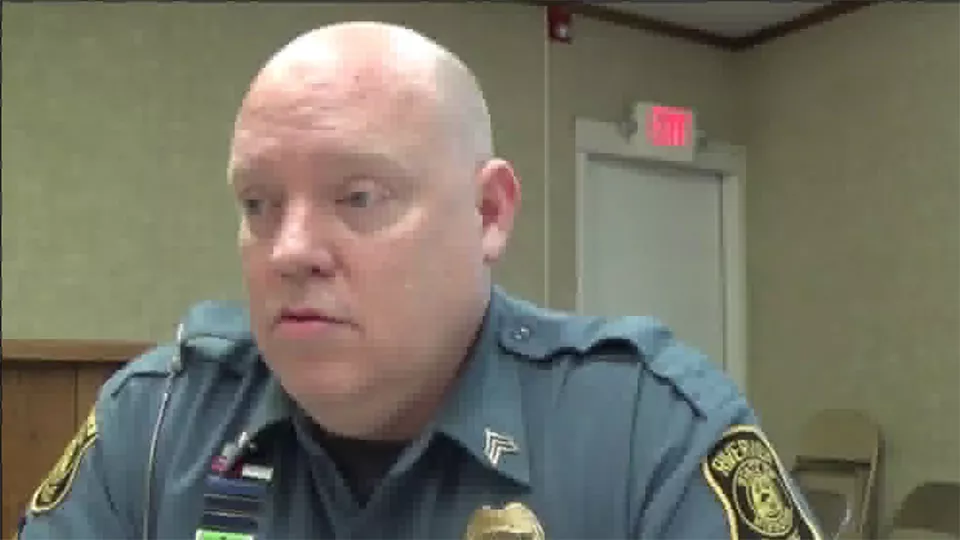 SCREENGRAB
Riverview police Sgt. Jason Groves in his on-camera deposition.
On video, Holland appears to walk towards the two officers who were pinning her girlfriend to the ground. Illuminated only by the light from the apartment door, the footage doesn't show exactly what happens next, but Holland appears to make some sort of physical contact with the officers. Crouched on top of Jordan, Pedroli pushes at Holland, while Groves appears to rip her backward by the shoulders. She slams into the ground and rolls back on her head.
Asked about it today, Holland says she can remember only the shouting, and then blacking out.
Jordan remembers being tackled and held on the sidewalk. One officer was on her back, she says, "just cussing and yelling stuff at me — 'You're assaulting a police officer, stop resisting, stop resisting.'"
The night was far from over. Back at the station, Lakebrink spent the next hours typing out a police report with a description of the incident. The report's narrative ends with Jordan and Holland being processed, booked and released. But it omits one final example of Groves' brand of police work.
With both women in custody, Groves was still thinking about Jordan's phone. Police couldn't find it when she was searched at the station. Unbeknownst to the sergeant, amid the chaos of the arrest scene, the phone had actually been recovered by one of the half-dozen officers who had arrived as backup.
Jordan had backup of her own. Alerted by her call, her father had shown up just in time to see his daughter being hauled away in handcuffs. Still, Jordan says, she was able to talk to him, urging him to retrieve her phone from the officer leading her away. To her shock, the officer agreed; he handed the phone to her father and allowed him to leave without incident.
After a ride to the police station, Jordan was placed in a holding cell, while Holland, still dazed from the impact of her head bouncing off the sidewalk, found herself shackled in an office area while Groves made coffee and small talk with the other cops. She remembers watching Lakebrink hunched over a keyboard as he wrote the incident report.
The finished version would describe Holland as the aggressor during the arrest. It described how she had "attempted to push PO Pedroli off Jordan," and in response, Pedroli "was forced to push her away with his left arm [and she] stumbled back and fell to the ground."
Holland says she sat in the office for about ten minutes before Groves approached her with an update. He told her she was being released, but that wasn't all. Holland remembers him saying, "I'm going to take you home," and then adding, "We need that phone."
Holland claims she had already told Groves that she didn't know where Jordan's phone was, but he was set on trying to find it. Seated in the patrol car with Groves, Holland remembers riding in almost total silence, with Groves speaking only once, as if to himself: "Yeah, I'm going to need that phone."
"When we got to the apartment, and I asked him, 'Is this part of this procedure?' He's just like, 'Get out the car, open the door' — he was real demanding," she says. "When we got up there, he didn't want me in the apartment with him. He said 'You wait here,' and so I stood out in the hallway."
The apartment was small, more like a hallway with a bedroom, kitchen and bathroom tacked on. It didn't take long for Groves to conduct his search and exit, meeting Holland at the apartment door.
Again, he asked for the phone, Holland says. She was terrified.
"I told him again, 'I have not seen the phone,'" she recalls. "And then he just left the door open and walked away. And at that point, I just stood there until he pulled off. I didn't even go into the apartment. I waited until I saw his lights go away."