Page 2 of 4
DANNY WICENTOWSKI
Davis' mother, Charlie Partee, never suspected that a former friend and employee was working with the FBI to put her son in prison.
Olajuwon Davis grew up living with his mother and five siblings. Despite constantly moving ("I never stayed in one place for two years," he says), by high school he was leaving impressions on the adults in his life. Marsha Cann, a board member for the interfaith anti-violence nonprofit Institute for Peace and Justice, recalls watching the then-fifteen-year-old perform in the Black Rep's production of the musical Sarafina. She later recruited Davis as a member of a group of youth theater activists and says he was "a natural ... such a brilliant stage presence, and a sense of self."
Davis could sing, dance and mix his own beats into rap songs on social injustice and civil rights history. "I called him my little Renaissance man," Cann says now. "He was just so blessed and talented on different levels."
In 2010, Davis graduated from a pilot high school program affiliated with Northwest Academy. With the help of multiple scholarships, he enrolled at the University of Missouri-Kansas City, where he majored in economics. He was the first member of his family to attend college.
"He always had so much good stuff going on," says his mother, Charlie Partee. "Sometimes, I used to think I wasn't enthused enough at his accomplishments. Because, I already knew. I'd tell him all the time, 'You're ordained for greatness.'"
But transplanted to the other side of the state, Davis struggled. He was a father by then, and the grant money he'd received as part of his scholarships wasn't enough to feed and house his young family. He decided to drop out and returned in 2012 to St. Louis.
Davis came home different. He says a cousin had introduced him to the idea of living as an "Aboriginal Moor" in accordance with the teachings from the Moorish Science Temple of America. The century-old group asserts that African Americans are actually descendants of Moroccan Moors, and adherents often reject labels of "African American" or even "black."
Davis' new beliefs confused and frustrated his family and friends. His father, Henry Davis, says he and Olajuwon quarreled over the twenty-year-old's direction. Often, the arguments would lead to months-long stretches when the father or son did not speak to each other.
"He's said he's going to join the Moorish movement, change his citizenship, and that now he can just travel, he don't have to have a driver's license," says the elder Davis. "He was going to be this person who can do what the fuck he want to do. This was how I took it."
Being a Moorish citizen didn't make a lot of historical sense. But it made the younger Davis feel powerful, and he dove into the identity, growing out his mustache to fit a Moroccan aesthetic.
"I was just infatuated with the whole idea," he recalls. "I wanted to feel empowered."
Interlinked with his fringe beliefs about Moors was his insistence he could declare himself as his own independent nationality, or "sovereign," and therefore could invoke treaties and international law he believed exempted him from taxes and government interference in his travel. Davis printed out his own identification card, which included a field for "Ancestral Estate: North, South, Central Amexem/Africa/America." The I.D. designated his race as "human."
In 2013, Davis caught a break. A local filmmaker, Bobby Herrera, had met Davis years before while working on a documentary. Now, Herrera was shooting an independent film, set on the top of an apartment building in the Central West End.
In search of an actor to play his protagonist, the filmmaker contacted Davis, whom he remembered as a charismatic actor — great on camera — who had clearly overcome a tough upbringing to excel in high school. Davis had never acted in a scripted film before, but Herrera trusted his gut on the unproven performer. Still, Herrera could tell that Davis was not the same happy-go-lucky teen he'd once known.
"He had a totally different mindset," Herrera recalls. "It was extreme, in the way that he didn't want to pay taxes, or that he should defect from being an American and be 'sovereign.'"
They shot the film in three weeks that summer. Herrera says he tried to do what he could for his young star, not just paying Davis "a couple thousand dollars" for acting work, but often sending him home with leftovers that Herrera's wife cooked for the cast and crew.
The acting job was Davis' only steady employment in those days, and his personal life was growing more and more strained. He didn't have the funds to re-enroll at a local college, and he and his wife were expecting a second child.
At the same time, his confidence in his Moorish and sovereign citizen beliefs grew to increasingly absurd applications, further alienating him from his former support network. The same summer he worked on Herrera's film, Davis refused to pay sales tax at a convenience store and tried instead to submit his self-printed identification papers.
The shop owners called city cops, who tased and arrested Davis. He was charged with municipal violations for trespassing, resisting arrest and disturbing the peace.
For Henry Davis, his son's transformation was intolerable. The two argued, and at one point, Henry told Olajuwon his mustache and turban "made him look like a Taliban dude."
Still, when asked to describe his son today, Henry Davis immediately responds like a proud parent: "My son is the smartest person that I know," he says.
But even he can't ignore the other side of his son.
"He's so smart," Henry Davis adds, "that he's stupid."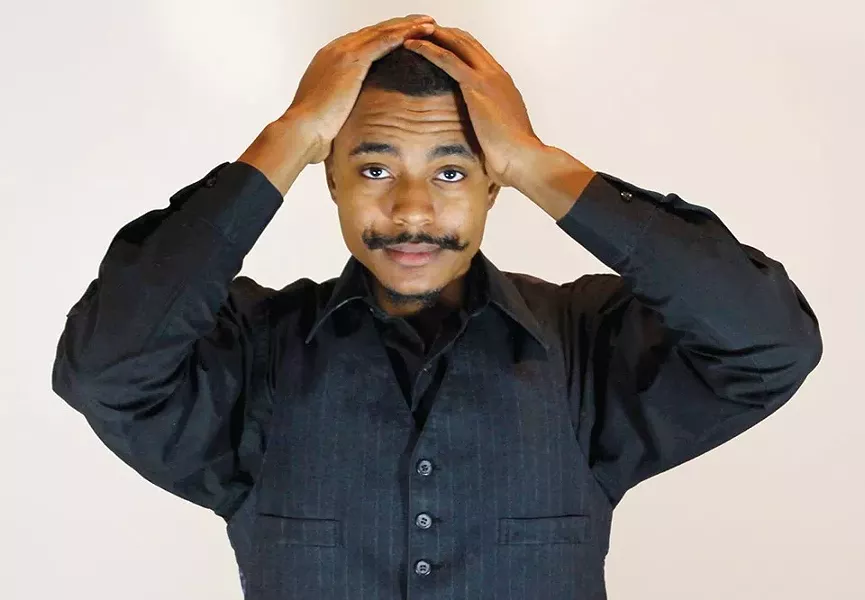 USED WITH PERMISSION
Davis, shown here in a 2014 portrait, embraced conspiracy theories and the beliefs of an "Aboriginal Moor." But his turn to bomb-buying only came after he was targeted by the FBI.
On August 13, 2014, the national leadership of the New Black Panther Party landed in Ferguson. Their arrival was telegraphed by an anonymous letter sent to a local television station. The letter contained an FBI memo, whose contents were then broadcast, in alarming terms, by Fox 2's Roche Madden.
"The New Black Panther Party member is here in the area advocating violence against law enforcement officers," Madden said during a live shoot on West Florissant Road. "It's another reason for officers to be careful out there."
It's not easy to describe what the New Black Panther Party means to its hodgepodge of chapters and individual members. For watchdogs of hate groups, though, the issue is fairly straightforward: Founded in Dallas in 1989, the New Black Panther Party, or NBPP, is considered a hate group by the Southern Poverty Law Center. In a 2014 report, the Anti-Defamation League called it "the largest organized anti-Semitic and racist black militant group in America."
But calling the NBPP "organized" is a stretch. While local chapters have sprouted in cities across the country, only a few appear to have persisted more than a few years. What remains relatively constant is the presence of a few charismatic leaders in the group's "national leadership." Over the years, it was these leaders whose statements about Black Nationalism attracted alarm, not just from observers of hate groups, but from members of the original Black Panthers as well.
One month before the Ferguson protests, the Huey P. Newton Foundation, named for a co-founder of the Black Panther Party founded in 1966, condemned the New Black Panther Party for inciting hatred and "promoting concepts absolutely counter to the revolutionary principles on which the Party was founded."
At the time of the Ferguson protests, the NBPP claimed to have chapters across the U.S., but there's little evidence that the group has ever operated like a truly coordinated national party. In St. Louis, according to Davis, the chapter had about a dozen active members; when the Ferguson protests broke out, he stepped into the role of spokesperson.
Most of the attention, however, focused on the visiting NBPP leaders. The national chief of staff, Chawn Kweli, arrived in Ferguson with national chairman Hashim Nzinga and former president Malik Shabazz, both figures featured prominently in the Southern Poverty Law Center's report on the group. Kweli had been named in the FBI memo leaked to Fox 2.
In an August 10, 2014, post to Facebook, Kweli encouraged a fight of self-defense against "the aggressors" in Ferguson. He urged, in all caps, "DON'T BE A PUNK IN THIS HOUR. THIS IS THE HOUR ALL THE GREATS PROMISED. AND IF YOU DIE ..DIE LIKE A WARRIOR."
Davis concedes the Panthers' coordination in Ferguson "wasn't the sharpest display of organization," but even their presence on the street felt like an accomplishment at the time.
"We were trying to show that we were there," he says. "We were just trying to embody and represent, at least for myself, what it means to be African, what it means to be a Panther."
According to Davis, St. Louis' chapter didn't take orders from Kweli, but it's also true they worked together to provide security and stage demonstrations. And while Kweli and the other infamous Panther leaders soaked up the media attention, Davis, as St. Louis' "Minister of Justice and Truth," posted a press release online.
His nine-page statement, or "Affidavit of Fact," announced that the St. Louis chapter of the NBPP was a peaceful organization and "does not and has never endorsed the violence that has resulted from the assassination of Michael 'Mike Mike' Brown Jr."
Addressed to Ferguson Mayor James Knowles, the statement went on to explain — in language clearly influenced by Davis' sovereign citizen legalese — that the Panthers opposed the "looting, destruction [and] vandalism" that had broken out during the protests. Three paragraphs later, the "affidavit" attempted to formally "charge" the city of Ferguson with crimes of "genocide and murder of Aboriginal Indigenous American Michael Brown, Jr."
Davis even reached out to the Riverfront Times, and in an interview on August 26, 2014, he claimed the local NBPP chapter had been active for about a year.
In that interview, Davis insisted the group's intentions were peaceful. "We're trying to liberate our people, we're trying to give them economic independence," he said. He also claimed police were trying to oppose the group's efforts. A group of Panthers had been tailed by police after leaving the funeral of Michael Brown the previous day, he said.
"I've been getting followed by Caucasians in unmarked cars," he added. "We are being targeted."
Davis was right.