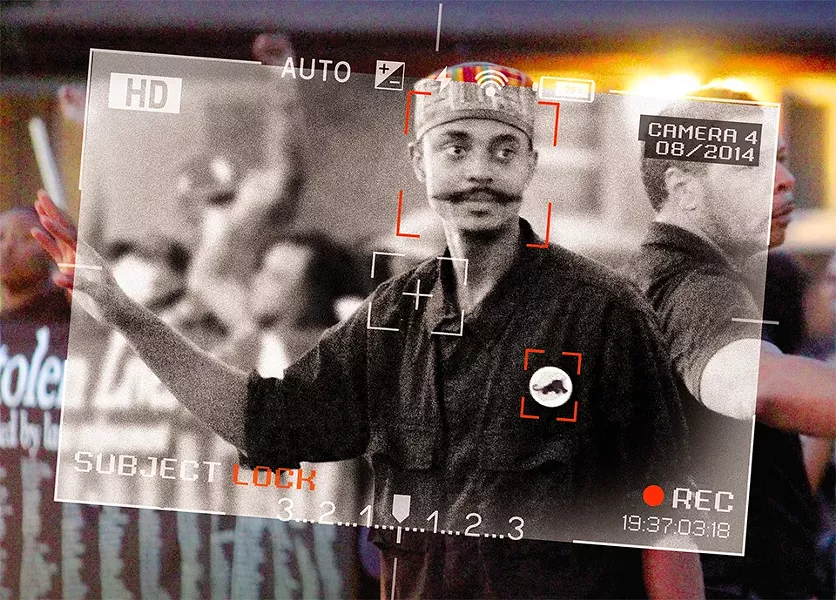 PHOTO BY DANNY WICENTOWSKI. MODIFIED BY EVAN SULT
It is August 9, 2014. Canfield Drive. Four hours after Michael Brown was shot by Ferguson Police Officer Darren Wilson, the eighteen-year-old's body is finally removed from the scene. A crowd gathers, and they scatter rose petals over the strip of bloody pavement.
Olajuwon Davis, who lives in his mother's apartment just down the street from the Ferguson Police Department, reads the news on his phone. He's on a bus within minutes, heading for the Canfield Green apartments. He's not the only member of the local New Black Panther Party to answer the call and join the outrage building in the crowd.
This is where it begins for Davis. As the evening sets on the first day of the Ferguson protests, a bystander films him walking into the middle of the street. Davis addresses the crowd as he paces along Brown's makeshift memorial.
"Ferguson! Ku Klux Klan!" he shouts. "That's who that is!"
That gets some attention, and someone shouts back, "Right on!"
But even among his comrades, Davis is distinctive: His mustache is nearly wider than his face. He wears a black T-shirt with a huge graphic of Malcolm X smoking a cigar. And Davis has a voice, one that carries easily in the evening air and has a confident, chanting rhythm that cuts through the ambient noise of the crowd.
"Forget tired, we fed up!" he shouts. "You tired, you can take a break. When you fed up you ready to hop off the train!"
A young but skillful actor, Davis has training in the art of capturing an audience's attention. But in many ways, he is way out of his depth: Canfield Drive isn't a stage or a film shoot, and it is nothing like the small-scale protests Davis participated in as a teen member of a group of antiviolence theater activists.
He is like so many who will appear in Ferguson: a young activist, invigorated and enraged at Brown's killing, taking to the streets not just in the name of justice for the unarmed Brown, but for a unifying principle behind a new civil rights movement: That black lives matter.
And yet, Davis stands out. In the coming days, as Ferguson becomes a national focus, he wears a red fez and cape, while marching alongside fellow members of the New Black Panther Party. He adopts the title "Minister of Truth and Justice" and uploads a video of himself asking the United Nations for "assistance in helping the indigenous peoples of the world." His outfits and outlook are manifestations of a confusing mixture of ideologies that he's come to believe in.
Along with his membership in the Panthers, he has become intrigued by conspiracy theories. He identifies as an "Aboriginal Moor" and a "sovereign citizen," freed from the legal authority of what he considers an illegitimate government.
Other protesters notice the young radical — and so does the FBI. Agents are already on the lookout for Panthers, and Davis makes himself as conspicuous as possible.
In October 2014, two months into the protests, Davis addresses an audience at a church. He is dressed in all black, including a beret, and looks like he could be standing with the original Black Panthers in California or Chicago in the 1960s. He sounds like it, too, his words urgent and measured with the seriousness of a militant.
"You must have some sense of militancy or strategy in your mind," he tells the crowd. "Because we are all, soon, going to have to deal with this verdict that is about to drop. I reason that it won't be favorable ..."
At this point, the entire region is awaiting a grand jury's decision on the fate of Darren Wilson. But Davis could just as easily be talking about himself. Rather than a triumph of militant strategy, Davis' beliefs will soon carry him away from the protests, away from St. Louis, to his own verdict. And then into prison.
And that is because Davis makes good on his speech about militancy and strategy. In the coming weeks, he works with allies who are not really his allies. He plays a role that he does not realize is a dark fiction. In reality, everything he believes about his life as a militant will turn out to be a lie. He is clueless about it all — until November 21, 2014.
On that day, Davis tries to buy a pipe bomb from the FBI.
Today, Davis lives in a federal prison in Milan, Michigan, more than 500 miles from St. Louis. Reached by phone, the former Black Panther describes his experiences on August 9, 2014, from the bus ride from his mother's apartment in downtown Ferguson to the scene on Canfield Drive.
The scene, he says, "just broke my heart."
"In my mind, I can still see the traces of blood, where they tried to clean it up," he continues. "I was just floored. Then the sadness turned into indignation, just confirming many of the fears I had about living as a young black man in America. Perhaps I would be next. I remember just lashing out, verbally, just expressing my feelings aloud to those who were there."
Davis is scheduled to be released from prison the day after Christmas in 2020. He will have served more than six years in various institutions as a result of his arrest in a 2014 FBI sting operation.
At the time of the bust, law enforcement agencies were under pressure in Ferguson to deal with protests that had drawn worldwide attention. A grand jury was expected any day to deliver its decision, and city and public officials were already preparing for the worst. Police departments ordered more body armor. Office buildings circulated evacuation plans in case of rioting. Schools prepared to close for an entire week. The governor called in the National Guard.
In that atmosphere, the arrests of Davis and a second Black Panther, Brandon Baldwin, on weapons charges provided a useful narrative — that law enforcement wouldn't let the protests explode in violence. News of their capture was quickly leaked to media.
"FBI arrests 2 men for buying explosives near Ferguson," blared a CBS headline.
There was no mention of bombs, only "straw buys" of handguns, in the original charges, but the CBS report cited a "law enforcement source" who described the purchase of explosives. A follow-up in the St. Louis Post-Dispatch, citing "sources close to the investigation," added more details, including accusations that the duo had reportedly plotted to detonate a pipe bomb in the observation deck at the top of the Arch.
Davis was the ringleader of the plot, the sources said. The Post-Dispatch described a plan of ambitious violence that included the assassination of Ferguson Police Chief Thomas Jackson and St. Louis County Prosecutor Bob McCulloch.
The implication of the stories was that law enforcement officers had intercepted a terror plot that was already in motion, preventing certain tragedy. After Davis and Baldwin pleaded guilty in June 2015, then-U.S. Attorney Richard Callahan released a statement, saying the FBI operation had "saved lives."
Left unsaid, however, was the full story of how two Black Panthers became targets in a weeks-long FBI sting operation whose every element (including inert bombs) was meticulously arranged and largely funded by two confidential informants posing as protesters.
For Davis, it's also a story of regret and wasted potential: how he started as a college-bound musician and budding actor and wound up convicted in a domestic terrorism case.
DANNY WICENTOWSKI
Davis' mother, Charlie Partee, never suspected that a former friend and employee was working with the FBI to put her son in prison.
Olajuwon Davis grew up living with his mother and five siblings. Despite constantly moving ("I never stayed in one place for two years," he says), by high school he was leaving impressions on the adults in his life. Marsha Cann, a board member for the interfaith anti-violence nonprofit Institute for Peace and Justice, recalls watching the then-fifteen-year-old perform in the Black Rep's production of the musical Sarafina. She later recruited Davis as a member of a group of youth theater activists and says he was "a natural ... such a brilliant stage presence, and a sense of self."
Davis could sing, dance and mix his own beats into rap songs on social injustice and civil rights history. "I called him my little Renaissance man," Cann says now. "He was just so blessed and talented on different levels."
In 2010, Davis graduated from a pilot high school program affiliated with Northwest Academy. With the help of multiple scholarships, he enrolled at the University of Missouri-Kansas City, where he majored in economics. He was the first member of his family to attend college.
"He always had so much good stuff going on," says his mother, Charlie Partee. "Sometimes, I used to think I wasn't enthused enough at his accomplishments. Because, I already knew. I'd tell him all the time, 'You're ordained for greatness.'"
But transplanted to the other side of the state, Davis struggled. He was a father by then, and the grant money he'd received as part of his scholarships wasn't enough to feed and house his young family. He decided to drop out and returned in 2012 to St. Louis.
Davis came home different. He says a cousin had introduced him to the idea of living as an "Aboriginal Moor" in accordance with the teachings from the Moorish Science Temple of America. The century-old group asserts that African Americans are actually descendants of Moroccan Moors, and adherents often reject labels of "African American" or even "black."
Davis' new beliefs confused and frustrated his family and friends. His father, Henry Davis, says he and Olajuwon quarreled over the twenty-year-old's direction. Often, the arguments would lead to months-long stretches when the father or son did not speak to each other.
"He's said he's going to join the Moorish movement, change his citizenship, and that now he can just travel, he don't have to have a driver's license," says the elder Davis. "He was going to be this person who can do what the fuck he want to do. This was how I took it."
Being a Moorish citizen didn't make a lot of historical sense. But it made the younger Davis feel powerful, and he dove into the identity, growing out his mustache to fit a Moroccan aesthetic.
"I was just infatuated with the whole idea," he recalls. "I wanted to feel empowered."
Interlinked with his fringe beliefs about Moors was his insistence he could declare himself as his own independent nationality, or "sovereign," and therefore could invoke treaties and international law he believed exempted him from taxes and government interference in his travel. Davis printed out his own identification card, which included a field for "Ancestral Estate: North, South, Central Amexem/Africa/America." The I.D. designated his race as "human."
In 2013, Davis caught a break. A local filmmaker, Bobby Herrera, had met Davis years before while working on a documentary. Now, Herrera was shooting an independent film, set on the top of an apartment building in the Central West End.
In search of an actor to play his protagonist, the filmmaker contacted Davis, whom he remembered as a charismatic actor — great on camera — who had clearly overcome a tough upbringing to excel in high school. Davis had never acted in a scripted film before, but Herrera trusted his gut on the unproven performer. Still, Herrera could tell that Davis was not the same happy-go-lucky teen he'd once known.
"He had a totally different mindset," Herrera recalls. "It was extreme, in the way that he didn't want to pay taxes, or that he should defect from being an American and be 'sovereign.'"
They shot the film in three weeks that summer. Herrera says he tried to do what he could for his young star, not just paying Davis "a couple thousand dollars" for acting work, but often sending him home with leftovers that Herrera's wife cooked for the cast and crew.
The acting job was Davis' only steady employment in those days, and his personal life was growing more and more strained. He didn't have the funds to re-enroll at a local college, and he and his wife were expecting a second child.
At the same time, his confidence in his Moorish and sovereign citizen beliefs grew to increasingly absurd applications, further alienating him from his former support network. The same summer he worked on Herrera's film, Davis refused to pay sales tax at a convenience store and tried instead to submit his self-printed identification papers.
The shop owners called city cops, who tased and arrested Davis. He was charged with municipal violations for trespassing, resisting arrest and disturbing the peace.
For Henry Davis, his son's transformation was intolerable. The two argued, and at one point, Henry told Olajuwon his mustache and turban "made him look like a Taliban dude."
Still, when asked to describe his son today, Henry Davis immediately responds like a proud parent: "My son is the smartest person that I know," he says.
But even he can't ignore the other side of his son.
"He's so smart," Henry Davis adds, "that he's stupid."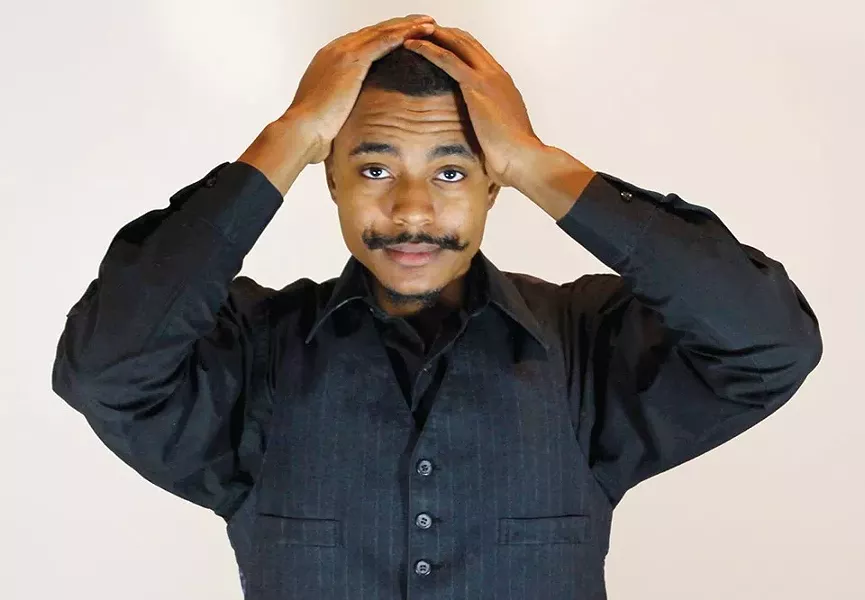 USED WITH PERMISSION
Davis, shown here in a 2014 portrait, embraced conspiracy theories and the beliefs of an "Aboriginal Moor." But his turn to bomb-buying only came after he was targeted by the FBI.
On August 13, 2014, the national leadership of the New Black Panther Party landed in Ferguson. Their arrival was telegraphed by an anonymous letter sent to a local television station. The letter contained an FBI memo, whose contents were then broadcast, in alarming terms, by Fox 2's Roche Madden.
"The New Black Panther Party member is here in the area advocating violence against law enforcement officers," Madden said during a live shoot on West Florissant Road. "It's another reason for officers to be careful out there."
It's not easy to describe what the New Black Panther Party means to its hodgepodge of chapters and individual members. For watchdogs of hate groups, though, the issue is fairly straightforward: Founded in Dallas in 1989, the New Black Panther Party, or NBPP, is considered a hate group by the Southern Poverty Law Center. In a 2014 report, the Anti-Defamation League called it "the largest organized anti-Semitic and racist black militant group in America."
But calling the NBPP "organized" is a stretch. While local chapters have sprouted in cities across the country, only a few appear to have persisted more than a few years. What remains relatively constant is the presence of a few charismatic leaders in the group's "national leadership." Over the years, it was these leaders whose statements about Black Nationalism attracted alarm, not just from observers of hate groups, but from members of the original Black Panthers as well.
One month before the Ferguson protests, the Huey P. Newton Foundation, named for a co-founder of the Black Panther Party founded in 1966, condemned the New Black Panther Party for inciting hatred and "promoting concepts absolutely counter to the revolutionary principles on which the Party was founded."
At the time of the Ferguson protests, the NBPP claimed to have chapters across the U.S., but there's little evidence that the group has ever operated like a truly coordinated national party. In St. Louis, according to Davis, the chapter had about a dozen active members; when the Ferguson protests broke out, he stepped into the role of spokesperson.
Most of the attention, however, focused on the visiting NBPP leaders. The national chief of staff, Chawn Kweli, arrived in Ferguson with national chairman Hashim Nzinga and former president Malik Shabazz, both figures featured prominently in the Southern Poverty Law Center's report on the group. Kweli had been named in the FBI memo leaked to Fox 2.
In an August 10, 2014, post to Facebook, Kweli encouraged a fight of self-defense against "the aggressors" in Ferguson. He urged, in all caps, "DON'T BE A PUNK IN THIS HOUR. THIS IS THE HOUR ALL THE GREATS PROMISED. AND IF YOU DIE ..DIE LIKE A WARRIOR."
Davis concedes the Panthers' coordination in Ferguson "wasn't the sharpest display of organization," but even their presence on the street felt like an accomplishment at the time.
"We were trying to show that we were there," he says. "We were just trying to embody and represent, at least for myself, what it means to be African, what it means to be a Panther."
According to Davis, St. Louis' chapter didn't take orders from Kweli, but it's also true they worked together to provide security and stage demonstrations. And while Kweli and the other infamous Panther leaders soaked up the media attention, Davis, as St. Louis' "Minister of Justice and Truth," posted a press release online.
His nine-page statement, or "Affidavit of Fact," announced that the St. Louis chapter of the NBPP was a peaceful organization and "does not and has never endorsed the violence that has resulted from the assassination of Michael 'Mike Mike' Brown Jr."
Addressed to Ferguson Mayor James Knowles, the statement went on to explain — in language clearly influenced by Davis' sovereign citizen legalese — that the Panthers opposed the "looting, destruction [and] vandalism" that had broken out during the protests. Three paragraphs later, the "affidavit" attempted to formally "charge" the city of Ferguson with crimes of "genocide and murder of Aboriginal Indigenous American Michael Brown, Jr."
Davis even reached out to the Riverfront Times, and in an interview on August 26, 2014, he claimed the local NBPP chapter had been active for about a year.
In that interview, Davis insisted the group's intentions were peaceful. "We're trying to liberate our people, we're trying to give them economic independence," he said. He also claimed police were trying to oppose the group's efforts. A group of Panthers had been tailed by police after leaving the funeral of Michael Brown the previous day, he said.
"I've been getting followed by Caucasians in unmarked cars," he added. "We are being targeted."
Davis was right.
DANNY WICENTOWSKI
In Ferguson, Davis and other New Black Panthers joined protesters just hours after Michael Brown's death. In this image from August 14, 2014, Davis helps direct traffic during a demonstration.
In October 2014, the Ferguson protests continued at a near-daily pace. The tension of expectation that surrounded the impending grand jury decision seemed to be creeping closer and closer to a breaking point.
Davis, though, was still struggling. Because of his beliefs about paying taxes, he was essentially unemployable, and he was about to be homeless. His young family lived in his mother's cramped apartment in downtown Ferguson, but she had decided to leave the troubled city by the end of the month. Davis had no income and no place to move his family.
It was at about that time that help arrived from an unlikely source. Davis had just met a potential Panther recruit at a protest event, and when Davis confided his troubles, he says, the protester offered an incredible deal: a south St. Louis apartment with free rent for the first month and no fees.
In retrospect, there was something suspicious about the offer.
"My wife didn't feel right about the situation," Davis says now. "But he basically gave me an apartment. It was great, I didn't have to be in my mom's house. I was adamant about trying to get a place to our own, so I pushed the situation anyway."
There was one other small detail about the living arrangement: Davis' new protester friend, who apparently managed the building, would be living on the same floor. Coincidentally, he lived right across the hall from Davis.
The protester was actually a confidential informant working with the FBI. In court records, prosecutors refer to the man as Confidential Source 1, or CS1.
Soon, Davis says, CS1 became a member of the New Black Panther Party.
"He infiltrated in, he signed up, and provided me with resources, housing, companionship," he says, adding that "these things built up" until a protest event where Davis introduced CS1 to Brandon Baldwin.
The Panthers' "field marshal" in St. Louis, Baldwin worked at outdoor supply store Cabela's.
A fourth Black Panther, another recent recruit, also met with Davis, Baldwin and the informant. He is described in court records as CS2. Unlike the other informant, Davis had known CS2 since childhood. He was a "friend of the family" whom Davis considered like a cousin — but for some reason, the quasi-cousin only seemed to talk about one thing: guns.
"I met him out there [in the protests]. It was good to see him," Davis recalls. "From the moment we met, he was adamant about getting weapons and firearms specifically."
At first, Davis says he tried to just ignore the requests, partly because this particular family friend had been a vital source of support for Davis and his wife, including giving them rides to doctor's appointments.
"So I looked past it," Davis says now. Still, he confided in his mother, Charlie Partee, about the requests. Like Davis, Partee describes CS2 as a "close friend" who had watched her kids grow up, visited her house and had even worked for her beauty salon. But she says he was also involved in "scandalous" activities she didn't want for her son.
Still, she didn't suspect that he was setting her son up to be arrested.
"It took me by surprise to find out this person was an informant," Partee says of her former friend and employee. "He knew our story, he knew the page that Olajuwon was on, that he had so much going for him."
In 2014, though, Davis could see little going right for him. After Baldwin made the first gun purchase as a "straw buyer," CS1 offered Davis $200 as a finder's fee for making the introduction. Davis took the money.
"I just really needed the funds," he explains. "I was preparing for my youngest daughter's birth, feeling happy about having something to contribute to the household."
It was more than just the money. Davis' Moorish beliefs and behavior isolated him from his friends and family, whom he says "really didn't accept or tolerate the direction I was headed." He says he briefly landed a job but was fired after a dispute over his rights under Moorish legal philosophy.
The informants, Davis says, "were the only people who would put up with my bullshit."
It made him loyal. And in Davis' telling, the companionship of these two enthusiastic new members became the focus of his activism. Instead of being suspicious of these two deep-pocketed Panthers obsessed with firearms, Davis saw them as true believers, just like him.
"I kind of felt indebted to them. They were all who I had. Even my wife was sick of my crap, but they were amping me up, and then they came with these requests," Davis says. "So I made myself available to them. I put my family, children and wife on the back burner. I made this my priority."
DANNY WICENTOWSKI
"People really think my son was going to blow up the Arch," says Davis' father, Henry. "That wasn't his intention."
The U.S. Attorney's case against Olajuwon Davis and co-conspirator Brandon Baldwin played out as a story told in two acts. First, Davis connected Baldwin with the two confidential sources, both of whom made sure Baldwin knew they were felons.
On October 22, 2014, Baldwin and Davis made their first "straw buy" at Cabela's. Baldwin used his employee discount to purchase a .45-caliber handgun priced at $500. Neither Davis nor Baldwin had that kind of money, so it was generously supplied by Davis' "family friend" CS2.
At that point, the FBI had enough to arrest Davis and Baldwin. Agents could have apprehended the two Panthers in the Cabela's parking lot and charged them with federal firearms offenses. These would be the very same charges filed after the FBI concluded the sting operation. What is apparent is that the FBI didn't want firearms charges. It wanted to foil a bomb plot.
And so the FBI waited. And listened. And recorded. That's when the second act began.
On the way back from Cabela's, a confidential informant recorded Davis and Baldwin as they "discussed purchasing 'black powder' from the outdoors retailer to use in making bombs," according to court records.
Federal prosecutors would later describe in a plea agreement similarly damning details and incriminating statements, culled from weeks of notes on the surveillance of the two Panthers.
Many of the notes read like sparse diary entries, like one from November 1, 2014: "Davis and CS1 discussed selling firearms to generate more profits."
But then there are entries like November 5, 2014: "Baldwin spoke to CS2 and stated that he (Baldwin) wanted to build bombs and blow things up. Baldwin also stated that he would distribute bombs to 'hit them in places where it hurt, hit someone important.'"
Or this one from Baldwin's plea agreement, dated to October 31, 2014: "Davis again expressed an interest in bombs and stated that he had 'put it out there that he was a terrorist.'"
The surprising quote is omitted from the plea that Davis signed. Regardless, it takes more than putting it out there to be a functional terrorist. In pages of statements, Davis and Baldwin never mention possible sources for the weapons, because, of course, their only "access" to explosives comes from the confidential informants.
In reality, the two were broke twenty-somethings with no known connections to anyone close to a bomb seller or a terror network. Aside from Davis' trespassing citation, neither even has a criminal record. But they perfectly fit the profile of the sort of suspected "lone wolf" terrorist that the FBI targeted in the decade of the War on Terror, cases that involved predominately Muslim targets identified in mosques or found in radical Islamic chat rooms.
Journalist Trevor Aaronson researched a decade of data on those terrorism prosecutions and found more than 150 convictions obtained through sting operations. In a third of those cases, he found, an FBI informant "provided all necessary weapons, money and transportation."
In Aaronson's 2013 book The Terror Factory, the researcher broadly contends that the FBI's campaign of anti-terrorism sting operations between 2001 and 2011 did little to stop actual attacks. Instead, he argues in his book that the FBI created fictional attacks the bureau could thwart and point to as a sign of its robust anti-terrorist victories.
And like the case against Davis and Baldwin, many of the cases of Muslim extremists featured young men on the fringes of their communities, isolated and angry. But they weren't active terrorists.
"Few defendants had any connection to terrorists, evidence showed," Aaronson writes in his book. "Those who did have further connection, however tangential, never had the capacity to launch attacks on their own."
It's like a play, with the FBI providing the set, the dialogue, the characters and equipment. The production just needs willing actors who believe in the role so deeply that they never realize they're trapped in a thriller whose ending is already written.
IMAGES VIA FACEBOOK
Like Davis, Brandon Baldwin found himself implicated in the FBI sting operation
Baldwin comes off in the plea agreement as a particularly ambitious would-be bomber. When it came to targets, he named the St. Louis County prosecutor, telling CS2 that he "wanted to get McCulloch."
Baldwin continued: "I say we knock one of these cops ... there it is ... knock a cop ... an important cop ... we gotta hit the chief ... chief of Ferguson Police Department ... Thomas Jackson, Thomas Jackson."
In a November 8 meeting, Baldwin was recorded telling CS2 that he wanted "at least about ten of them motherfuckers" — that is, bombs. Baldwin wanted the explosives for use on "people," "ATMs" and "tanks." Baldwin told the informant, "We at war, you understand, bro."
In contrast, Davis is never quoted in the plea naming specific targets. Apparently, after he "put it out there that he was a terrorist," he spent the next couple of weeks advising the confidential sources about profiting from their illegal gun sales.
In Davis' telling, the opportunity to buy a pipe bomb was introduced by Baldwin and one of the confidential informant's during a visit to his apartment. They showed him a video of a pipe bomb detonating.
However, Davis claims he only agreed to pay $250 for a pipe bomb as "a middleman for the stuff." In return, he would take a $1,500 commission — which he understood to be the proceeds of subsequent sales of pipe bombs to a third party. He acknowledges that he agreed to buy the bombs but denies that he ever intended to use them.
That's not how Davis appears in the plea deal, which notes that after he watched the video of the pipe bomb detonation, he remarked to the informant, "[it's] a start."
A week later, on November 17, 2014, Davis met with CS2 to hammer out the final details of the pipe bomb sale, which according to prosecutors was scheduled for that Friday. Davis was recorded stating that he wanted to be able to detonate the explosive from a distance. After providing the $100 deposit, Davis told the confidential informant, "I need it ASAP, brother, I need them motherfuckers ASAP."
Four days later, the FBI was ready to spring its trap. Davis says he got a text after midnight on November 21, 2014. The message was from his quasi-cousin and fellow Black Panther, CS2, confirming plans to buy three pipe bombs. Not long after the texts, CS2 picked up Davis and Baldwin and drove them to a location in Hazelwood.
Davis remembers trying to push away his unease about the situation.
"Everything felt kind of weird," he says now. "But my whole vision was, I was just thinking about the money and about the obligation, not wanting to disappoint them, not wanting to let them down."
Across a parking lot in Hazelwood, Davis remembers spotting the "bomb maker," who appeared to be a "white guy in a car." The bomb maker got out of the vehicle and popped the hood.
Davis walked over, reached into the car and picked up the bag of fake pipe bombs. He started moving back toward Baldwin and CS2, the family friend who had betrayed him.
For a few steps, Davis was allowed to believe that everything was going to be fine.
"Then it was, 'Boom!'" he says. "Homeland Security come running out."
Later, when investigators executed a search warrant on Davis' apartment, they found a Taser, a "large knife," a mask, gas mask and notebook "containing a shopping list of weapons and cellphones." They also found digital versions of guidebooks on survival and combat. The titles included: Internet Hitman, Mantrapping, Targeting of Officers and Silent Death.
VIA FACEBOOK
A logo of St. Louis chapter of the New Black On Panther Party, which Davis posted to Facebook on October 16, one month before his arrest.
In June 2015, Davis and Baldwin each pleaded guilty to four counts of federal firearms and explosives charges. At the hearing, Davis' mother recalls feeling like someone had played a prank on her.
"It was like stuff you see on TV," she says. "I have my baby standing here, in cuffs, the one I never thought I'd see in that suit. Why did y'all pick him?"
Davis' father, Henry, doesn't offer much sentiment about his son's case. The morality of the FBI sting operation doesn't bother him. Ultimately, he says, his son was "stupid enough to do it and get caught."
"This is why I say he's so smart, he's stupid," explains the elder Davis. "I'm not upset [at the FBI], their job is to find stupid-ass black people, like my son, and catch 'em up, make big news and deter other people from doing the same thing."
Baldwin, who is incarcerated in the U.S. Penitentiary in Marion, Illinois, has the same release date as Davis: December 26, 2020. Reached by phone, he declined to comment on the record for this story. But Baldwin's father, Berlin Baldwin Jr., tells RFT that he wants people to know his son is not a terrorist: "He's not the person they say he is. He's a young person just like any other young person in America, dealing with the wrong people."
From the FBI's perspective, however, Davis and Baldwin were textbook examples of a successful counterterrorism operation. It simply didn't matter that the targets were incapable of pulling off a bomb plot on their own.
That is the curious logic of a sting operation, which functions as a kind of moral theater, a test of the character targeting those the FBI believed to be potential terrorists. After their audition, Davis and Baldwin played their roles to perfection. They chose to go on with the show.
And even if the choice was false, and the bomb was fake, they still did wrong in the eyes of the court.
In Aaronson's book, retired FBI counter-terrorism agent Peter Ahearn summarized the ethics of a proper sting operation, from the FBI's perspective:
"If you're doing it right," he says, "you're offering the target multiple chances to back out ... Real people don't say, 'Yeah, let's go bomb that place.' Real people call the cops."
COURTESY GRAY PICTURE
Shot in 2013, Olajuwon Davis' role in Palacios earned him an award for "Breakout Performance."
In 2017, three years into Davis' prison term, Bobby Herrera's film Palacios finally premiered at the Jim Thorpe Independent Film Festival. The attendees took note of Davis, who co-stars in the film as "Eugene."
In the film's opening scene, "Eugene" is introduced fleeing from a gas station. It is the ambiguity of this moment — is it a crime he just committed, or perhaps witnessed? — that drives the tension of the film. Shot in black and white, it follows Eugene as he hides on the rooftop of an apartment complex. There he meets a widowed alcoholic, Holly, who is friendly, but also curious and fearful of whatever Eugene is running from.
For his role, Davis won the festival's award for "Breakout Performance." The framed certificate currently sits on a bookshelf in Herrera's living room, awaiting Davis' release next year.
When they started filming in 2013, "what we shot originally implied that Olajuwon's character was actually kind of innocent," Herrera says now. "That, somehow, he had been mistakenly implicated in something, or that to get out of a situation he had to be violent."
But after Davis' arrest, Herrera couldn't reconcile the innocence of the film's version of Eugene with what the filmmaker felt about its star. So he changed the ending, removing the uplifting reunion between Eugene and Holly — and replacing it with an ending that finds Eugene being led away in handcuffs. It bleakly resembles the path Davis' life actually took.
"The film bizarrely mirrors his situation," Herrera acknowledges. "I changed the film in the edit, to be more vague about the crime that had taken place: Whether he was guilty or not guilty, whether there was a reasonable explanation or not, to almost mirror how I felt about his real-life situation."
For Herrera, the contradiction of Davis never found a satisfying answer. In the prosecutors' version, Davis acted as a profit-motivated gun salesmen turned bomb buyer. Was that really the same talented actor Herrera had known in 2013?
"Maybe," Herrera suggests now, "he did something rooted out of a misunderstanding, with no intention of being harmful or violent. But he still chose to do something wrong."
Indeed, no matter the explanation, Davis chose to buy that pipe bomb. But it's worthwhile to ask: What role did Davis think he was playing? His quotes recorded in the plea deal are damning, but they don't explain how the informants earned and bought Davis' loyalty. They don't explain that when Davis watched the video of the pipe bomb detonating, he did so in an apartment gifted to him by a confidential informant actively working to put him in prison.
And it wasn't like Davis and Baldwin were without options. Baldwin had access to firearms, yet they didn't plan a shooting spree. Davis had access to the internet and survival handbooks, but he never tried to buy "black powder" or make make a single Molotov cocktail. They appeared to have no initiative for violence. And then they met CS1 and CS2.
From within the bomb plot, Davis says he felt like he was representing "what it meant to be a Panther." The pride made him vulnerable and suggestible. Years later, he now acknowledges it was a delusion.
"I handicapped myself in relying on [the informants]," he says. "It required this new identity that I had taken on. Part of it was, I felt like I couldn't go back."
But this contradiction that so bothered friends and family never seemed to vex former U.S. Attorney Richard Callahan, whose office prosecuted the cases against Davis and Baldwin.
In an interview with the RFT in April 2015, Callahan insisted that the sting operation averted a true, bloody disaster for both protesters and law enforcement. Still, moments later, he freely admitted that the duo's alleged terrorist plot strained credulity.
Asked about allegations that the two had targeted the Arch, Callahan answered that he would "not even discuss the many different targets that these individuals considered or voiced at one time or another, and it's for a simple reason: A lot of their ideas were totally unrealistic."
He added, "besides being impractical, it would almost inaccurately sensationalize these charges."
Two months later, though, the U.S. Attorney's Office became more willing to sensationalize the charges. In June 2015, after Davis and Baldwin pleaded guilty, Callahan put out a press release that praised law enforcement for "preventing what potentially could have been a major disaster."
"The disruption of this plot, coming as it did on the eve of the expected Grand Jury announcement, undoubtedly saved lives," Callahan said in the release. "Luckily for all of us, we'll never know just how many."