The second week of the St. Louis International Film Festival features more foreign films, rarely-seen gems and surprising documentaries. We've seen most of them by this point, and the following capsules give our assessment. The festival continues through Sunday, November 12. Tickets are $10 to $13; visit www.cinemastlouis.org to view the entire schedule.
Lost in Paris
7 p.m. Wed. and 2:30 p.m. Thu. (Nov. 8 & 9)
Landmark Plaza Frontenac Cinema
After the forced whimsy of their previous collaboration The Fairy, directors Fiona Gordon and Dominique Abel take their stylized slapstick up a notch, co-starring as a gangly Canadian woman on her first trip to France and the resourceful homeless man who falls for her. Aimless hijinks ensue, but the humor is too often self-conscious and forced, if not outright morbid. Much of the film takes place in a funeral parlor, and the gags are staged with the desperation of a needy second-rate improv group — combined with the self-conscious pomposity of a Wes Anderson film. The overall effect is mildly charming at first, but eventually wearying. The sole bright spot comes in the form of the great Emmanuelle Riva, the star of Hiroshima Mon Amour and Amour. And while Abel and Gordon don't seem to know what to do with her, they offer a small, sweet moment in which she and Pierre Richard (star of a string of French comedies in the 1970s), helped by body doubles, reenact a shared dance routine from their past.
Heal the Living
6:40 p.m. Thu. and 9:30 p.m. Fri (Nov. 9 & 10)
Landmark Plaza Frontenac Cinema
It's almost inevitable that a film about organ transplants will begin with some kind of accident. The first ten minutes or so of Heal the Living follow a young man as he climbs across rooftops, rides a skateboard in traffic and a surfboard over unsteady waves; in short, he's an accident waiting to happen, and director Katell Quillévéré teases the audience with his fearlessness. When the accident finally comes, it's staged not only with a total lack of sensationalism, but with an eerie and solemn beauty. It sets the tone for much of what follows in this sober account of human frailty. Based on a novel by Maylis de Kerangal, the film offers multiple paths as it follows a trail from the parents of the brain-dead young man to the apartment of a middle-aged woman (an excellent Anne Dorval) as she tries to prevent her sons from worrying about her weakening heart. You can see where this is going, but Quillévéré isn't trying to surprise the audience; she wants to give you time to think about the implications of the relatively simple story. Ultimately, we know that the film will lead us to the surgery room, which she films with a matter-of-fact directness that some may find disturbing. Heal the Living could easily have been melodramatic, but there's hardly a sentimental note to be found in it. It's a profoundly human film, a realistic story of sorrow, courage and fate, handled in an inventive style. The wordless final shot is as dramatically and emotionally rich as anything I've seen all year.
1917: The Real October
6:45 p.m. Thu., Nov. 9
Landmark Plaza Frontenac Cinema
Though it's misleadingly being labeled a documentary, 1917: The Real October is an art project crossed with a historical essay, telling the story of the 1917 Russian revolutions through multimedia animation. Director Katrin Rothe uses the diaries and writings of Maxim Gorky, Vladimir Mayakovsky and other figures from the Russian intelligentsia to show how the tumultuous events were experienced by people outside of the political mainstream, complementing their observations with footage of the filmmaker cutting out her paper figures, plowing through stacks of history books and creating a detailed timeline on the walls of her studio. It's visually striking but frustratingly arbitrary, and you spend as much time questioning her interpretation of events (why does Mayakovsky sound like Johnny Rotten?) as you do admiring her creativity. The history lesson is provocative but frustratingly sketchy; the wrap-around of Rothe at work seems more like self-indulgent filler.
Voices Beyond the Wall: Twelve Love Poems from the Murder Capital of the World
1 p.m. Sun., Nov. 12
Washington University's Brown Hall
If San Pedro Sula, Honduras, is indeed the "murder capital of the world," you'd never know it from this optimistic, deeply felt film. Voices Beyond the Wall was filmed almost entirely within the confines of Our Little Roses, an orphanage for young girls. Filmed in 2012 while American priest and poet Spencer Reece taught a class on poetry that encouraged the girls to write and collect their work, Voices is as simple as a nonfiction film can be. There's no crisis, no attempt to create a narrative or argue any particular view; it's just a straightforward observation of the teachers and students as they go about their everyday lives. Director Bradley Coley has the sense and the patience to present his subjects respectfully and honestly, and his film is as unforced and natural as it is optimistic.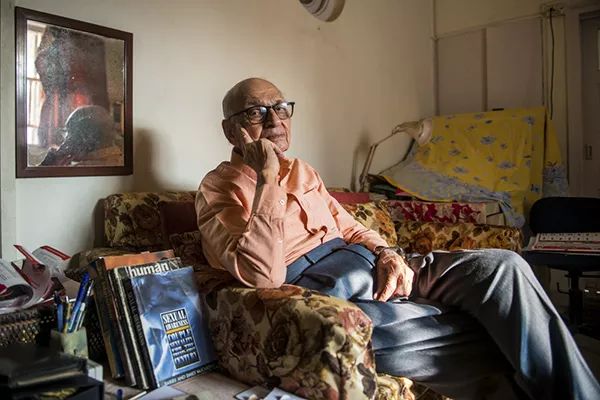 COURTESY OF CINEMA ST. LOUIS
Dr. Mahinder Watsa, Mumbai's go-to sexual educator, is profiled in Ask the Sexpert.
Ask the Sexpert
5:30 p.m. Sat., Nov. 11
Landmark Plaza Frontenac Cinema
The title of Vaishali Sinha's lively film comes from a newspaper column published in a Mumbai daily. The "sexpert" is a 93-year-old doctor, Mahinder Watsa, whose forthright views and blunt humor have made him a controversial celebrity, a cross between Dr. Ruth at her most enthusiastic and Dear Abby at her most acerbic. Watsa's column has brought him eager fans, but it's also raised eyebrows in conservative circles; the film follows one woman who was inspired to become a sex education instructor, and another who is leading a movement to have his column censored. Watsa himself seems curiously underwhelmed by his notoriety/fame — some of his answers to his readers are so off the cuff that he barely seems to have thought about them — yet serious about his mission as an educator. Ultimately, the running theme of both his work and the film appears to be overturning the myths and fanciful ideas about sex. We come to see Watsa as an unlikely but committed crusader against ignorance.
Wanda
7:30 p.m. Sat., Nov. 11
Webster University's Moore Auditorium
Released in 1970 to critical acclaim but limited release, Barbara Loden's sole feature Wanda is a neglected masterpiece of the New American Cinema, and a comfortable sister-in-arms to those defiantly independent films of the time (The Last Movie, Medium Cool, David Holzman's Diary) that called for a revolution in film production outside of the studio system. Inspired by Cassavetes, Antonioni and perhaps most of all by Godard's Breathless, Loden wrote, directed and starred in a rambling account of a footloose woman who falls in with a two-bit crook, but her film is too original and harshly honest to be dismissed as imitation New Wave. She creates a flawless study of a small-town girl with no future. Wanda may sometimes recall Tuesday Weld in the cult film Pretty Poison, but really she's more like a directionless woman who has lost her adolescent dreams of being like Tuesday Weld. It's a searing film about hopelessness, a bleak but powerful female equivalent to end-of-the-road classics like Five Easy Pieces.
Let Yourself Go
6:30 p.m. Sat. and 5:30 p.m. Sun. (Nov. 11 & 12)
Landmark Plaza Frontenac Cinema
In what could just as easily have been titled Frena il tuo entusiasmo, Toni Servillo (star of the 2013 arthouse hit The Great Beauty) plays a curmudgeonly psychiatrist who grumbles his way through life. Separated from his wife and bored by his practice, he's encouraged to take up exercise with a dizzyingly high-spirited personal trainer (Verónica Echegui). After a slow start, the first half of the film is a typical opposites-attract romantic comedy, while the second half runs loose with a frantic plot involving hypnosis and dangerous criminals. The situations are contrived at times, the musical score tries a little too hard to force a sense of levity and Director Francesco Amato's idea of humor (a slight hint of racism and a few cheap lines about gay men) occasionally falls flat. Still, Servillo and Echegui rush through everything so energetically that you might be willing to let them pass.