When you think of St. Louis statuary, you probably picture Ozzie Smith or Bernie Federko. Those are fine and all, but the Gateway City has more to offer than sports heroes. Scattered across the city's parks and public spaces are a host of fascinating statues that represent everything from high-flown ideals to wish fulfillment to straight-up commercialism. These seven pieces are public art in the best sense of the phrase — and as St. Louis as beer and Provel.
Self Made Man
Right at the strange intersection where Lindell Boulevard becomes Olive Street — it's parallel to the International Photography Hall of Fame — is a little triangular green sward on the north side of the street. There stands Self Made Man, a larger-than-it-looks statue of a nude figure carving itself free from a bronze block, hammer raised above its head. If if looks familiar, there are duplicates in Charlotte, North Carolina, and Minneapolis, as well as in Nicaragua and Batavia, Illinois. It's the work of sculptor Bobbie Carlyle, who describes it on her website as "a man carving him out of stone, carving his character, carving his future." Saint Louis University owns the sculpture, which makes sense. College is where you make yourself and your future. You can buy your own version of it from Carlyle's website, with options ranging in size from a thirteen-inch-tall maquette to a sixteen-foot-tall monument.
PAIGE BRUBECK
Friedrich Jahn Memorial.
Friedrich Jahn Memorial
If you start from the eastern side of Apotheosis of St. Louis atop Art Hill (35 Fine Arts Drive) and walk downhill toward Government Drive, you'll encounter this monument to the "father of gymnastics." A bust of Jahn and his righteous wizard beard crowns the center of this long semi-circular stone memorial, which is flanked by bronze statues of a young man and woman throwing a shot put and practicing rhythmic gymnastics. Built in 1913, when St. Louis was still heavily German in heritage and nature, the statue features informational plaques auf Deutsch. Jahn's statue has been restored several times during the intervening century but it's still clearly from another time.
RYAN GINES
Joie de Vivre.
Joie de Vivre
Another Forest Park piece, Joie de Vivre hides in plain sight near the Steinberg Skating Rink (400 Jefferson Drive). Lithuanian artist Jacques Lipchitz made the abstract form in 1927 as inspirational material for his sister, who suffered from sickness. Lipchitz wanted her to see the joy of life. From one side, his piece looks like chain links trying to rejoin each other; from another, it looks like tangled human limbs. It's a rare example of a fine art statue in a public space.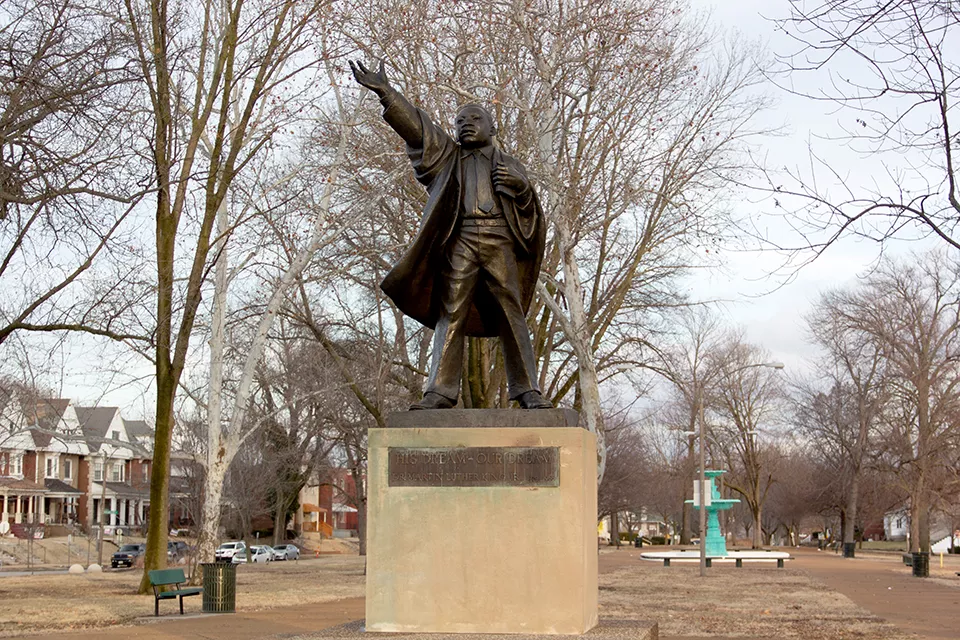 RYAN GINES
Martin Luther King Jr.
Martin Luther King, Jr.
The statue of MLK in Fountain Park (Fountain and Euclid avenues) is one of three commissioned of the civil rights leader in St. Louis in 1976, but after being installed in 1978 it had fallen into disrepair from time and neglect. In 2018 a march honoring King's life and work was held at the site, and the community determined it would raise the funds to restore their statue to its rightful glory. Reinstalled this summer, the Fountain Park statute is both a testament to King's legacy and the resurgent spirit of Black St. Louis in the face of ongoing adversity.
PAIGE BRUBECK
Friedrich Schiller.
Friedrich Schiller

Maybe the best German poet (suck it, Goethe, your prosody is weak!), and definitely the most entertaining to read in translation, Friedrich Schiller never visited St. Louis, but he gave us "Ode to Joy," so why not give him a statue here? The statue was erected in 1891 and moved to its current spot in Memorial Plaza (1720 Market Street) in the 1970s. It's a duplicate of a statue in Schiller's hometown, more proof that the German utopians who were thrown out of their own country following a failed revolution tried to recreate their homeland in St. Louis. Is it ironic that most of the people memorialized in statuary never went to high school here? Something for all the transplants to ponder.
RYAN GINES
Who was a French composer best known for the Ave Maria, Alex?
Wagner to Gounod to Mozart to Beethoven
Perhaps the greatest infield the world has ever known in both classical music and baseball, these are the rare double busts of Tower Grove Park (4256 Magnolia Avenue). The originals, donated by stalwart citizen Henry Shaw, are displayed in the Piper Palm House. The ones on the plinths around the park's outdoor Music Pavilion are copies. But why all these tributes to guys who never came to St. Louis? It's aspirational, as was much early St. Louis public art. Shaw believed sculpture was good for parks and people, and at the time he donated these, a world-class symphony in St. Louis was just a dream. Now we have the St. Louis Symphony, which proves art begets art, dreams beget music and the past creates the future.
RYAN GINES
Baron von Steuben (and his unnamed little friend).
Baron von Steuben
That's Baron Friedrich Wilhelm August Heinrich Ferdinand von Steuben to you, and no, he was never in St. Louis either, but his statue stands to this day in Tower Grove Park (4256 Magnolia Avenue). The Prussian soldier came to the New World at the behest of Benjamin Franklin, bringing with him the military training that whipped the Continental Army into shape and helped win the Revolutionary War — and his methods formed the foundation for the modern U.S. Army. (He was also friends with Broadway Alexander Hamilton.) Comedian David Cross portrayed von Steuben in a season two episode of Comedy Central's Drunk History, which makes him something of a spiritual St. Louisan — don't we all have something of a drunk history in this beer town?