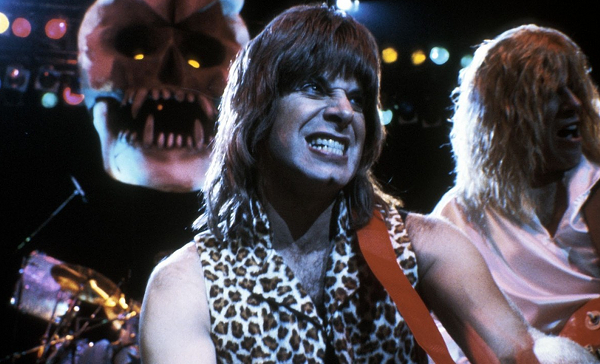 This Is Spinal Tap (1984)

We know, we know, This Is Spinal Tap isn't actually a documentary (be careful calling it a "mockumentary" as well, Christopher Guest isn't especially fond of that term). But Spinal Tap's influence can't be dismissed. Most modern, straight music documentaries unknowingly (or knowingly?) steal narrative form, structure, and other storytelling devices from Spinal Tap, which works to increase how dead-on the satire is as time passes between viewings. It's no wonder members of famous bands (Aerosmith, U2, to name two) have said that This is Spinal Tap is too realistic to be funny; it's a sobering experience to find out that the art your life is imitating happens to be the funniest movie ever made. -- Nick Greene
The Carter (2009)

The Carter captures Lil Wayne at the height of his codeine-fueled hip-hop mega-celebrity, when even his stoned ramblings captured the attentions of millions. The fact that Wayne himself sued to block this film tells you just how honest it is. --Ben Westhoff
© 2002 - United Artists Films - All Rights Reserved
The Last Waltz (1978)

Take one of the 20th century's most famous directors, throw in the most famous backing band of all time, and combine it with the concert where said Band quits in its prime, never to reform. What you've got there is not only one of the best music documentaries of all time, you've got one of the most compelling pieces of cinema of the last fifty years. As if that angle weren't enough, the whole concert is a who's who of music's golden 1960/1970s period, from Bob Dylan to Neil Young, from Muddy Waters to Van Morrison, recorded and filmed flawlessly. A must-see. --Gavin Cleaver
© 2012 - Sundance Selects
Last Days Here
(2011)
When we're first introduced to emaciated, bug-eyed, trembling Bobby Liebling, the fiftyish frontman of the frequently dormant cult metal band Pentagram and the subject of this small-scale but weirdly engrossing documentary, he's showing off his past stage outfits: perfectly preserved hip-huggers purchased in 1967, "paisley shit," chiffon scarves. "I was saving them for when I got big. And that never happened, so I saved them forever," the crack, heroin, and meth addict says in the subbasement of his parents' Germantown, Maryland, home, where he has resided for decades. (Read the full
review of Last Days Here
.) --Melissa Anderson.
The Road to God Knows Where (1990)

The product of a German film student with a single handheld camera spending five weeks on the road with one of the must-see underground acts of the 1980s, The Road To God Knows Where is a fascinating look at one band's descent into a drug-addled behavioral sink as they tour an unfamiliar USA. With the feel of a great American road movie, it's almost Fear And Loathing as imagined by a depressed Australian songwriter and his backing band. --Gavin Cleaver
Why Should the Devil Have All the Good Music? (2006)

A really good documentary is capable of taking you to a world you don't care about, explaining a boiling controversy you weren't aware of, and leaving you with the sudden urge to take sides. If you've never been inside a Christian bookstore the tension between the major Christian labels and more ambiguous outsiders like Larry Norman, Steve Taylor, and Pedro the Lion might seem unimportant, but you'll leave Why Should the Devil Have All The Good Music? with an opinion about all of them, even if you have no desire to ever listen to I Predict 1990. --Dan Moore
Edward Colver
American Hardcore (2006)

This hardcore chronicle is great, covering all the cities with scenes of fans and bands, interviewing the men and women who were on the frontlines of the genres birthing, including godfathers Henry Rollins, Keith Morris, and Ian MacKaye. Read the book too, it's got plenty of hardcore history as well. --Craig Hlavaty
Rush: Beyond the Lighted Stage (2010)

If you aren't a fan of these prog gods from the Great White North, you will at least have a respect for them after checking out this star-studded doc. Trent Reznor and Billy Corgan are just some of the followers who weigh in on the power trio. --Craig Hlavaty
DiG! (2004)

This Ondi Timoner film made Brian Jonestown Massacre frontman Anton Newcombe an instant batshit rock and roll legend and painted The Dandy Warhols as a Pollyanna-ish pack of kids in over their heads. --Craig Hlavaty
The Devil & Daniel Johnston (2005)

The best thing about this Daniel Johnston flick is that it does not shy away from explaining his mental illness, showing how DJ's fight effected his family and friends. The home footage and recordings are a great look into his jagged creative process. --Craig Hlavaty
Imagine (1988)

This 1988 film and 2006's The U.S. Vs. John Lennon are looks into what made J-Yo tick. The scenes dealing with Lennon's "lost weekend" in the former are excellent. --Craig Hlavaty
I Am Trying To Break Your Heart: A Film About Wilco (2002)

Over the course of two hours, Wilco is seen recording Yankee Hotel Foxtrot and then getting shafted by Reprise. We love the part where a harried Jeff Tweedy and family are at a fast food place trying to stay sane. --Craig Hlavaty
The Decline of Western Civilization (1981)

This Penelope Spheeris documentary, plus her Roger Corman-produced punksploitation Suburbia, no doubt turn countless kids into punk rockers after one viewing, if not by the halfway point. --Craig Hlavaty
© 2004 Lakeshore Entertainment. All rights reserved.
Mayor of the Sunset Strip (2003)

Rodney Bingenheimer (on far left) was a sort of Andy Warhol for the L.A. music scene, touching most every genre from the mid-'60s until today. He gets exalted by everyone who comes in his path, but finds that big business isn't as receptive to him along the way. Bonus points for appearances by the greasy yet influential Kim Fowley. --Craig Hlavaty
Madonna: Truth or Dare

The chick who made Lady Gaga possible takes us into her world with Truth Or Dare, and manages to humanize herself in the midst of one of the most vanity-laced periods in her career. --Craig Hlavaty
Don't Look Back (1967)

You don't realize how much of am insufferable smart-ass Bob Dylan was in the beginnings of his fame until you see D.A. Pennebaker's Don't Look Back, which follows him on his 1965 UK tour. The opening scene is the most iconic part, with Dylan famously rolling through the lyrics of "Subterranean Homesick Blues" on large cards as Allen Ginsberg hangs around behind him. --Craig Hlavaty
Joy Division (2007)

Before you watch Anton Corbijn's feature film about Joy Division and Ian Curtis, Control, be sure to check out this Grant Gee film on the band. --Craig Hlavaty
End of the Century: The Story of the Ramones (2003)

The Ramones made great music together, but they seemed to hate the shit out of each other while they were together. For a band as documented as the Ramones, this film actually manages to shed new light on the band, even for the devotees out there. --Craig Hlavaty
You're Gonna Miss Me (2005)

This look into Texas garage legend Roky Erickson's life isn't so much different than the Daniel Johnston flick, with both dealing in the family drama behind mental illness. Now we just have to wait for the big budget biopic. --Craig Hlavaty
Hated: GG Allin & the Murder Junkies (2012)

If you ever wanted to see GG Allin throw feces and piss on his fans, Hated is your chance. The 1994 doc was directed by Todd Phillips, who would go on to also make Road Trip, Old School, and The Hangover. --Craig Hlavaty
It Might Get Loud (2008)

Jimmy Page, The Edge and Jack White join forces to show us how they each make their signature sounds. White builds a guitar on a back porch, and Page is generally a badass. The Edge shows us his array of pedals and how he makes the "U2" sound. --Craig Hlavaty
Joe Strummer: The Future Is Unwritten (2007)

Following the same course as Westway, The Future Is Unwritten jumps into the life at the heart of the Clash, Strummer, and the meandering turns his life took from his birth to death in 2002. --Craig Hlavaty
Radiohead: Meeting People Is Easy (1998)

Radiohead goes insane on tour as they overtake Oasis as the biggest band from the UK in the last years of the '90s. --Craig Hlavaty
Thunder Soul (2010)

Straight out of a high school in Texas, the electrifying Kashmere Stage Band was the brainchild of gifted music teacher Conrad Johnson.