Once considered bohemian and a bit edgy, the Delmar Loop showed its true colors last year, when the city fathers (and a phalanx of lawyers) expelled a sports bar featuring servers in pasties and body paint. Sure, you can still get your back tattooed or your nipple pierced here, but these days, the neighborhood is decidedly family-friendly, if a bit overrun with wealthy students from neighboring Washington University.
So named because it was situated at the end of the city's trolley line (the trolley made a "loop" before returning east to St. Louis), the Loop proves what's old is new this spring, as the once-familiar clang-clang-clang of the trolley will again echo along its path — after a two-year construction project, a 2.2-mile line runs from the University City library to the Missouri History Museum. But whether the trolley is taking passengers during your visit or still in trial runs, the area is home to more than enough delights to keep you busy for a full day, all of them accessible by foot.
PHOTO BY JENNIFER SILVERBERG
Winslow's Home is both restaurant and general store.
11 a.m.
Fuel Up
Start your day a little less than a mile west of the trolley's endpoint with brunch at Winslow's Home (7213 Delmar Boulevard, 314-725-7559). You could certainly drive (the parking lot is big), but the large patio is best enjoyed on sunny days, and if you're lucky enough to get one, the restaurant is a pleasant walk from the heart of the Loop. Order at the counter from a tightly curated menu of farm-to-table preparations of breakfast and lunch classics. After filling up, browse the selection of kitchen gear and cookbooks that lines the store — they're all for sale.
Noon
Spend Some Money
Meander your way east down Delmar to the heart of the Loop. If you've got a car, ditch it in the large (free) public lot at Delmar and Kingsland: The central district is less than a mile long and filled with beckoning storefronts. Pitaya (6632 Delmar Boulevard, 314-725-2233) is a great spot for women's clothing, while Phoenix Rising (6331 Delmar Boulevard, 314-862-0609) will make you laugh out loud, with hilarious cards and gifts and beautiful jewelry to boot. OSO: a style lab (6321 Delmar Boulevard, 314-467-0436) mixes high and low for of-the-moment fashion, while Sol and Blues (6317 Delmar Boulevard, 314-863-2121) offers denim from top brands and other apparel for women and men alike. Or browse the racks at Subterranean Books (6275 Delmar Boulevard, 314-862-6100), a terrific locally owned shop that's thriving even while Amazon muscles out its competitors.
3 p.m.
See Where the Smart Kids Learn
The handsome campus of Washington University in St. Louis is just a five-minute walk from the Loop; why not give it a stroll? Walk down Skinker past Forest Park so you first access the grounds via Brookings Drive — it's quite a grand entrance. You could easily spend an hour eyeing the lovely buildings, but if you're more destination-oriented, the Mildred Lane Kemper Art Museum (1 Brookings Drive, 314-935-4523) is conveniently located at Skinker and Forsyth. It's also totally free.
5 p.m.
Happy Hour Beckons
If the weather is nice, get a table on the sidewalk in front of Three Kings Public House (6307 Delmar Boulevard, 314-721-3388). The friendly gastropub offers reasonably priced sandwiches, appetizers and salads, plus a host of craft beers. Try not to stuff yourself just yet; dinner is still ahead.
PHOTO BY JENNIFER SILVERBERG
Middle-Eastern cuisine beckons at Ranoush.
7 p.m.
Dinner Time
Numerous spots for a meal are in walking distance. Barbecue lovers can't go wrong at Salt + Smoke (6525 Delmar Boulevard, 314-727-0200), while those who want a taste of the Middle East would be wise to visit Ranoush (6501 Delmar Boulevard, 314-726-6874). Opened by a Syrian immigrant in 2009, the place offers spectacular hummus and shawarma.
9 p.m.
Watch Something Cool
By this point, smart travelers have already booked tickets to whatever's playing at the Pageant or Delmar Hall, sister venues on the Loop's eastern edge that offer an impeccably curated lineup of bands. If not, why not see what's playing at the Tivoli Theatre (6350 Delmar Boulevard, 314-727-7271)? The three-screen theater was built in 1924 and is now part of Landmark Theatres, which means smart films and special programming. Beer and wine are most definitely available. Follow the movie with a treat at Snow Factory (6602 Delmar Boulevard), a jumpin' late-night spot that features pan-fry ice cream rolls à la Thailand.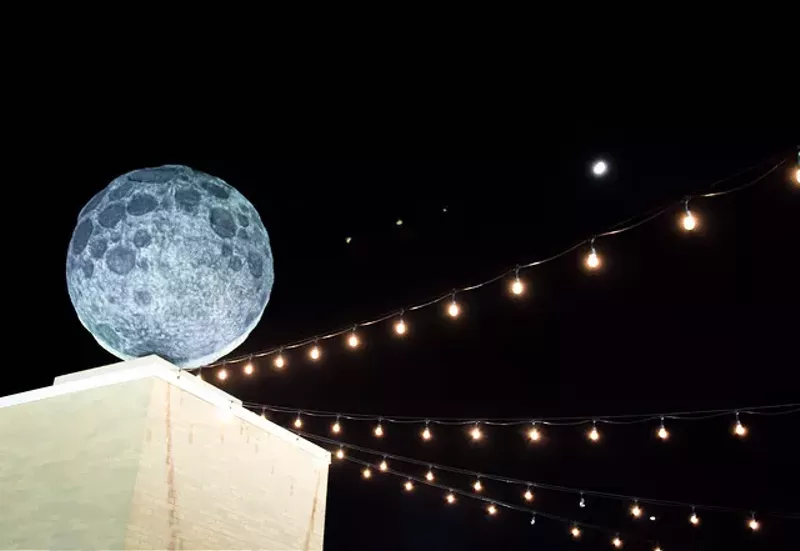 PHOTO COURTESY OF FLICKR/ CARRIE REED
The Moonrise offers a moon ... and a view.
11:30 p.m.
Time for a Nightcap
If you're staying on the Loop, you're likely staying at the Moonrise Hotel (6177 Delmar Boulevard, 314-721-1111), a modern boutique right next door to the Pageant. And if the weather's nice, why not end the evening with a nightcap on the rooftop bar? Hell, make it two nightcaps — they serve all the way until 3 a.m.
8 a.m.
Get Moving
Start your morning right with a jog through Forest Park (5595 Grand Drive) — it's a quick three-fourths of a mile from the Moonrise to the corner of Skinker and Lindell, and from there your paths are many. At 1,371 acres, Forest Park dwarfs Central Park by 500 acres; plan wisely.
10 a.m.
Caffeinate Yourself
Finish your time in the Loop at Blueprint Coffee (6225 Delmar Boulevard, 314-266-6808). Yes, it's often crowded, but there's a reason for that: Everyone working at this locally owned java hub knows their stuff. Single origin beans and knowledgeable baristas mean you won't be getting just any cup of joe. Breakfast is also available.