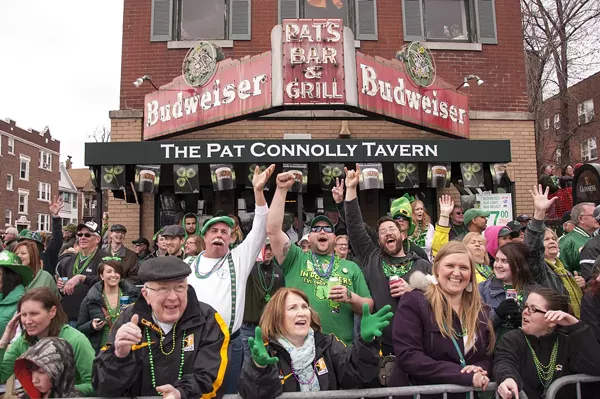 People crowded the streets in green with beer outside of teverns, bars, houses and anywhere they could stand.
The most orange beard from the parade.
Revelers keep warm from the cold beer and cool afternoon with a blanket.
These future Hibernians were pretty happy to be toted around.
Leprechaun firetrucks are powered by gold.
More of the raucous crowd.
Mary and Mary celebrated their shared birthday by attending the parade.
A tiny horn stolen from a leprechaun.
Kids in the crowd were excited to party with everyone.
A team of specialists is required to untangle beads.
The most regrettable yoga exercise.
These guys helped psych the crowd up.
People filled any empty space in Dogtown.
Nate and Fred enjoying a brew during the parade.
Houses covered in people.
Traditional Irish dancers.
Ann O'Conner Stevens waves the Kerry flag along the sideline of the parade route.
Mean green marching machine.
A Moolah Shriner in a tiny car.
Ethan, Andrew and Rain each found a green item to put on for the parade.
Even Irish luchadors made it out.
This group was celebrating their friend's 21st birthday.
Jack Connolly speaks softly and carries a big stick.
Chris Novack and Kathy Windmueller.
Bagpipers in the musical formation for maximum piping efficiency.
Jessica Wright and Joseph Karak.
Chelsea Reisch and Gregory Tate enjoying his first St. Patrick's Day parade.
Costumed dancers broke it down on the town.