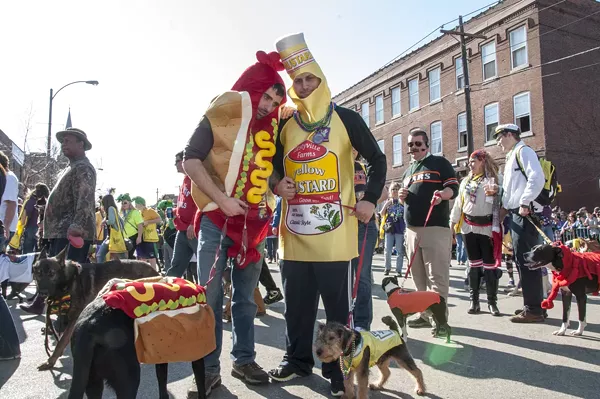 Tyler and Spencer walking their dogs Coltraine and Barley in matching hot dog and mustard costumes.
George Theodorakos and Bones.
Taj showing that the day was colder than it looked.
Mark Edghill, Bridgette Edghill, Mary Helen and Penny the pup all decked out in Blues gear.
Jennifer Jones with Ellie who took the award for best Mardi Gras Queen.
The Quint kids - Parker, Lauren and Austin as dalmatians.
Sally as Cruella Deville.
Kelly taking a rest before the parade starts.
Moose riding in the Barkade Arcade wagon.
Larry Mosely and Roslyn along for the ride with the puppies Josie and Bulla.
Karl Sides and Spicy Tuna Roll.
Sherry Jackson and Lady Liberty.
A kid in the crowd leaps out to catch some beads thrown from a parade float.
The Beggin' Pet parade float puppy!
Zavadivl with her dogs Zizi, Rozi and Magi.
Becky Clauss with her puppy Boomer.
Hope and Ken Herwig out with their pups, Rosey and Abbey.
Parade goers have their dogs take them for a walk.
Charlie Smith as the terrifying Dinoback Terrier.
Anna with her huge puppy Fiona.
Scotty Fiedler and Julie Price, the First Lady of Soulard.
Spectators taking in the parade.
Carrie Berger and Cary walking Royal the horse.
The wieners go flying when they run!
Owners calling their dogs to the finish line.
Holly and Luigi took trophies for their dedication to the armed forces.
Kyle McClellan and his adorable golden retriever Cammie.
The enormous crowd gathered for the parade and Blues Traveler.
Chan Kinchla (Guitar) singing along while Ben Wilson (Keys) dances.
Ben Wilson on keys grinds out some great notes.
John Popper using his signature mic.
Brendan Hill railing on his drum set.
John Popper laying down vocals.
Chan Kinchla riffing on his guitar.
Tad Kinchla grooving on bass.