Page 3 of 3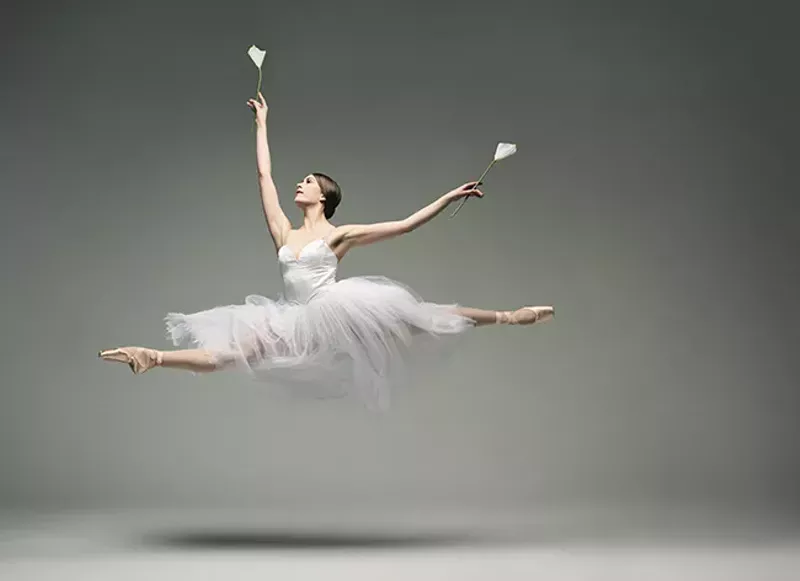 COURTESY OF SAINT LOUIS BALLET, SLB D​ANCER AMY HERCHENROETHER. PHOTO BY PRATT KREIDICH​
Saint Louis Ballet presents Giselle in November.
Giselle
Saint Louis Ballet opens its new season with the romantic and haunting French ballet Giselle. The titular Giselle is a peasant girl who is wooed by Albrecht, a nobleman in disguise. Unfortunately, Albrecht is already betrothed to another, and Giselle has a weak heart. Albrecht isn't bothered by his fickleness until he's caught between the two women and Giselle dies from a broken heart. Matters only get worse for Albrecht when the vengeful Wilis appear. These vengeful spirits were once women, but all died from broken hearts, and they punish Albrecht to dance himself to death. But can a pure love from beyond the grave save him? Saint Louis Ballet performs Giselle at 8 p.m. Friday and Saturday and 2:30 p.m. Sunday (November 3 to 5) at the Touhill Performing Arts Center (1 University Drive at Natural Bridge Road; www.stlouisballet.org) on the University of Missouri-St. Louis campus.
Jurassic Park
Say what you will about the film Jurassic Park (those dinos should have had feathers; Jeff Goldblum should have done a nude scene), but it's a crowd favorite, and John Williams' score for it has become so great a cultural touchstone that a wheezy version of it played on a melodica has become an internet favorite. The Saint Louis Symphony does everyone a solid by performing the score live in synch with a screening of the film at 7:30 p.m. Friday and Saturday and 2:30 p.m. Sunday (November 3 to 5) at Powell Hall (718 North Grand Boulevard; www.slso.org). Conductor Gemma New will lead the symphony for the evening. Leave your damn melodicas at home.
Living Proof: The Art of Japanese Draftsmanship in the 19th Century
As strange as it seems to us in the West, Japanese artists did not view their own drawings as individual works of art. They were "thinking on paper," or creating visual aids for wood carvers and printers who would create the actual work of art: the woodblock print. But despite their creators' misgivings about the artistry, drawings by master woodblock printers such as Utagawa Kuniyoshi and Katsushika Hokusai are indeed works of art. Living Proof: The Art of Japanese Draftsmanship in the 19th Century, the new exhibition at the Pulitzer Arts Foundation (3716 Washington Boulevard; www.pulitzerarts.org), collects more than 80 such "throwaway" drawings that capture the artists' work in their own hands, with corrections and alterations that demonstrate how they thought about and edited their projects "in camera." Living Proof is on display November 3 through March 3.
(C) THOMAS STRUTH
Thomas Struth, German, born 1954; Tokamak Asdex Upgrade Interior 2, Max Planck IPP, Garching, 2009; Chromogenic print; 55 3/4 x 69 5/16 inches; courtesy of the artist © Thomas Struth
Thomas Struth: Nature & Politics
We live in a high-tech world in which we can communicate instantly with someone on the other side of the globe — or even orbiting in space on the International Space Station — without really understanding how such technological marvels occur. We may as well be victims of Arthur C. Clarke's Third Law: "Any sufficiently advanced technology is indistinguishable from magic." German artist Thomas Struth reveals how scientists and engineers perform their magic tricks simply by showing you where the magic happens. His monumental photographs reveal the research spaces and installations where science reshapes our world every day. Thirty-five of Struth's visually-dense photographs make up the new exhibition Thomas Struth: Nature & Politics at Saint Louis Art Museum (1 Fine Arts Drive; www.slam.org). The show features robotics laboratories and aeronautical centers that appear to be sets from a big-budget sci-fi movie, but they're really just office spaces for some of the most intelligent people on earth. Thomas Struth: Nature & Politics will be on display November 5 through January 21.
John Cleese with Monty Python and the Holy Grail
Monty Python and the Holy Grail remains an unassailable comedy classic. It doesn't matter if you're a high-brow medievalist who loves the film for the period-correct pronunciation of "knight" used throughout or simply a fan of moose-bite jokes; Holy Grail has something for everyone. In fact, the only thing it doesn't have is a live John Cleese that steps out of the film at the end and answers all your questions about sword-throwing watery tarts as forms of government and why the French think elderberries are insulting — until now. Following a showing of the film at 7:30 p.m. Thursday, November 16, at Peabody Opera House (1400 Market Street; www.peabodyoperahouse.com), John Cleese will take the stage to answer your questions. Please note that Mr. Cleese has requested "absurd and/or ridiculous questions only," so go nuts.
Remnant
The tradition of theater companies presenting Christmas-themed plays during December is an old one, but you rarely see one as alien and yet familiar as Ron Reed's drama Remnant. The play takes place after the end of the world, in the cramped home of Barlow Sho'r and family, who live surrounded by the electric detritus of the pre-apocalypse world. Despite the cataclysm that's broken society, memories of Christmas still linger among the survivors — and Barlow fervently believes that if they properly perform all the Christmas rituals tonight, the world will spontaneously rejuvenate. When a mysterious stranger arrives seeking shelter, Barlow has a tough decision to make. Does Christmas require him to kill a man to make its miracle work? Mustard Seed Theatre made its debut with Remnant way back in 2007. It mounts its second production of the show — even closer to the end of the world — December 12 to 23 at Fontbonne Fine Arts Theatre (6800 Wydown Boulevard; www.mustardseedtheatre.com).
Hamilton
Who'd have thought a musical about one of the Founding Fathers would be a smash-hit in an era when these august old men are used as ammunition for every sort of political argument? (Especially the one who was killed in a duel with the sitting vice president.) Lin-Manuel Miranda tells the story of an orphan from the Caribbean who rises to the top of Colonial American society and then fights for his young country in the Revolutionary War. He cheekily casts people of color as his civilians, soldiers and statesmen, and incorporates a soundtrack of hip-hop, R & B and traditional show tunes to transform our perception of these legends of the past, making them more human. And rather than present an anodyne version of Hamilton's life, Miranda depicts his title character as a brilliant, complex, self-made man — and then he hits the audience with the ultimate truth: No one gets to decide how they're remembered. The highly anticipated musical makes its St. Louis debut April 3 to 22 at the Fox Theatre (527 North Grand Boulevard; www.fabulousfox.com).