OK, maybe it doesn't feel like fall quite yet — the leaves are still on the trees, and the temperature regularly shoots past 80. But Labor Day weekend's commencement promises we'll soon be feeling that familiar nip in the air, the quickening of spirits that comes with the first sign of autumn.
And fall puts us in the mood to learn something new. Summer is all about pool parties, alcohol, float trips. The months that follow suggest museums, galleries, darkened cinemas. Could there a better time to take the plunge and explore something new?
Here are twenty things to do this fall to expand your artistic and cultural horizons. Plus, we've included a bonus item: something happening in the spring that you may want to start planning for now. (You'll know it when you see it.)
Panoramas of the City
In a year in which the Missouri History Museum exhibition team has given us the stories of St. Louis' greatest civil rights freedom fighters and returned us to the glory days of Route 66, it would take something truly spectacular for the museum to outdo itself — and yet somehow it's done just that. The museum's new exhibition, Panoramas of the City, is as close to time travel as you can get without involving Morlocks. The show comprises seven floor-to-ceiling size images of scenes such as Charles Lindbergh speaking to a crowd of 100,000 people on Art Hill at his "welcome home" party and a 1920 march on Olive Street by the League of Women Voters. These massive photographs are joined by props and interactive media displays that give viewers a better understanding of the historical context of each scene. More than 60 panoramas of various sizes round out the exhibit, which will be on display from September 2 to August 12, 2018, at the Missouri History Museum (Lindell Boulevard and DeBaliviere Avenue; www.mohistory.org).
Dot
Dotty is not the woman she once was — and some days, even she can admit that. Gone is the middle-class woman who raised three kids and used to entertain all and sundry during the holidays. In her place is a woman who forgets to take her pills and can't safely prepare her own meals or be trusted alone in her own home. Her daughter Shelly has taken charge of Dotty's care, but Shelly has her own life to get back to. What does Dotty have left? Colman Domingo's play Dot deals with aging, Alzheimer's and the unsettling passing of the baton that happens when children step up to care for their own parents. The Black Rep opens its 41st season with Dot. Performances take place September 6 to 24 at Washington University's Edison Theatre (6465 Forsyth Boulevard; www.theblackrep.org).
Seu Jorge: The Life Aquatic
Seu Jorge turned in one of the most memorable performances in Wes Anderson's film The Life Aquatic without speaking a word. The Brazilian singer played the role of Pele, a sailor who sang Portuguese versions of David Bowie songs throughout the film, acting as both in-story soundtrack and a sort of Greek chorus. Hearing Bowie's '70s-era songs in a foreign language with only Jorge's acoustic guitar as accompaniment made them sound as new and as alien as they did when they first blasted out of your speakers. Jorge is on tour honoring the artistic legacy of David Bowie with Seu Jorge: The Life Aquatic, a Tribute to David Bowie. The show features a recreation of the film's set, with images from the movie projected onto boat sails while Jorge performs those incredible songs in his native tongue. Seu Jorge: The Life Aquatic, a Tribute to David Bowie takes place at 8 p.m. Tuesday, September 12, at the Pageant (6161 Delmar Boulevard; www.thepageant.com).
The Feast
Matt and Anna are by all accounts a happy couple. He's a painter with a burgeoning gallery deal, she's a modern business warrior-woman; really, all they can complain about is the groaning and gnashing of the plumbing, but what do you expect in New York? Matt doesn't really start to worry until the sewers begin talking to him. Then everybody he encounters speaks in the same sonorous voice, extolling him to fulfill his great destiny. Cory Finley's The Feast is an eerie comedy about the tenuous boundary separating reality from madness. St. Louis Actors' Studio opens its eleventh season with the Burroughs grad's play. Performances take place September 22 to October 8 at Gaslight Theatre (358 North Boyle Avenue; www.stlas.org).
BookFest St. Louis
Despite boasting two major library systems, a strong set of municipal libraries, a thriving culture of independent book stores and one of the strongest literary heritages of any city in America, St. Louis has had trouble maintaining an ongoing literary festival, with the notable exception of the St. Louis Jewish Book Festival. BookFest St. Louis aims to right that wrong with a long-lasting celebration of the literary arts. The inaugural BookFest St. Louis, which is organized and supported by the Central West End, Left Bank Books and the Left Bank Books Foundation, will take place September 21 to 23 at multiple locations within the Central West End (www.bookfeststl.com) and will feature panels with authors who write for children, those who write literary fiction, memoir, poetry, science fiction and a celebration in honor of the centenary of T.S. Eliot's Prufrock and Other Observations.
Penn & Teller
Penn & Teller are the kind of magicians who tell you they're going to trick you, show you how they'll do the trick and still manage to trick you anyway. The duo have fired nail-guns into their own hands, dumped hundreds of cockroaches on David Letterman and generally baffled and bewildered audiences for 40 years, all while being supreme showmen. And then there are their card tricks, which at one point required four-foot-high metal playing cards that the pair shuffled using electric forklifts. Penn & Teller perform strange miracles at 8 p.m. Friday, September 29, at the J. Scheidegger Center for the Arts (2300 West Clay Street, St. Charles; www.lindenwood.edu) on the Lindenwood University campus.
Borgia Infami
The Borgia family has been synonymous with brilliance and the lust for power since the days the fifteenth century. They dominated politics and ecclesiastical roles while remaining cunning warriors and generous patrons of the arts. But they were also slandered and libeled by the people they out-maneuvered. Rodrigo attained the position of pope (he was officially Pope Alexander VI), but was then accused of hosting orgies in the Vatican. His son Cesare was frequently cited as an example of what not to do by Machiavelli in his famous treatise The Prince. Cesare's sister Lucrezia was used as a pawn by the family to gain power through marriage, and she was rumored to be the family executioner, poisoning people who had outlived their usefulness. The Borgias have all the ingredients for a fantastic opera (or soap opera), which is exactly why Harold Blumenfeld wrote Borgia Infami. Blumenfeld's opera weaves together fact and various fictional portrayals of the family to give a full picture of their significance in history. The Washington University Department of Music presents the world premiere of Borgia Infami at 7:30 p.m. Saturday and 3 p.m. Sunday (September 30 and October 1) at Washington University's Edison Theatre (6465 Forsyth Boulevard; www.edison.wustl.edu).
DAVID LANCASTER
Dancers in rehearsal for Dirt, part of Freedom choreographed by Jennifer Archibald.
Madco Freedom
Madco brought the curtain down on its 40th season with Freedom, a collection of four new dance pieces inspired by images of the civil rights movement in the '60s and what happened in Ferguson just two years earlier. The four choreographers — Cecil Slaughter, Nejla Yatkin, Jennifer Archibald and Gina Patterson — didn't seek to directly recreate scenes of fire hoses and heavily-armed police officers on stage. Rather, they sought to evoke both a sense of oppression and the striving, human element that sought equality through peaceful means. Madco presents an encore performance of Freedom at 8 p.m. Saturday, September 30, at the Touhill Performing Arts Center (1 University Drive at Natural Bridge Road; www.touhill.org) on the University of Missouri-St. Louis campus.
The Bodyguard
Whitney Houston and Kevin Costner brought old-fashioned romance back to the big screen with their 1992 smash film, The Bodyguard. Alexander Dinelaris adapted the film into a musical, and made a few changes along the way. Rather than focus on ex-Secret Service guy Frank Farmer, Dinelaris centers the story on singer Rachel. And while Whitney is not going to take the stage to belt out "I Will Always Love You," the musical is loaded with additional Houston hits, and the romance still sweeps the show along to a dramatic conclusion. The Bodyguard the Musical is presented October 3 to 15 at the Fox Theatre (527 North Grand Boulevard; www.fabulousfox.com).
Cardenio: Shakespeare's Lost Play
Of the many mysteries surrounding William Shakespeare — Was that his real name? Did he use a quill or a word processor to write? What were his thoughts on ruffled collars? — one of the more interesting possibilities is the fate of his play Cardenio. Oxford's Bodleian Library has proof it was staged in 1612, but then it seemingly disappeared. A version of it supposedly surfaced in 1727 when an editor was given the play's manuscript by a man who worked in the theater; after reshaping it, the editor presented it under the title The Double Falsehood. What is known for a certainty is that Cardenio was inspired by a story found in Don Quixote about a man who is betrayed in love by a friend, which causes our hero Cardenio to go live in the hollow of a cork tree in the Spanish mountains. Gregory Doran, artistic director of the Royal Shakespeare Company, attempted to wrangle all these threads together in a complete version of the play. Some of it is from Shakespeare, some from Shakey's collaborator John Fletcher, some from Cervantes and some of it is written fresh this century to hold the thing together. St. Louis Shakespeare presents the lost and found play Cardenio October 6 to 15 at the Ivory Theatre (7620 Michigan Avenue; www.stlshakespeare.org).
Bob Newhart
Bob Newhart is atypical even for a comedian. He broke into showbiz by releasing a comedy record on Warner Bros. and then left his job as an accountant to tour his act in clubs across the country. Even stranger, his act involved playing the straight man in a one-man show. Newhart plays off an invisible partner, keeping up his end of the conversation while implying what the other person is saying through calm responses laced with a quiet disbelief at what he's hearing. On paper, it should never work. But on stage, Newhart spins gold out of these mundane set-ups. Bob Newhart's still in the game after 56 years, and he brings his current tour to town at 8 p.m. Saturday, October 7, at the J. Scheidegger Center for the Arts (2300 West Clay Street, St. Charles; www.lindenwood.edu) on the Lindenwood University campus.
Cat Videos Live!
Various computer scientists and engineers, along with a single former vice president, all claim to have created the internet, but everybody knows it was really cats who did it. How else could they attain the worship they're due than by harnessing a mass-media system that's on for 24 hours a day? The "human beings" (sure) at CatVideos.com bring the message to the people with the traveling show Cat Videos Live! Hosted by comedienne Carla Rhodes, the show features exclusive videos of cats doing whatever it is they do, as well as clips of local cats submitted by their proud people. The St. Louis stop of Cat Videos Live! takes place at 8:30 p.m. Sunday, October 8, at the Pageant (6161 Delmar Boulevard; www.thepageant.com). If you are owned by a cat and don't attend, you'll be placing your life in the beclawed paws of a cuddly murder machine.
Hamlet
In its 50 years of operation, the Repertory Theatre St. Louis has somehow never mounted a production of William Shakespeare's Hamlet. That all changes this year — the company's 51st season. Prince Hamlet mopes around castle Elsinore, trying to figure out what to do with his life now that his father the king is dead and his Uncle Claudius has assumed both the throne and the heart of his sister-in-law, Hamlet's mother. When his father's ghost tells Hamlet that Claudius is a murderous usurper, Hamlet finds his bloody purpose in life. But can he throw away everything in order to avenge his father? The Repertory Theatre St. Louis presents its first-ever Hamlet October 11 to November 5 at Webster University's Loretto-Hilton Center (130 Edgar Road, Webster Groves; www.repstl.org).
John Mulaney
Broadway baby John Mulaney is fresh off a highly successful run as cantankerous sex pest George St. Geegland in the bizarre stage show Too Much Tuna. Prior to treading the boards, Mulaney worked as a stand-up comic and writer on Saturday Night Live. His stand-up is powered by his near-obsessive layering of detail into strange-but-true stories about his childhood and his dog and playing insidious pranks with a diner's jukebox. Mulaney is back on the road with his new comedy tour, Kid Gorgeous. He performs at 7 p.m. Thursday, October 19, at Peabody Opera House (1400 Market Street; www.peabodyoperahouse.com).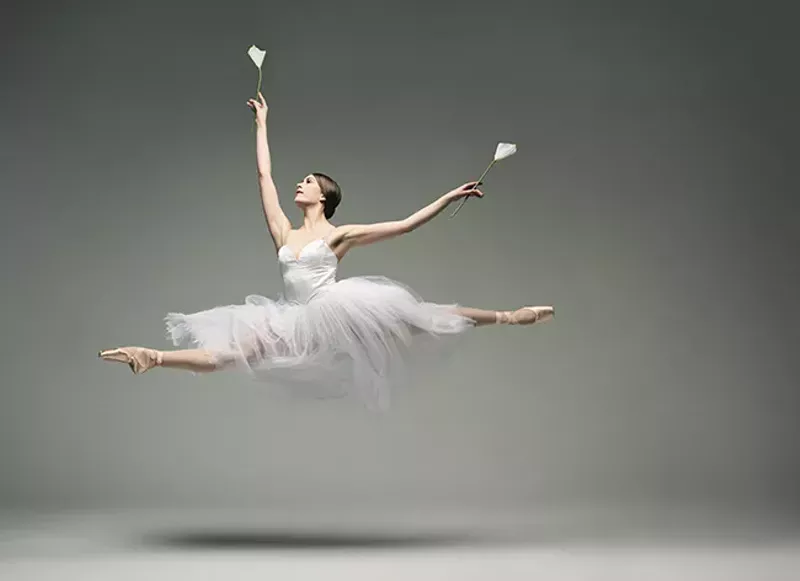 COURTESY OF SAINT LOUIS BALLET, SLB D​ANCER AMY HERCHENROETHER. PHOTO BY PRATT KREIDICH​
Saint Louis Ballet presents Giselle in November.
Giselle
Saint Louis Ballet opens its new season with the romantic and haunting French ballet Giselle. The titular Giselle is a peasant girl who is wooed by Albrecht, a nobleman in disguise. Unfortunately, Albrecht is already betrothed to another, and Giselle has a weak heart. Albrecht isn't bothered by his fickleness until he's caught between the two women and Giselle dies from a broken heart. Matters only get worse for Albrecht when the vengeful Wilis appear. These vengeful spirits were once women, but all died from broken hearts, and they punish Albrecht to dance himself to death. But can a pure love from beyond the grave save him? Saint Louis Ballet performs Giselle at 8 p.m. Friday and Saturday and 2:30 p.m. Sunday (November 3 to 5) at the Touhill Performing Arts Center (1 University Drive at Natural Bridge Road; www.stlouisballet.org) on the University of Missouri-St. Louis campus.
Jurassic Park
Say what you will about the film Jurassic Park (those dinos should have had feathers; Jeff Goldblum should have done a nude scene), but it's a crowd favorite, and John Williams' score for it has become so great a cultural touchstone that a wheezy version of it played on a melodica has become an internet favorite. The Saint Louis Symphony does everyone a solid by performing the score live in synch with a screening of the film at 7:30 p.m. Friday and Saturday and 2:30 p.m. Sunday (November 3 to 5) at Powell Hall (718 North Grand Boulevard; www.slso.org). Conductor Gemma New will lead the symphony for the evening. Leave your damn melodicas at home.
Living Proof: The Art of Japanese Draftsmanship in the 19th Century
As strange as it seems to us in the West, Japanese artists did not view their own drawings as individual works of art. They were "thinking on paper," or creating visual aids for wood carvers and printers who would create the actual work of art: the woodblock print. But despite their creators' misgivings about the artistry, drawings by master woodblock printers such as Utagawa Kuniyoshi and Katsushika Hokusai are indeed works of art. Living Proof: The Art of Japanese Draftsmanship in the 19th Century, the new exhibition at the Pulitzer Arts Foundation (3716 Washington Boulevard; www.pulitzerarts.org), collects more than 80 such "throwaway" drawings that capture the artists' work in their own hands, with corrections and alterations that demonstrate how they thought about and edited their projects "in camera." Living Proof is on display November 3 through March 3.
(C) THOMAS STRUTH
Thomas Struth, German, born 1954; Tokamak Asdex Upgrade Interior 2, Max Planck IPP, Garching, 2009; Chromogenic print; 55 3/4 x 69 5/16 inches; courtesy of the artist © Thomas Struth
Thomas Struth: Nature & Politics
We live in a high-tech world in which we can communicate instantly with someone on the other side of the globe — or even orbiting in space on the International Space Station — without really understanding how such technological marvels occur. We may as well be victims of Arthur C. Clarke's Third Law: "Any sufficiently advanced technology is indistinguishable from magic." German artist Thomas Struth reveals how scientists and engineers perform their magic tricks simply by showing you where the magic happens. His monumental photographs reveal the research spaces and installations where science reshapes our world every day. Thirty-five of Struth's visually-dense photographs make up the new exhibition Thomas Struth: Nature & Politics at Saint Louis Art Museum (1 Fine Arts Drive; www.slam.org). The show features robotics laboratories and aeronautical centers that appear to be sets from a big-budget sci-fi movie, but they're really just office spaces for some of the most intelligent people on earth. Thomas Struth: Nature & Politics will be on display November 5 through January 21.
John Cleese with Monty Python and the Holy Grail
Monty Python and the Holy Grail remains an unassailable comedy classic. It doesn't matter if you're a high-brow medievalist who loves the film for the period-correct pronunciation of "knight" used throughout or simply a fan of moose-bite jokes; Holy Grail has something for everyone. In fact, the only thing it doesn't have is a live John Cleese that steps out of the film at the end and answers all your questions about sword-throwing watery tarts as forms of government and why the French think elderberries are insulting — until now. Following a showing of the film at 7:30 p.m. Thursday, November 16, at Peabody Opera House (1400 Market Street; www.peabodyoperahouse.com), John Cleese will take the stage to answer your questions. Please note that Mr. Cleese has requested "absurd and/or ridiculous questions only," so go nuts.
Remnant
The tradition of theater companies presenting Christmas-themed plays during December is an old one, but you rarely see one as alien and yet familiar as Ron Reed's drama Remnant. The play takes place after the end of the world, in the cramped home of Barlow Sho'r and family, who live surrounded by the electric detritus of the pre-apocalypse world. Despite the cataclysm that's broken society, memories of Christmas still linger among the survivors — and Barlow fervently believes that if they properly perform all the Christmas rituals tonight, the world will spontaneously rejuvenate. When a mysterious stranger arrives seeking shelter, Barlow has a tough decision to make. Does Christmas require him to kill a man to make its miracle work? Mustard Seed Theatre made its debut with Remnant way back in 2007. It mounts its second production of the show — even closer to the end of the world — December 12 to 23 at Fontbonne Fine Arts Theatre (6800 Wydown Boulevard; www.mustardseedtheatre.com).
Hamilton
Who'd have thought a musical about one of the Founding Fathers would be a smash-hit in an era when these august old men are used as ammunition for every sort of political argument? (Especially the one who was killed in a duel with the sitting vice president.) Lin-Manuel Miranda tells the story of an orphan from the Caribbean who rises to the top of Colonial American society and then fights for his young country in the Revolutionary War. He cheekily casts people of color as his civilians, soldiers and statesmen, and incorporates a soundtrack of hip-hop, R & B and traditional show tunes to transform our perception of these legends of the past, making them more human. And rather than present an anodyne version of Hamilton's life, Miranda depicts his title character as a brilliant, complex, self-made man — and then he hits the audience with the ultimate truth: No one gets to decide how they're remembered. The highly anticipated musical makes its St. Louis debut April 3 to 22 at the Fox Theatre (527 North Grand Boulevard; www.fabulousfox.com).