Page 2 of 3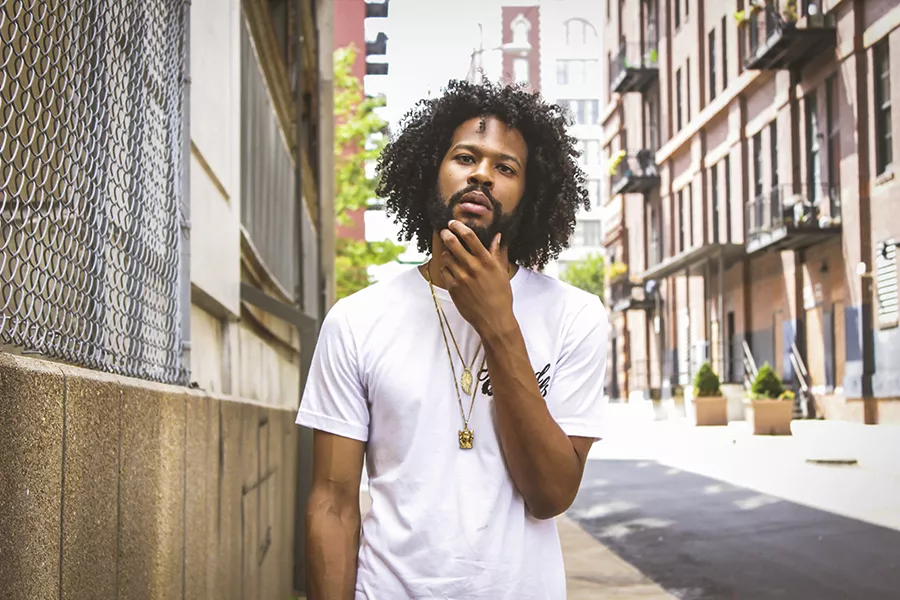 PHOTO BY STEVEN ROACH
Arshad Goods.
Arshad Goods
Named a "rising star" by the St. Louis Post-Dispatch in August, Arshad Goods is a standout member of a thriving St. Louis hip-hop scene that's been in the national spotlight lately thanks to the success of Mvstermind's "Mali Moolah."
The 28-year-old Goods had only spent about a year and a half developing his musical abilities before releasing his debut EP, Black Sunday, in February 2015 — a short turnaround that seems almost unbelievable given the level of polish and depth displayed on the EP. On Black Sunday Goods — despite his limited musical and lyrical experience — sounds mature to a fault, expertly expressing desires and aspirations diametrically opposed, oftentimes poignantly contradicting himself in the course of a single track. Nowhere is this better exemplified than on the track "Marginalized Monday," with lines like "Sometimes I wanna be famous/Other times I wanna be nameless," and "I be all of the above/ Jew, Gentile and Christian."
As you might expect of the first release from an unknown artist, the EP garnered little attention. Since its release, though, Goods has continued to perform, steadily gaining a loyal following thanks to his charismatic on-stage presence and top-notch five-piece backing band.
Goods plans to continue performing in support of Black Sunday throughout 2017, in addition to releasing an as-yet untitled album that is currently in progress.
PHOTO BY ASHLEY JEWELS KUENSTLER
The Sleepy Rubies.
The Sleepy Rubies
As individuals, both Emily Wallace and Ali Ruby have long been fixtures in St. Louis' singer-songwriter scene, playing all over town from bars to farmers markets and living rooms to listening rooms. There's hardly a performance scenario that one or both members of the vocal duo haven't encountered.
Growing up in Winfield, Missouri, the two became best friends in high school — and then sisters when Ruby's parents adopted Wallace. And though Wallace, 33, and Ruby, 31, have been playing music together since their teens, they didn't make an earnest try at combining their talents until about year ago.
After spending some time perfecting their arrangements, the two enlisted the help of engineer Jason McEntire of Sawhorse Studios along with a backing band of veteran St. Louis musicians (Tony Barbata on drums, Shawn Hart on bass, Jim Peters on guitar and Mark Hochberg on strings) to record their debut, Great Big Love. The Sleepy Rubies released the album to a packed house at Off Broadway in July, then kicked off this year's LouFest, performing to a surprisingly large crowd given their early slot.
Looking ahead to 2017, Wallace and Ruby already have a set of material they plan to record this spring, in addition to filming a music video for one of their songs.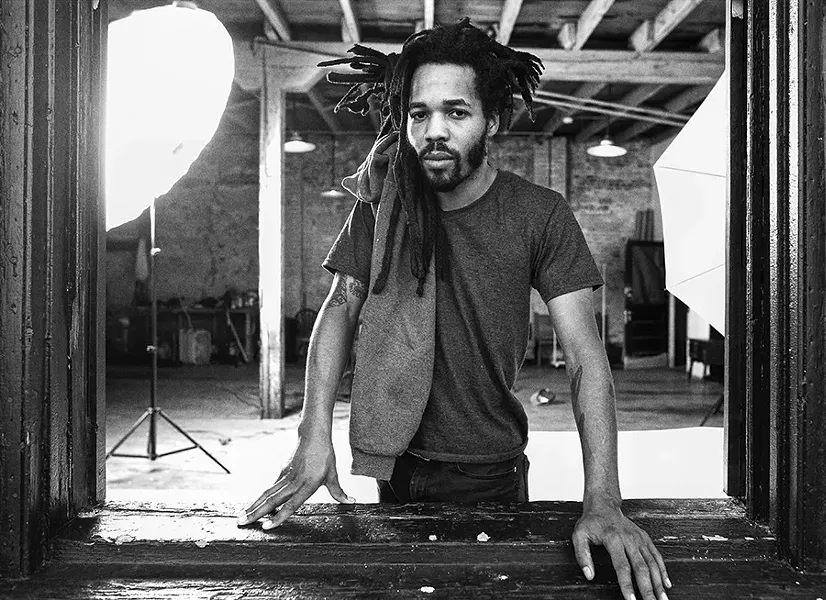 PHOTO BY NATE BURRELL
18andCounting
18andCounting
For enigmatic rapper, producer and visual artist Stan Chisholm, a.k.a 18andCounting, 2016 was a year of growth, despite the fact that he only performed for live audiences a handful of times. Chisholm spent the first few months of the year writing and arranging music, which he eventually performed with frequent collaborators Sarah Vie and Patrick Boland (on violin and drums, respectively), backed by acclaimed new music ensemble Alarm Will Sound.
As the year progressed, Chisolm and his core group of collaborators, TheOnlyEnsemble — comprising Vie and Boland, along with drummer Ian Quarttrocchi and Brennan England on his custom homemade didgeridoo — hosted a string of late-night improv sessions, inviting guest musicians from St. Louis's DIY community. These gatherings inspired Chisolm's latest release, TheBirdsAtThisHour, a self-produced collection of songs and soundscapes, which he released over the course of three multimedia events from October through December. Chisolm calls TheBirdsAtThisHour "a brooding, paranoia-induced, sultry culmination of tracks collaged from collaborative and isolated recordings ... built from the mutated moments of analog gear, acoustic instruments, drum machines, electronic-tinged vocals, guest players and ghosts in the air."
While he has few concrete plans for the coming year, Chisolm, 30, says he sees more out-of-town performances as a significant possibility, and hopes to engage in more collaborations with other St. Louis artists.