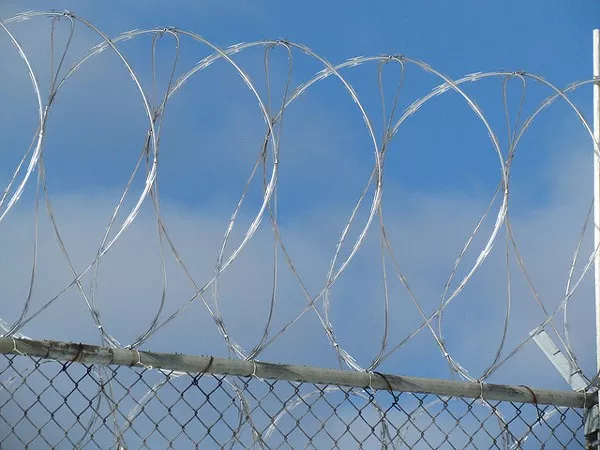 FLICKR/KATE TER HAAR
Multiple corrections officers have been assaulted during staffing shortages in the pandemic.
Prisons across Missouri this past month have seen several severe staff members assaulted and escape attempts, say multiple people connected to Missouri's Correctional Officer Union, MOCOA.
Tim Cutt, the executive director of MOCOA, says dire staff shortages are to blame.
"There's nobody working there," he says. "They're either empty slots or out on COVID."
In an interview with the RFT, Cutt referenced several housing units in prisons across the state that are only being staffed by one corrections officer per shift.
"You got to remember that the inmates live in these prisons, and they know exactly what they can get away with," Cutt says.
On Sunday, November 8, two corrections officers, a man and a woman, were stabbed with a "prison-made weapon" while working at the Eastern Reception and Diagnostic Corrections Center in Bonne Terre.
A few days prior, on November 5, a corrections officer was attacked by an inmate from Western Reception and Diagnostic Corrections Center who was being treated at St. Luke's hospital in Kansas City. The inmate struck the corrections officer in the head and attempted to flee through a drop ceiling in a bathroom. The officer required ten staples to his head.
The week before that, on October 28, a corrections officer at Missouri Eastern Correctional Center in Pacific was attacked in a supply closet by an inmate who was hiding inside of it. The official media alert by the MODOC said that the inmate who perpetrated the assault was caught only a few minutes later during an escape attempt, but the alerts didn't say how much longer it took for officers to realize a staff assault had also taken place. Cutt claimed the assault went unnoticed for an hour, during which time the officer lay unconscious in the supply closet. The MODOC contacted the
RFT
after the story's publication stating that regarding the October 28 assault in Pacific, the offender and the officer in the supply closet were discovered at the same time.
Cutt said that the assault in Pacific happened during a shift change and that staff should have realized sooner that the officer's radio, handcuffs and keys had not been returned. The officer who had been attacked was only discovered, Cutt says, when an officer on the evening shift happened upon the supply closet.
In order to combat the staff shortages, Division of Adult Institutions Director Jeff Norman issued a memo stating that starting on Monday sergeants, captains and lieutenants in the MODOC have been added to the department's "mandatory overtime list" in addition to the regular corrections offices already required to work overtime. Earlier in the month, Potosi Correctional Center switched their correction officers to twelve-hour shifts to try to compensate for low staffing there. Multiple former employees now associated with MOCOA say that many prisons in the state are as many as 50 correctional officers short. Fox 2 News reported earlier this month that vacant positions in the department have risen to nearly 900 since June and management at the prison in Bonne Terre "reportedly locked doors on [staff] trying to leave their shifts." (In an email following publication of this story, a MODOC spokesman called that account "absurd.") In need of new officers, the department had a "drive thru" hiring event earlier this year.
"Missouri's offender population has dropped significantly since its peak in 2017, alleviating some strain, but the staffing shortage persists," MODOC spokesperson Karen Pojmann wrote in an email. Pojmann went on to say that, "although staffing levels certainly can affect safety," low staffing levels aren't to blame for assaults. She says that assaults are actually down in the fall compared to the summer and that "the average 2020 assault rate is five times lower than the 2016 rate."
Specifically about one of the recent assaults, she said, "It's not clear… how the staffing level at a prison would have any bearing on an incident that took place at a medical center."
Regarding who is committing the assaults, Pojmann told the
RFT
that less than one in a hundred inmates commit assaults or have inappropriate interactions with staff of any kind. Slightly over half the assaults, she said, are committed by inmates who have been "diagnosed with serious mental illness." She added, "While the vast majority of incarcerated Missourians cooperate with staff and take part in pro-social activities, many struggle to control their impulses, and some have a history of violent behavior that continues during incarceration."
A Top Recruiter Fired
Eric Burch, formerly a unit manager at Farmington Correctional Center, says he brought about 150 new employees into the department before he was fired in April of last year.
In November 2017, Burch had been with the MODOC for 22 years and was also serving on a hiring committee when his supervisor on that committee told him about a new program to help grow the head count in the short-staffed department. If a current employee referred a new employee who completed training and joined the ranks of the MODOC, the employee who made the referral would get a $250 bonus.
Burch, a self-described "company man," was worried about staff levels at the time and with the new referral program saw both dollar signs and an opportunity to help the challenged prison system that he truly wanted to see turned around.
"We were told to get creative and think outside the box," Burch says. "We needed boots on the ground, and we needed to get them hired on as quickly as possible."
He posted job openings to Facebook groups focused on towns and counties near prisons, eventually becoming active in more than 200 such groups. He included in his posts step-by-step instructions on how to apply. He created an even more detailed set of instructions for the less-than tech savvy. When he realized that the department wasn't posting open positions to the job search site Indeed, he began doing that, too.
Burch showed the
RFT
two emails from MODOC Director of Personnel Dwight Politte, in which Politte thanked Burch for his "outstanding" participation in the recruitment initiative.
At a town hall Burch's boss, warden Teri Lawson, introduced him to Department of Corrections Director Anne Precythe as, "the guy who's been doing all the recruitment." Precythe thanked Burch for all his work. It was a cursory back and forth, but Burch felt good about the interaction. "It was still a compliment coming from the head honcho of the department," he says. "She now knows who I am."
In a little more than a year, he says he recruited 136 people into the MODOC, though he says the number is higher because not everyone he brought in went through the extra steps that allowed Burch to list them as a referral. For those 136 referrals, the state owed him $34,000.
Burch says his supervisor explained to him that there was a maximum that Burch, as a unit manager, could receive per paycheck, but that the department would tack on an extra $250 to his every paycheck until he received the bonuses he'd earned.
That meant he'd be getting the extra money on every check until October 2023. Burch showed the
RFT
paperwork confirming the arrangement. Though Burch wasn't crazy about this, he hadn't planned to retire until 2024 and was ultimately OK with the money being paid out over years.
That is, until the department fired him last year.
On January 29, 2019, he was called to Lawson's office for a disciplinary meeting. He was under investigation for violating seven different policies related to his recruiting activities. He was accused of improperly using his work email, improperly accessing employee info, improperly accessing the internet while at work and for not distinguishing between his "personal views" and statements made on behalf of the department on social media.
On April 24 that year, he received notice he was "hereby dismissed" for "violating department policies and procedures."
Burch says he felt like he was getting fired for the very thing he'd been praised for doing. He'd been told to "think outside the box" and in what universe was posting to Facebook and to a job search site too far outside the box? Burch says that he did use his work email for recruiting and managed some of the social media posts while on the clock but felt that wasn't a problem given he'd been explicitly asked to take part in the recruiting initiative by a superior. As for the charge of "improperly accessing employee info," Burch says that has to do with him asking the people he referred for the last four digits of their social security number. The referral forms Burch showed the
RFT
contain a space in which the employee seeking the $250 bonus would need to fill in that information about the person they are referring.
Another policy Burch was accused of violating was one that states, "All department recruitment advertisements shall include the phrase, 'An Equal Opportunity Employer.'"
Burch admits he failed to include that language in all his posts, but he showed the
RFT
a recruitment flier created by the department that he'd used which didn't have that language on it. Likewise, a recruitment video titled "Secure Your Future" that the department posted to its official Facebook page last week had no such language.
PROVIDED
The recruitment flier, which is also missing the equal opportunity language.
In Burch's mind it's clear why he was let go. The MODOC wanted to save the $26,750 they still owed him in referral bonuses.
Pojmann, the MODOC spokesperson, says she is unable to comment on personal information of former employees but did send the
RFT
a list of policies that hypothetically someone could be fired for violating. The list included "accessing private personnel information without approval" and "misdirecting prospective applicants from the appropriate department hiring authority to a personal telephone number or email address." She added: "Fortunately, many, many highly professional and ethical staff members have referred new hires by making personal connections with them, mentoring them through the onboarding process, and following appropriate referral procedures and professional standards; they are rewarded with both a monetary incentive and a promising new colleague."
Burch says that getting fired really messed with his head. After joining the department in 1996 he'd gone back to school to earn an associate degree, bachelor's degree and eventually a master's degree in criminal justice to help him move up in the department.
"By the time I was fired, I was 46 with a master's," he says. "And there aren't a whole lot of people that want to hire somebody that old with a master's because they think, well, you're out of our price range, or you're not going to stick around with us that long."
Bad for Inmates, Too
A lack of staff at prisons makes life considerably harder for inmates as well.
An inmate incarcerated at a facility in the northern part of Missouri said in an email that having fewer officers "sucks." He said that typically he would get to spend time outside in the yard every day but now is lucky to be outside twice a week.
Additionally, according to this inmate, many of the activities that encourage pro-social behavior are no longer available. "School, church, library, Impact of Crime on Victims Class, and anger management are cancelled," he said. Some of this is due to COVID as well as staff shortages. The inmate said that access to meals and showers has also been curbed in the past months as well.
The operator of a Twitter account who stays in touch with inmates says others incarcerated in state prisons have reported similar problems.
"We know that there have been times that COVID has not been present in a facility but visits haven't been allowed simply because the department of corrections didn't have the corrections staff to staff visiting rooms," says the individual operating the Missouri Prison Reform account. "Incarcerated individuals are scared about COVID but now they're being kept in their cells and not being allowed to stay in touch with the people they love simply because the department of corrections can't staff their facilities."
Editor's note: This story was updated after publication with additional responses from the Missouri Department of Corrections.