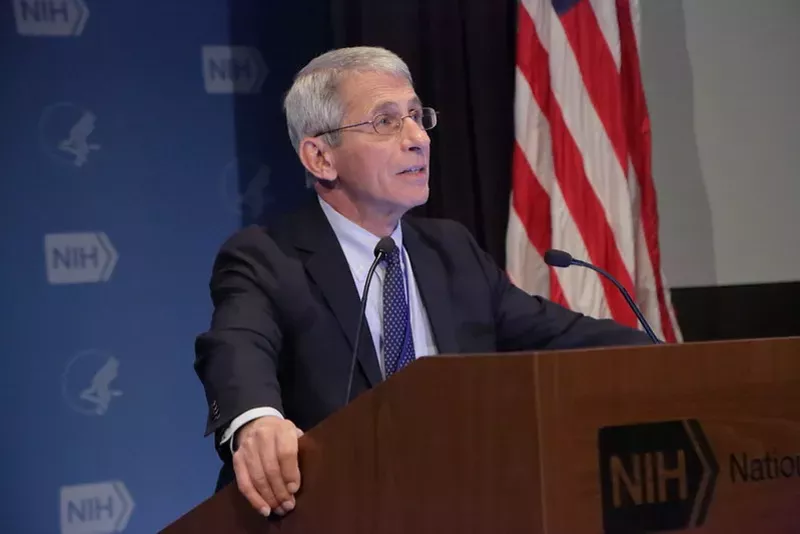 Anthony S. Fauci, M.D., Director, National Institute of Allergy and Infectious Diseases, pictured here in 2016
Missouri is one of seven states that is at a risk for a "surging" in COVID-19 cases, warns Dr. Anthony Fauci in an interview this week with
Bloomberg
.
Dr. Fauci, the top infectious disease expert in the country, lists Missouri alongside North Dakota, South Dakota, Iowa, Arkansas, Indiana and Illinois as states that are at risk for a sharp rise in COVID-19 cases based on current rising numbers.
"Those states are starting to see an increase in the percent positive of their testing," Dr. Fauci
told Bloomberg
, "That is generally predictive that there's going to be a problem."
As many Missourians will remember, Memorial Day weekend earlier this year proved to be a
social distancing disaster
, with hundreds of people partying at the Lake of the Ozarks in such dangerous conditions that St. Louis County issued a
travel advisory
requesting two weeks of self-quarantine for those who participated.
And now this weekend will bring people increasingly desperate for fun out to end-of-summer ragers at bars, on boats and in backyards all across the state. This, combined with the more than
7,000 college-age people in Missouri who have tested positive for the coronavirus
in the past three weeks seems like it could be a recipe for disaster.
"If we're careless about it, then we could wind up with a surge following Labor Day," Dr. Fauci said in the interview. "It really depends on how we behave as a country."
Well, if the past six months of this pandemic is any indication, then no, we really don't know how to behave as a country. Buckle up, everybody.
Email the author at jaime.lees@riverfronttimes.com