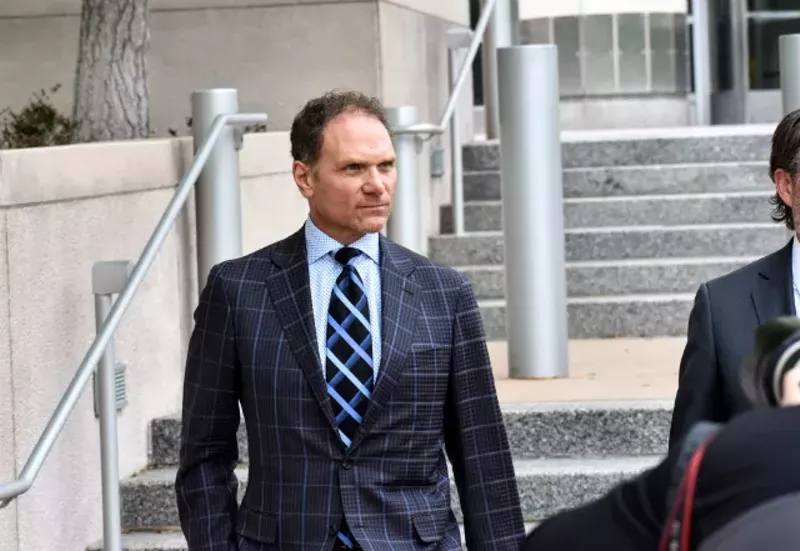 DOYLE MURPHY
John Rallo in May 2019 as he leaves federal court in St. Louis.

The man who bribed former St. Louis County Executive Steve Stenger
wants out of federal prison, because he says the coronavirus puts him at risk.
John Rallo is just seventeen days into his seventeen-month sentence after pleading guilty a year ago to three counts of theft of honest services/bribery. Since his plea, he has been diagnosed with thyroid cancer and has had surgery to remove his thyroid, his attorney writes in a court filing.
In a May 21 letter to the warden of the federal penitentiary in Marion, Illinois, the 54-year-old Rallo pleaded to be allowed to serve his sentence on home confinement because his health is failing.
"As such, I am among those with the highest risk of death or serious illness from COVID-19," he writes. "Yet, as an incarcerated person, it is impossible for me to follow the CDC's recommendations to protect myself and others from exposure to this highly transmissible disease."
With no decision from the warden, Rallo reported as required on June 22 to Marion. His attorneys write that he has been in solitary confinement, because another inmate in his cell block has tested positive for COVID-19. Across the Bureau of Prisons, more than 1,500 federal inmates and 164 staffers have contracted the virus, and at least nineteen have died, according to the filing.
Normally, Rallo would have to serve 90 percent of his sentence before he would be considered for home confinement, but a provision in the CARES Act, passed by Congress to blunt the fallout of the coronavirus, and guidance from U.S. Attorney General William Barr have instructed the Bureau of Prisons to consider home confinement as a way to protect inmates from getting sick.
Probably the most high-profile example of that was former Trump attorney Michael Cohen, who was released to home confinement in May for fear of contracting COVID-19. However,
Cohen is now headed back to prison
after allegedly violating the terms of his release.
Rallo was a St. Louis businessman who opened an insurance company, following a stint as a nightclub operator. He bribed Stenger for years with campaign donations in return for county contracts and real estate deals. A federal probe eventually took down Stenger and two of his top lieutenants — his ex-chief of staff Bill Miller and former St. Louis Economic Development Partnership CEO Sheila Sweeney — along with Rallo.
In arguing for the release of Rallo, his attorneys point out that his conviction didn't involve violence and he had no prior criminal history.
We welcome tips and feedback. Email the author at doyle.murphy@riverfronttimes.com or follow on Twitter at @DoyleMurphy.