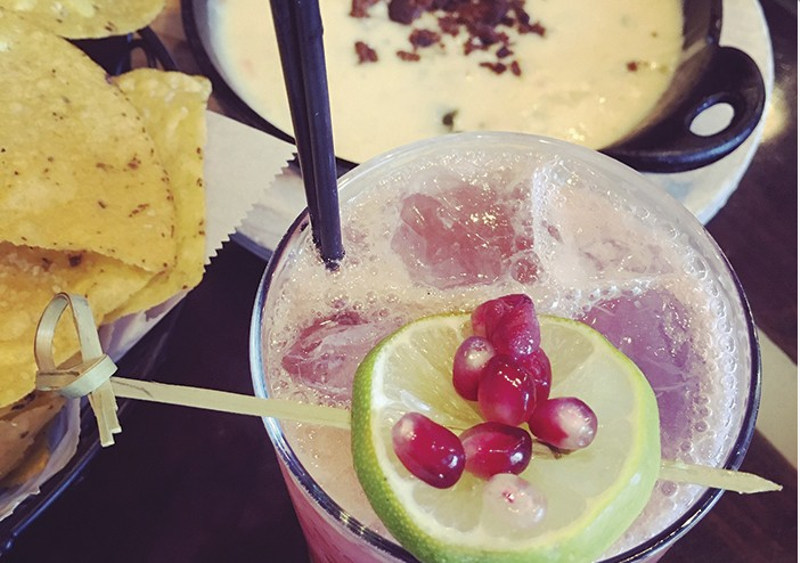 PHOTO BY KELLY GLUECK
Mission Taco Joint.
There is a finite amount of activities and crafts one can do while social distancing, but alcohol is forever.
That is until Missouri shut down restaurants offering to-go alcohol options.
Co-owner of Mission Taco Joint Adam Tilford had closed his six locations of the restaurant on Monday to help slow the spread of the coronavirus. As a way to keep at least a little money coming in, they started transitioning to a take-out and delivery model, but still had to lay off 300 employees, leaving only a handful of staffers.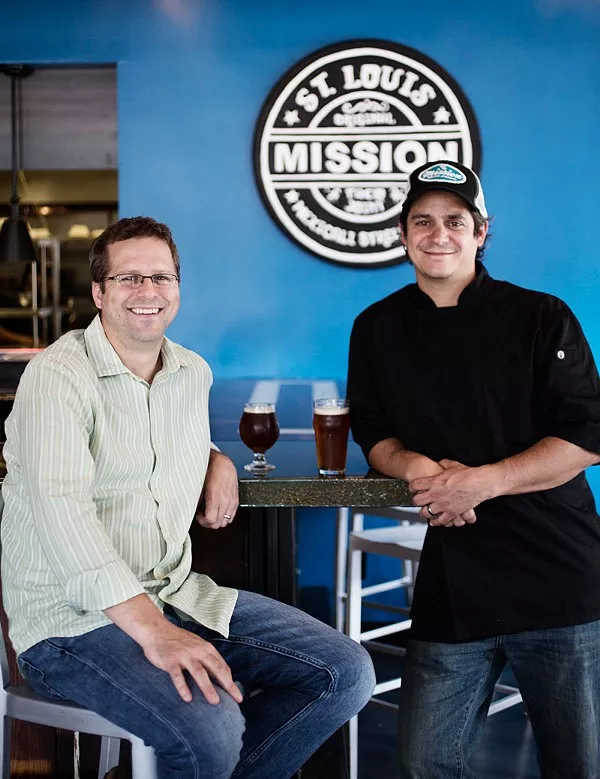 PHOTO BY JENNIFER SILVERBERG
Mission Taco co-founders Adam and Jason Tilford.
"[We had to]
keep a skeleton crew to execute our new model to try to survive this crisis as a company, and also do what we could to assist our furloughed employees," Tilford writes in an email to the RFT.
So, Tilford and his company went to work. The margarita and Mexican food favorite found the solution in offering pre-batched margaritas along with a family taco kit. They offered the margaritas by the quart and half-gallon. They started Wednesday and were making good tips that were allowing the owners to help pay furloughed employees' insurance.
Then, the Missouri Division of Alcohol and Tobacco Control called Tilford.
"I pleaded that we were batching the margaritas and packaging them with sealed caps, but they still would not allow this," Tilford says. "I will say that they did not tell us that we were in any trouble, but just let us know that we needed to stop selling them."
The owner asked for a waiver from the department, citing other states like New York and Texas due to the current COVID-19 outbreak. However, Tilford says he has yet to hear back from the department since the woman he talked to earlier today directed him to her boss.
In these hard times, the pre-batched margaritas were keeping the business afloat.
"My amazing team, and I cannot begin to tell you how incredible this group of hardworking people have been this week, quickly transitioned to selling margarita kits," Tilford says.
Instead of actual margaritas, the kits include the necessary components — including private-label tequila Una Vida and a Mission Taco Joint margarita mix — that customers can use to mix their own drinks at home. The kits costs $80.
"That's great, but we have to sell those for $80 just to make a little profit, when we should be selling them for $120 to make industry-standard margins," Tilford said. "$80 is a lot of money, whereas $20 for a quart and $40 for a half gallon of margaritas was a lot more affordable for people."
The business is urging customers to call the state Division of Alcohol and Tobacco Control at 573-751-2333 and tell them to allow restaurants to offer these to-go alcohol options in this pandemic.
Tilford stressed the importance of banding together and supporting small businesses in this time. The temporary waiver from the Missouri Alcohol and Tobacco Control could provide the assistance necessary for local restaurants.
"This is going to hurt many small businesses already struggling to keep their head above water," Tilford says. "Seems like a simple gesture that could help at a time like this."