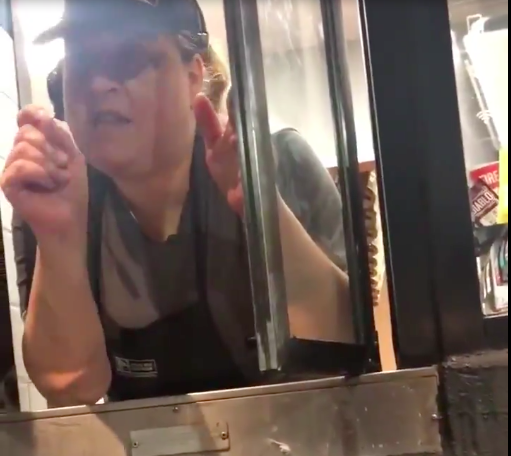 SCREENSHOT VIA TWITTER
A Taco Bell drive-through worker was caught on video.
A St. Louis-area Taco Bell manager's screed targeting a Muslim customer was caught on video earlier this week — and, perhaps not surprisingly, the woman is now out of a job.
The woman's remarks were filmed by a customer who goes by Tarek, apparently at the Taco Bell franchise at St. Charles Rock Road in Bridgeton.
He
posted the video to Twitter
on Tuesday, writing, "Around 1am after a busy day at work & not being able to eat from a long day of fasting for #Ramadan, I went to @tacobell to buy some food for suhoor (pre-dawn meal/breakfast) but, ended up having a 25 minute debate with this worker who insisted ALL Muslims are terrorists. #STL."
The video appears to begin after an earlier exchange. The woman gives the young man a sizable bag of food, and then says, "My number's in there somewhere."
Apparently continuing the previous conversation, the young man makes a point of denouncing terrorists who claim to share his faith.
"I want to tell you, it's not what you think and what you see on the news," he says earnestly. "We don't follow those people. Those people are monsters. Those people are disgusting. Those are the people that make the religion look bad."
The woman isn't having it. "I'm gonna tell you right now — until you call me, and change my mind, Muslim motherfuckers can suck my dick."
"That's how you feel about me?" he asks.
"They tore down my country," she says. "They killed thousands of my people. So you need to change my mind. I'm not going to cater to you. You need to cater to me, because this was on my territory."
"I'm an American, just like you," he responds.
A second video shows the aftermath; apparently Tarek complained about the situation and suggested he shouldn't have to pay for his order.
"Go ahead, play the pity card," the same woman tells him. "You need to pay $55.02, babe."
When he protests, she says, "I thought we had a connection, and now you want to retract?"
In the video, the woman says she is a manager, and another worker appears to back up her assertion.
The second worker seems befuddled by the exchange. "What is goin' on?" he asks. "I just made all this food man, for real."
Taco Bell quickly responded to the video on Twitter, saying, "This is unacceptable. DM us." The company did not respond to our request for comment this afternoon, but
told KSDK the woman in the video "no longer works" for its franchise
.
"We welcome everyone in our restaurants and do not tolerate this type of behavior," its statement said. "This is a franchise location and the team member involved no longer works for this franchisee. The franchisee has reached out to the customer to apologize."
We welcome tips and feedback. Email the author at sarah.fenske@riverfronttimes.com