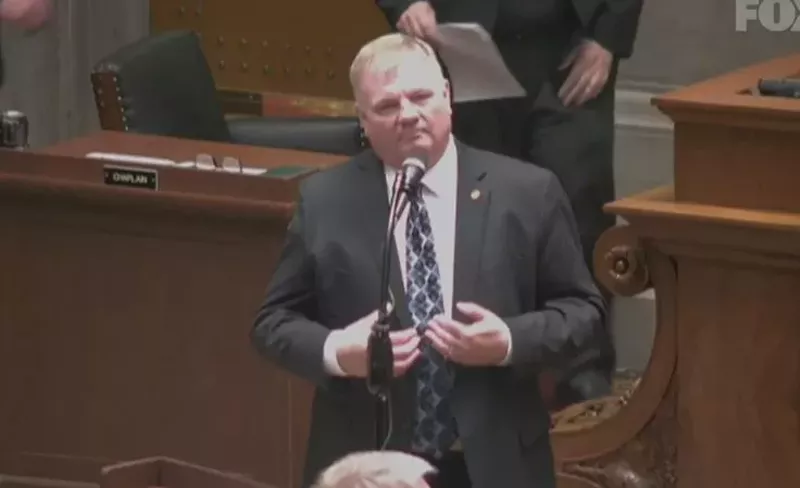 SCREENSHOT
Representative Barry Hovis (R-Cape Girardeau)
The Missouri House has voted to approve
some of the strictest abortion laws in the country
, and because it's Missouri, the process somehow managed to include a Republican lawmaker defending the bill by talking about, sigh, "consensual rape."
It's almost like
Todd Akin never left
.
The comment came from Representative Barry Hovis (R-Cape Girardeau) during debate over House Bill 126, an "omnibus" bill that packages multiple abortion restrictions. It includes a provision that would ban abortions after
eight weeks — at which time, the bill argues, the fetus has a discernible "heartbeat"— and would threaten doctors performing the newly illegal abortions with up to fifteen years in prison.
Not included in the bill: any exception for rape or incest. During today's debate, multiple opponents of the bill spoke out against the bill's blanket enforcement, with some pointing to
a case in Ohio
in which an eleven-year-old girl was raped and impregnated by her father. Even in such a situation, HB 126 would not provide a legal exception for abortion beyond the eight-week window — sooner than many women are even aware they are pregnant.
It was on the issue of exceptions for rape victims that Hovis, a retired Cape Girardeau police lieutenant first elected to office in 2017, took his stand. He pointed out that "most of the rapes" that he saw in law enforcement didn't involve "gentlemen jumping out of bushes."
"Most of them were date rapes or consensual rapes," he continued, "which were all terrible, but I'd sit in court when juries would struggle with those situations, where it was a 'he-said-she-said,' which was unfortunate if it really happened."
Having suggested that rape is often no big deal — because hey, if it didn't happen at gunpoint, it's a real struggle for a jury to know what to do — Hovis finally seemed to find his point, which appeared to be that that rape victims would still have
plenty
of time, after the rape, to decide whether to get an abortion.
"But let's say someone is sexually assaulted, they have eight weeks to make a decision. I've heard of the morning-after pill ... it gives ample time in those eight weeks to make those exclusions, which I may not be comfortable with, but it does give people those exclusions."
Hovis' comment was
immediately noted
by observers and several Democratic lawmakers, who countered during the debate that there is no such thing as consensual rape and that the House Bill would indeed require raped women and girls to carry pregnancies to term. In the words of the
Kansas City Star
's Crystal Thomas, "A lot of 'whats' rang around the chamber." After all, in Missouri, lawmakers may be very comfortable telling women what to do with their bodies, but everyone knows you don't pull an Akin.
After the vote — the bill now goes to Missouri Governor Parson,
who is just giddy as can be to sign it
— Hovis backtracked and claimed he'd misspoken.
"There is no such thing as consensual rape," he told the
Star
's Thomas. He then apologized, she says.

Editor's note: A previous version of this story contained inaccurate information about the final version of the bill approved by the Missouri House and Senate. It bans abortion at eight weeks, not when a fetal heartbeat is detected. The "heartbeat" provision was removed by the Senate on May 16. We regret the error.

Follow Danny Wicentowski on Twitter at
@D_Towski
. E-mail the author at [email protected]