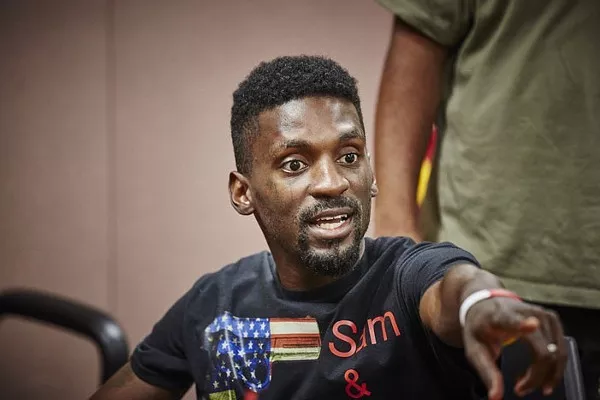 PHOTO BY STEVE TRUESDELL
Bruce Franks Jr. says he's leaving the legislature.
State Representative Bruce Franks Jr. (D-St. Louis) has announced he's leaving the legislature to deal with anxiety and depression.
The Ferguson protester-turned-lawmaker delivered the bombshell decision today, on the second-to-last day of the state legislature,
St. Louis Public Radio reported
.
"I'm not disappearing," Franks told the station, pledging to continue to be involved in other ways. "I'm not going away. But I had to make a decision for myself — and I don't regret it at all."
A Democrat, Franks was a dynamic figure in the protests after Michael Brown was killed by Ferguson police officer Darren Wilson,
often serving as a bridge between law enforcement and protesters
.
After being elected to represent part of St. Louis in Jefferson City, he was known for his fierce advocacy on some of the same issues that had motivated him as a protester, but also his willingness to work with Republicans. He toured out-state districts and encouraged rural lawmakers to do the same with him in urban neighborhoods.
He lost his first election to incumbent Penny Hubbard in 2016 for the 78th District, but when some sketchiness with absentee ballots was revealed, there was a second, court-ordered vote.
Franks won
in a landslide.
He won re-election in 2018, but Franks says he won't be back for the second half of the term in 2020. He told St. Louis Public Radio the recent deaths of his godson and his best friend have pushed him to his limit.
"It really intensified my anxiety and my depression — and especially my survivor's guilt," he told the station. "You start to wonder, 'Why am I here?'"
At times, over the years, Franks has talked about the enormous strain of his life. Even after becoming a state rep, he continued to join protests over police brutality and inequality. He was arrested during demonstrations that followed the acquittal of white St. Louis police officer Jason Stockley in the killing of 24-year-old Anthony Lamar Smith, a 24-year-old black man suspected of selling drugs.
As the Stockley protests stretched over weeks, Franks was wracked by coughing some days and said his health suffered. He briefly sat out as the protests continued, but he always seemed to bounce back.
In recent months, he has also battled accusations detailed in
stories by KMOV
that the hours on his timesheets for a side job as a youth mentor didn't add up. He has denied any wrongdoing and told reporters today that it had nothing to do with his decision to resign from office.
He said instead this was an opportunity for him to be transparent with the often-avoided issue of mental health.
After announcing his decision on the floor of the legislature, colleagues from both parties gave him a standing ovation and waited in line to hug him, MissouriNet News Director Brian Hauswirth reported.
Gov. Mike Parson will have to call a special election to find Franks' replacement. The 78th District covers much of St. Louis.
We welcome tips and feedback. Email the author at doyle.murphy@riverfronttimes.com or follow on Twitter at @DoyleMurphy.