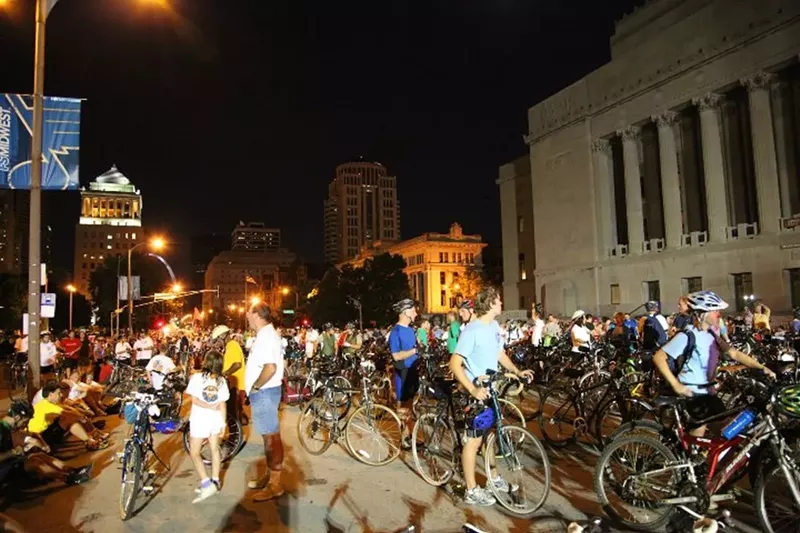 The Moonlight Ramble has been held in St. Louis for 54 yearss.
The Moonlight Ramble is back, baby!
One year after Hubbard Radio scrapped the massive late-night bicycle ride, it's announced that it's back on — with its 2019 iteration set for Saturday, August 17. This will be the locally beloved ride's 55th year, and Hubbard says it's now being run by locally based Big River Race Management, in partnership with itself and KSHE. St. Louis Bicycle Works is this year's charity partner.
The ride began in 1964 with just one rider, but has grown to attract thousands.
Last year's cancellation was blamed on bad timing; Hubbard Radio purchased the ride's longtime sponsor, KSHE, from Emmis Communications in a deal that closed May 1. But the radio company said that didn't give it enough time to prepare for 2018's event.
"Hubbard Radio was committed to finding a capable partner that could continue this signature St. Louis event for years to come, with a priority of keeping the event downtown. We are thrilled that Matt Helbig and his team at Big River Race Management will take over this event and ensure its future growth and success," Hubbard's director of integrated marketing and events, Brad Buehlhorn, said in a prepared statement.
For more information, or for tickets, see
the Moonlight Ramble website
. Tickets are $35 for adults and $20 for kids.
We welcome tips and feedback. Email the author at sarah.fenske@riverfronttimes.com