COURTESY OF GABE PEARSON
The author as a child, left, with his mother Gretchen Stahlschmidt and sister Thora.
At around 9 p.m. on Friday, September 2, 2016, my life changed forever. My mother, Gretchen Stahlschmidt, was killed, struck by an SUV while crossing the street. She was 43. I was seventeen at the time and a senior at Kirkwood High School. My sister Thora was only fourteen and a freshman.
A Clayton resident named Michael Loftus, then 26, had been out with friends to celebrate getting engaged. He left the bar and got into his Jeep Grand Cherokee, planning to drive to another bar to meet his fiancee and continue the party. While driving eastbound on Clayton Road he became distracted. He later told police he looked down for a second to change the radio station. Whatever he did, he must have looked away from the road long enough to not see my mother, who was about a third of the way across the intersection of Highland Terrace and Clayton Road in the crosswalk when he hit her. A witness reported that he saw my mother wait for the green light to start crossing the street; Michael Loftus had blown through a red.
When Loftus struck my mother with his car, he bumped her onto the hood of his car, denting the car and knocking off the front license plate. My mother's body flipped head over feet "two or three times" before landing face up in the right lane of eastbound Clayton Road. Her shoes were knocked right off her, her groceries scattered.
Loftus got out of his car and went to check on my mother. Noticing she didn't have a pulse, he started performing CPR. Emergency personnel arrived on scene and immediately rushed my mother to Barnes-Jewish Hospital. She was pronounced dead on arrival. The official cause of death was abdominal trauma.
At the scene, police questioned Loftus. One of the investigating officers noticed that Loftus had blood on his hands. She asked him if he had been hurt in the accident. He said no, it was my mother's blood. The police asked him to take a breathalyzer. Only after he had made several phone calls, the report says, did he agree. His breathalyzer result was 0.056 percent, putting him under the legal limit of 0.08. Loftus told the police that he didn't run the red light. But based on the witness' statement, he was charged with failing to obey a traffic device.
I didn't know any of this then. My parents were divorced, and my sister and I were with our father that night. The next morning, he woke me up. He said, "Gabe, I need to talk to you about something." I came out of my room and saw my aunt standing in our living room. She told us to sit down, then told us what happened. I just remember feeling washed over with utter shock and numbness. How could my mom be dead?
COURTESY OF GABE PEARSON
The author's mother, center, in high school.
My mother was the perfect mother, loved by everyone who knew her. She just had that effect on people. She was someone you could never forget. When she was in high school at Visitation Academy, she went to a Ratt concert. She made her way back stage, and lead singer Stephen Pearcy asked for her phone number. She gave it to him, and the next day he called and my grandmother answered. Realizing she was a teenager, Pearcy hung up. So much for that.
She was a free spirit who loved to cause trouble. When I was a kid, we lived not from the Planned Parenthood clinic in the Central West End, and after she saw a particularly aggressive protester dressed as a doctor covered in blood, holding a baby doll with a knife stuck in its head, she decided we needed to protest the protesters. So we made signs, and then she took my sister and I down to the clinic. The protestors yelled at us and, after we decided to leave, followed us down the alleyway until we got to our backyard. I was six.
She used to make crazy Halloween costumes. During the 2012 presidential race she wore a mask of Mitt Romney and a suit with flip flops glued to the sport coat. She carried around a binder with my sister's Barbie dolls sticking out of it: a "binder full of women." When George W. Bush was president, one year she wore a mask of Bush with a dunce hat on. When we went trick or treating, people stopped to take pictures of her.
As an adult, she owned a successful jewelry business in the Central West End: Gretchen P. Jewelry. She'd studied art in college at Fort Lewis College in Durango, Colorado, and the University of San Francisco, though she didn't finish her degree. Around the time of our first Christmas without her, my aunt said, "If there's a heaven, she's up there eating Christmas dinner with David Bowie, Carrie Fisher and Prince. She was like them. She didn't care what anyone thought of her; she just wasn't famous."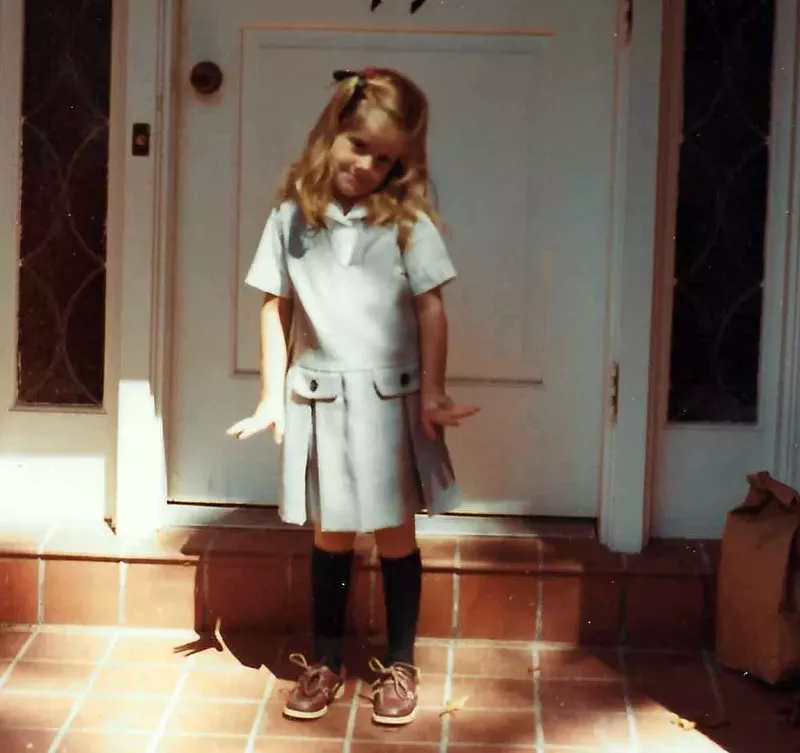 COURTESY OF GABE PEARSON
Gretchen Stahlschmidt as a child.
At first I didn't know what to think about Loftus. Was it a genuine accident? Or was he being stupid? He admitted he had been drinking that night. Court records show that in 2013 he was sued by a woman for vehicular injury and also had multiple speeding tickets on his record.
But it seemed like we were the only ones who were outraged. Then-St. Louis County Prosecuting Attorney Bob McCulloch decided not to prosecute him for manslaughter, just running a red light. And when he pleaded guilty, the prosecutors suggested a $50 fine as punishment.
I was furious. The prosecutors knew that he hit and killed my mother. They knew he was drinking that night. They knew he was distracted. They knew my mother had the right of way. But they didn't think he committed manslaughter.
The sentencing hearing ended up being delayed nine times, until July 2, 2018. I just wanted the judge to give him some time in jail — it didn't have to be long. But it would have shown my mother's death mattered.
My sister, my aunt, my grandmother and I came to read victim impact statements. We waited in the lobby for over an hour past the scheduled time for the hearing. Eventually Loftus arrived.
After hearing our statements Judge Robert Heggie decided not to follow the prosecutor's recommendation of the $50 fine. The maximum sentence for running a red light is fifteen days in jail. So Judge Heggie gave him a suspended fifteen day sentence and four days of shock probation, meaning four days in jail, and required him to complete a victim impact panel.
I could have lived with that sentence. But Loftus couldn't. Immediately after Judge Heggie issued his sentence, Loftus' attorney Grant Boyd asked to speak with the judge in his chambers. We learned that Loftus had decided to take back his guilty plea — a chance to try his luck with a new judge. I had thought he would never do that. No judge would let him off. But he decided to try, and took back the plea.
That meant even more time passed. And on March 1, 2019, we gathered in the courthouse again with a new prosecutor and a new judge, John Newsham. This time Michael Loftus wore a suit, not just a polo shirt, and he brought his wife and parents with him.
Once again my family and I came to read our victim impact statements. We all asked Judge John Newsham to stick with Judge Heggie's sentence: four days of shock probation and a victim impact panel.
Then Loftus' wife and mother made their statements. They talked about how sorry they were for us. They talked about how he was in a fraternity in college and how he played roller hockey. They said he was in therapy because of what happened.
Now, we are all in therapy too; that should be expected after something like this. To me, the fact someone is in therapy says nothing about how guilty he feels or about his character. You should be in therapy if you run a stoplight and kill someone. But it sounded like they were trying to show how bad he felt about it. In my opinion, if he truly felt bad about it, he would have taken the four days in jail.
Then Loftus himself made a statement. He gave a pretty detailed account of what happened from his point of view, which was hard to listen to. He again claimed that the light was yellow (my sister left the room rather than have to listen). Maybe he has convinced himself that that was the case, that the light was yellow, but the witness said it was red, and the police believed that too. I was infuriated; it showed to me that he didn't believe that the accident was his fault when it was his fault and his fault alone.
When Loftus finished his statement Judge Newsham asked the attorneys if they wanted to make a closing statement. The prosecutor said no; she had hardly spoken the entire hearing.
Then Loftus' attorney, Grant Boyd, said, "I work with a lot of child sexual abuse [victims], and with a lot of people who don't seem to hold themselves responsible for their crimes. I have never seen this in Mike Loftus."
That made me really angry. After all, we had just listened to Loftus and his family fight to avoid responsibility. I yelled, "Then he would have taken the four days!" The courtroom paused for a second. Then Boyd continued: "Your honor, please follow the original recommendation."
Judge Newsham announced his decision: a fifteen-day sentence, with all fifteen days suspended, and two years of probation. Loftus also had to complete a victim impact panel, and community service, and pay a $300 fine. He will have to have a device on his car so it won't start if he's been drinking. But as long as he keeps his nose clean for two years, he won't do a day in jail.
Judge Newsham said that he hadn't been a judge for very long and that this was the hardest case he ever dealt with. I believe that he genuinely thought that he gave a justified sentence. He said that he thought it would be better for Loftus to have to do something than to sit in jail for a few days. But that is the punishment that we, the family, wanted.
I have heard people say that a victim panel is a form of torture: to listen to people talk about how their lives have been ruined by the crime you committed. But that only works if the person holds themselves responsible. Nothing Michael Loftus has done suggests he believes the accident was his fault. He has convinced himself that the light was yellow so he had the right of way. That's what he said in his statement to the court, even though he pled guilty to running a red light. And that's what he said to the police when they questioned him after the accident. He's going to go to the victim impact panel and probably think, "This is sad, but it doesn't apply to me. The light was yellow." It's infuriating.
I graduated high school and my mom didn't get to see it. My mom didn't get to see me start college at Webster University. She didn't get to hear about my experiences studying abroad in Athens. I am angry not only because my mom was taken away from me too young, but also at our justice system. The prosecutors seem to see their cases as nothing more than statistics, not realizing that behind every case is a story and people who are deeply affected by it.
After the hearing my father emailed the office of Wesley Bell, who was elected prosecuting attorney last November, replacing McCulloch. He asked for a meeting so we could ask Bell to explain why the prosecutor from his office let Loftus' lawyer make a case for no jail time without doing anything to push back. We didn't get the meeting, nor did we get any response at all from Wesley Bell — despite his pledge at a recent town hall that he wanted to be "more transparent" and that he "would meet with anyone who lost a loved one as a result of a crime."
As
NPR has reported
, a record number of pedestrians were killed last year across the U.S. Experts blame drivers distracted by their phones, and the larger vehicles now common on the roadways. But I'd argue some of the problem is that we just don't take distracted driving seriously. The justice system failed my mother on every level. The first prosecuting attorney, McCulloch, wouldn't charge Loftus with manslaughter. After Bell took office, the assistant prosecutor reporting to him let Loftus talk his way out of any jail time. And the judge fell for it.
As we pushed for Loftus to face a punishment that fit what happened to my mother, it felt like my family was treated as the bad guys, like we couldn't just go with the program everyone else had agreed to. It made me feel powerless.
When I was six years old, my mother took me to that protest at an abortion clinic because she believed in standing up for her rights. I decided to write this essay because I think she would have wanted me to do the same. But now I am going to try to move forward with my life and be successful. That's something she would have wanted too.
Gabe Pearson is a student at Webster University. You can reach him at gdp315@icloud.com