SCREENSHOT VIA
St. Louis is wild.
On Friday, if you weren't busy reading about the
guilty plea from St. Louis County's top executive in a political corruption case
or checking out those pics of a
gunman firing across I-70 from his Mercedes Benz
, you might have seen a pair of hashtags on Instagram: #QueVivaSTL and #STLife.
These hashtags sought to make the case that St. Louis is fun, and exciting. The Paint Wall! The Arch! Cool new restaurants! More Arch! And, not coincidentally, a whole bunch of the posts tagged @DowntownSTL, the Instagram account for Downtown St. Louis Inc., which gets tax dollars to promote the idea that downtown St. Louis is fun, and exciting. Downtown St. Louis Inc. then reshared all those fun, exciting pics to its 47,000 followers.
It was, as you've probably guessed by now, one of those meant-to-be-viral, pretending-to-be-"grassroots" moments dreamed up by a marketing agency. And it had the flimsiest of hooks.
Back in January, in a remark remembered by absolutely no one other than people paid to obsess over this stuff, Chicago Cubs third baseman Kris Bryant asked a late-night TV host, "Who would want to play in St. Louis? It's boring."
Rather than follow the advice of mothers going back to time immemorial and ignore the comment, the people who are paid to deal with these things commissioned a grassroots Instagram campaign to push back. In April, a rep from the St. Louis PR firm Elasticity emailed downtown businesses, asking them to help "reignite the momentum with a campaign that will show the world why St. Louis isn't 'boring.'"
Again, the idea of calling attention to a slur about yourself is seldom a good idea — and in this case in particular, it's worth noting that the best way to persuade the world that you're boring is to insist, boringly, that you're not boring.
But even beyond that, Elasticity made one big mistake: They never asked us.
The brands that responded to Elasticity's call to action offered up images that were, in fact, pretty boring. All the rainy-day shots of the Arch suggested slackers who'd forgotten to do their homework until the day it was due — and then, upon getting a nudge from their friendly local PR firm, grudgingly whipped out their iPhones and snapped everyone's favorite landmark from the 21st floor conference room. To paraphrase Kris Bryant, bo-ring!
And what made the whole thing such a missed opportunity is that, in reality, Bryant was
badly
mistaken. St. Louis is seldom, if ever, boring. Where else can you find grown women climbing on top of an SUV and twerking as said SUV speeds down the highway? (See above.) And where else can you find rich people
wearing actual veils to their oh-so-expensive Eyes Wide Shut balls
— as activists
rappel in to unmask them (literally
)? St. Louis is weird, and wild, and
messy
, but it is not boring.
Here are a few reminders we would have liked to see highlighted via #STLife:
St. Louis is a city where
our local lunatics throw bowling balls at moving cars
.
St. Louis is also a city where
wild men fall out of their cars on the highway because they're doing stunts at 60 mph
. (Maybe they ought to a take lessons from their twerk-obsessed sisters.)
St. Louis is a city where we're so good at rolling gun battles,
we do them backwards (although not, as the saying goes, in high heels)
.
St. Louis is a city where, even if we've got a whole damn apartment's worth of furniture on the roof of our car,
we still don't come to a complete stop at stop signs
. (Proof in the photo above.)
St. Louis is a city where, if someone steals our tires (and yeah, someone's always stealing our tires), we
just put a jack there instead and keep driving
.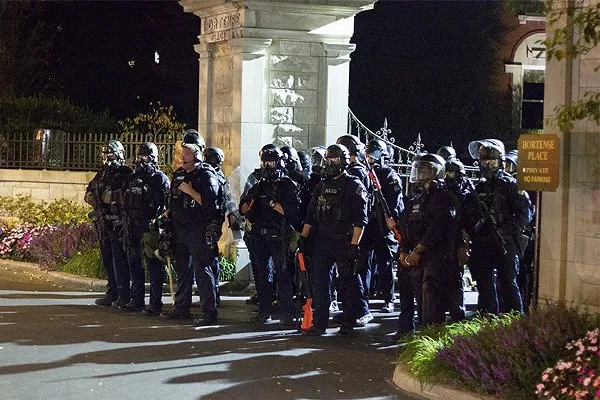 St. Louis is a city where you can get teargassed just for being in the wrong place at the wrong time (
even in fancy neighborhoods!
)
St. Louis is a city where, if the cops seeing you popping a wheelie in traffic, they
might give you a foot bump instead of a ticket
. (Seriously, you can basically do anything on city streets up to and including murder, and you will
never
get busted ... although, yeah, watch out for the teargas.)
St. Louis is a city where even after we've passed out in the middle of the road drunk, if an ambulance shows up to take us to the ER, we don't just passively submit to medical care — we
steal the damn ambulance
.
St. Louis is a city where even visiting celebs
find themselves in a hail of bullets
.
St. Louis is a city that has so many dumpster fires, we
take credit for inventing the term
.
St. Louis is a city where you can
threaten to ram a hot poker up an underage kid's ass
, and while you may lose your job, you
will immediately land a new one
, because what the hell, it's St. Louis, and everyone here has said things they regret after a drink or twelve.
And finally, St. Louis is a place where even the suburbs are so insane that local
lamborghinis have been known to erupt into $275,000+ fireballs.
In short: If you think St. Louis is boring, you're not reading the right newspaper.
#QueVivaSTL #STLife
#ThinkDowntownStLouisIncWillReshareThisOne?
See also: 30 Crazy Things That Happened in 2018 That Scream 'Only in St. Louis'