DOYLE MURPHY
Ex-St. Louis County Executive Steve Stenger makes his way through reporters after pleading guilty to federal felonies.
In his suddenly former life as a politician, Steve Stenger was brash and quick-talking. But this morning, as a new felon, walking out of the federal courthouse in St. Louis to face a battery of cameras and microphones, he had nothing to say.
"Today was a very difficult day for Steve and his family," defense attorney Scott Rosenblum told reporters as Stenger stood tight-lipped at his side on the courthouse steps.
The former St. Louis County executive pleaded guilty this morning to all three counts in a federal indictment unsealed on Monday.
He admitted to U.S. District Judge Catherine Perry that he had solicited bribes in the form of campaign donations during his campaigns in 2014 and 2018. That amounted to three felonies of honest services bribery and mail fraud.
Assistant U.S. Attorney Hal Goldsmith summarized the evidence prosecutors had gathered, which includes thousands of texts going back to 2014 and secret recordings made both in Stenger's office and in his home.
Despite former county executive's crimes, Rosenblum said Stenger had many things of which to be proud, including his time as a private attorney.
"Today obviously was not one of those proud moments, but he has completely accepted responsibility for his mistakes in judgment, lapses in judgment and his conduct while in office as county executive," Rosenblum said.
Rosenblum answered no more questions and ushered Stenger through the crowd to a waiting Chevrolet Tahoe with tinted windows.
As Stenger ducked inside, Ruth Tannenbaum moved in close. The 51-year-old University City resident, dressed in Cardinals gear, wanted to see him for herself.
"I voted for you, and you betrayed me!" she shouted from a few feet away.
Stenger has already resigned, announcing his decision in a letter on Monday immediately after the indictment was unsealed. The day's events were somehow a bombshell and yet not a surprise. In the past year, the
St. Louis Post-Dispatch
had outlined a number of the allegations in a drum beat of stories about land deals deals and vendor contracts that made little sense, unless properly understood as political favors.
The reporting sparked some memorable, covertly recorded comments that were excerpted in the indictment.
"You can't talk to the fucking press," Stenger said in a May 11, 2018 exchange. "I bent over fucking backwards for you, and I asked you one simple fucking thing, don't talk to the fucking press. And I'm telling you, you're gonna fucking kill yourself, alright, you're gonna kill yourself with this shit."
Prosecutors in the U.S. Attorney's Office say Stenger was talking to John Rallo, a former nightclub owner who went into the insurance business, opening Cardinal Insurance Group in 2006. The feds say he became an influential donor and fundraiser, supporting Stenger's two successful campaigns for county executive. In exchange, he expected to land insurance contracts with the county.
Rallo has not been indicted, but he's all over the indictment. Goldsmith said four of five schemes detailed in a 19-page document outlining Stenger's plea, involve Rallo.
Strings of text messages show the businessman pestering Stenger — and various Stenger minions — for more than two years in pursuit of the insurance contract.
The indictment painted a picture of a willing, but pathetic, Stenger. The county executive seemed happy to hand the job of providing county employees' voluntary benefits insurance to Rallo — but he kept getting blocked by his director of operations, a longtime county employee who had been in the office before Stenger arrived.
To placate Rallo, Stenger instead helped create a do-nothing marketing and consulting contract for the insurance man, to be paid for through the Port Authority, authorities say. Stenger used various subordinates to make it happen, most prominently St. Louis Economic Development Director Sheila Sweeney, along with his chief of staff, William Miller, and chief of policy, Jeff Wagener, the feds say.
DOYLE MURPHY
Assistant U.S. Attorney Hal Goldsmith (center) leaves the federal courthouse.
Rallo created Cardinal Creative Consulting just to get the contract. Sweeney then helped pad the new company's $100,000 consulting contract with an additional $30,000 to pay yet another Stenger supporter, the indictment says.
Sweeney, who also has not been indicted, is depicted as playing a key role in the county executive's scheme. She was CEO of the St. Louis Economic Development Partnership, executive director of the Port Authority and served on the board of the Land Clearance for Redevelopment Authority — three agencies with considerable influence on both expenditures and public deals.
The arrangements for Rallo also included two deals to buy and develop land owned by the LCRA, run by Sweeney.
Stenger's dealings with Sweeney revealed glimpses at how Stenger viewed the world of secret deals and payback. In late 2018, he was trying to ensure a contract would be renewed for a political consulting firm that had donated $59,000 to his campaigns.
When Sweeney appeared to be dragging her feet, Stenger was bewildered but assumed, correctly, she would come around to the politics of the situation. He talked it over with Miller.
"[Sweeney's] a political creature," Stenger says in the November 19, 2018 recording. "She was appointed by a politician, and by people who were appointed by politicians to take this role. She took the role. Now you're in it. You're either going to do it or you're not. Get the fuck out. You're a political person."
As the rant continues, he explains that all of his department heads are political people. And to Stenger, that meant specific things.
"It's not the art of fucking over your friends," he told Miller. "It's the art of how do I work with people I trust and know."
Miller replied, "It's the art of staying in power."
And Stenger agreed: "It's the art of staying in power."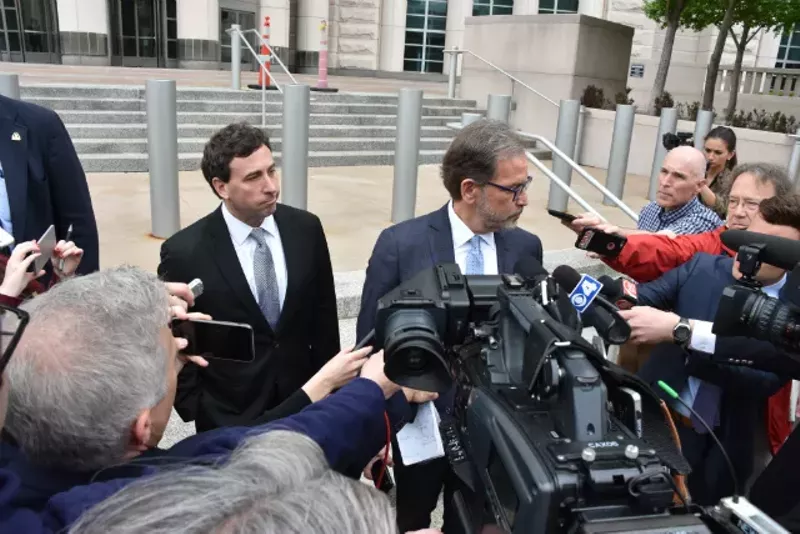 DOYLE MURPHY
Steve Stenger (left) and attorney Scott Rosenblum face the press after the ex-St. Louis County executive's guilty plea.
We welcome tips and feedback. Email the author at [email protected] or follow on Twitter at @DoyleMurphy.