INSTAGRAM
Ex-officer Mike Weston plays with his handcuffs in one of his Instagram posts.
A bodybuilder cop who ran an
anonymous, protester-bashing Twitter account
during Ferguson is now in danger of losing his peace officer's license for stalking and harassing his wife.
In a text message, Mike Weston threatened to kill his now-former spouse if she left him and took their child, the state Department of Public Safety says.
The 32-year-old was most recently a sergeant with the North County Police Cooperative, a force that patrols several small cities. He was suspended within days of the October 2017 incident and later fired for allegedly violating rules of the suspension.
Weston has since sued Vinita Park — his employer at the police co-op — for wrongful termination. He admits in the suit to threatening to kill his wife in a text but claims the real reason for his firing was a disability — Post Traumatic Stress Disorder from serving overseas as a Marine. (Weston and his attorney did not respond to requests for comment.)
Even if he wins his suit, he may not have a license to be a police officer anymore.
The state Department of Public Safety cleared a major hurdle on Thursday in its bid to sanction Weston, when a state commission found there was justification to act against him.
"There is cause to discipline Michael E. Weston for committing the criminal offenses of stalking in the first degree and harassment in the first degree," the commission found.
The process of stripping a cop of his license in Missouri is a long one, but the Administrative Hearing Commission is key part of it. The state attorney general filed a complaint with the commission a year ago on behalf of the Department of Public Safety.
The complaint describes Weston barraging his then-wife, also a police officer, with text messages as she prepared to leave him in 2017. Many of the messages were pleading.
"I won't make it without you," he wrote in one. "You've save my life before. I'm begging you to save it one more time."
But another was more frightening: "You take her out of my house and I will kill you."
In his lawsuit against Vinita Park, Weston claims that message preceded the other string of messages by many days. He also reports the phrasing as slightly different but no less chilling: "leave, but if you take the kids, I'll kill you."
His wife called Kirkwood Police, who responded and confronted Weston. He says in his suit he cooperated with the officers and voluntarily agreed to go to a hospital, where he stayed for several hours before he was released. A search of court records turned up no criminal charges against the former cop.
In his lawsuit against Vinita Park, he says he reported the incident to his chief at the co-op and was ordered to undergo a mental health evaluation. Weston claims he was deemed fit for duty, but was suspended anyway and told not to contact anyone at the department.
He says he was later fired for sending a Veteran's Day email to his bosses, which violated the no-contact order. In the suit he alleges the real problems began earlier when he requested a switch to day shift because night shifts made his PTSD worse.
Vinita Park has denied the allegations in an answer to the lawsuit.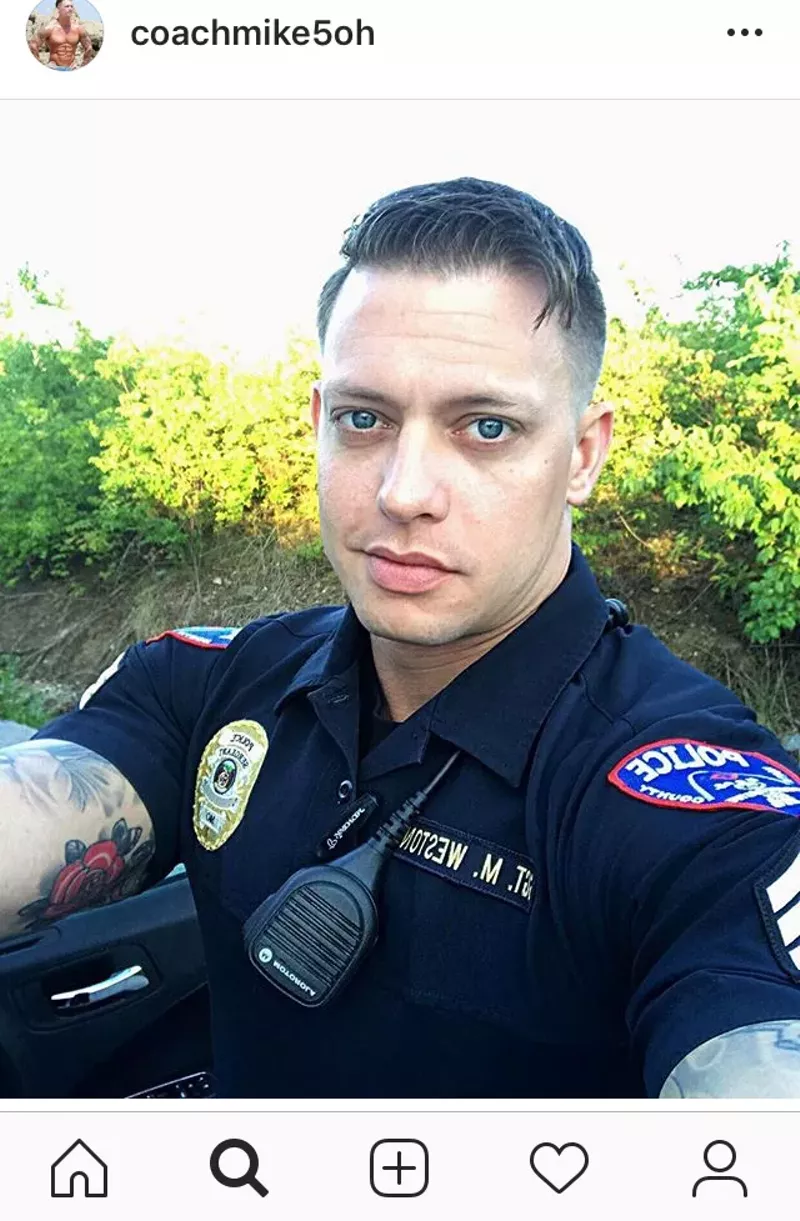 INSTAGRAM
After his days as @OfficerAnon2 on Twitter, Mike Weston posted police selfies and pics of evidence from case on Instagram.

The RFT previously unmasked Weston
as the cop behind the @OfficerAnon2 Twitter profile during the 2014 protests in Ferguson. Reporter Ray Downs contacted Weston, who was then with Velda City's police department, after OfficerAnon2 tweeted that police had tear-gassed people in their own backyard because the people there were firing guns.
Downs was in the backyard that night and filmed the episode, showing the tear-gas was unprovoked. Weston deleted the account shortly after the
RFT
contacted him, but not before Downs made screenshots of its tweets calling protesters "thugs" and fantasizing about punching then U.S. Attorney General Eric Holder in the nose.
These days, Weston works as a fitness trainer. A competitive bodybuilder since before he lost his police job, his social media accounts are peppered with selfies from his cop days in between gym poses.
In one video posted to Instagram, he jokes about killing time with his handcuffs.
"I'm bored," he says before pulling out his cuffs and flipping the ratchet. "I'm going to play with my fidget spinner."
In another,
he poses with Steve Bannon
, writing that he was part of the security detail when the former White House chief strategist visited St. Louis in September 2017.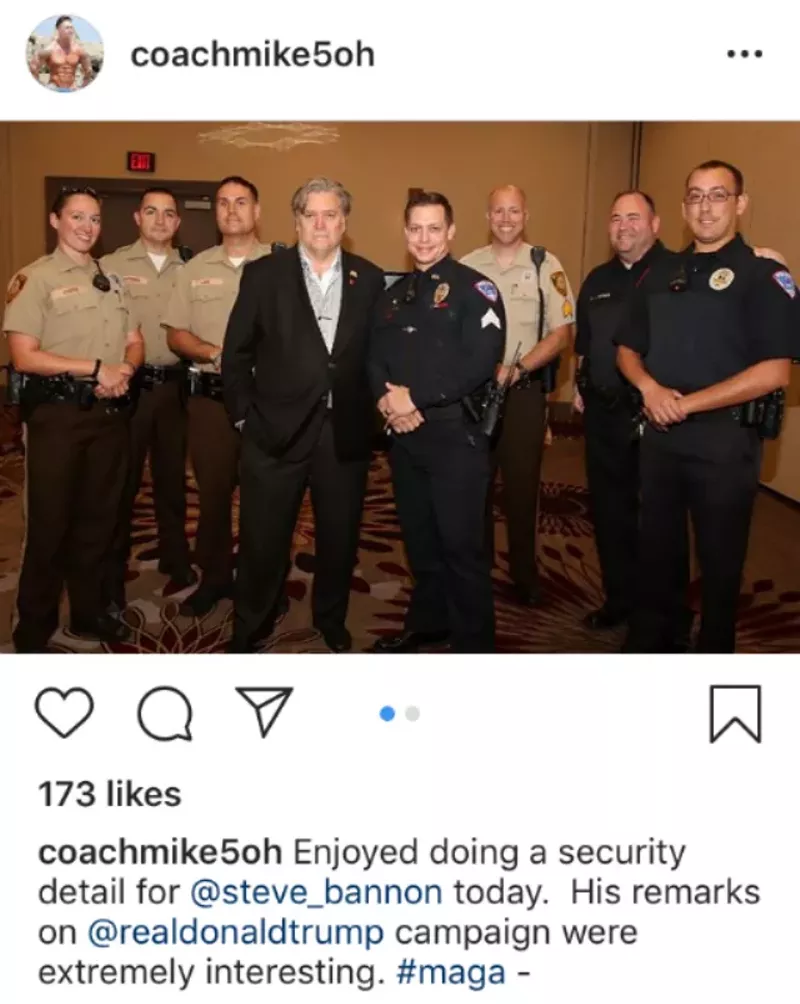 INSTAGRAM
Ex-cop Mike Weston's social media posts often featured his days in law enforcement, including this security detail for Steve Bannon.
He posted a picture of himself in uniform as recently as last month, a retrospective of his earlier, slightly less-muscular self.
He has been off the force since November 2017. The Administrative Hearing Commission says he never contested any of the Department of Public Safety's allegations.
The commission must now certify its decision. Weston will have 30 days to file an appeal. After that, the department can pick up the records from the commission. The department then has 30 days to hold a hearing. The director of public safety then imposes discipline — which can range from probation to permanent revocation.
Editor's note: Weston locked down is Instagram account and either deleted or removed his Facebook from public view following the publication of this story. We've included screenshots of some examples of his posts.

We welcome tips and feedback. Email the author at doyle.murphy@riverfronttimes.com or follow on Twitter at @DoyleMurphy.