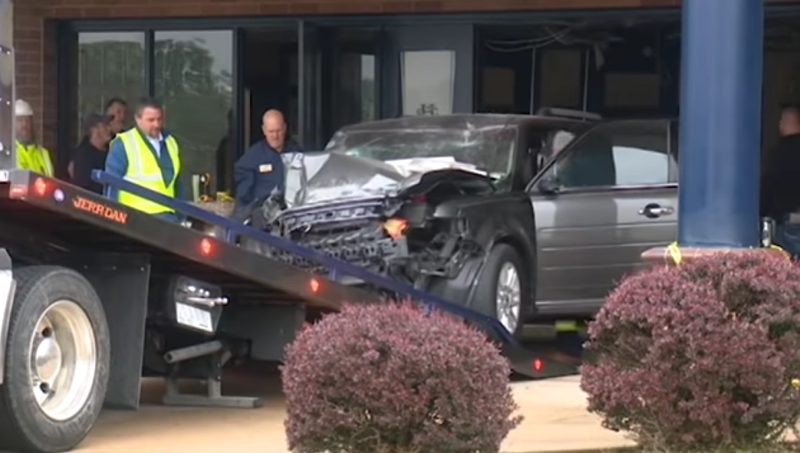 SCREENSHOT FROM KSDK'S REPORT
The heroic boy's battered vehicle.
In an act of selflessness that would bring a tear to the eye of even the most hardened cynic, a Francis Howell Central student reportedly drove an SUV through the front doors of the school early Wednesday morning, resulting in its closure on the very day of ACT testing. The sixteen-year-old, who has not been identified due to his being a minor, is no doubt being hailed as a hero by his fellow students for his courageous act.
The incident occurred around 3:45 a.m. today, the
Post-Dispatch reports
. District spokesman Matt Deichmann
tells the daily
a security video from inside the school shows an SUV smashing through two sets of double doors at the entrance before coming to a stop.
"It got probably 30 feet inside the front door," Deichmann says.
No one was in the school at the time of the crash, and the plucky young man responsible for it suffered only minor injuries,
KSDK reports
. The teen was reportedly outside the school in the grass when police arrived around 4:11 a.m. He was taken into custody by a Cottleville police officer shortly after. We like to imagine he responded with a cool and detached "took you long enough" upon their arrival.
Cottleville Police Chief Steve James
tells the Post-Dispatch
they do not know the motive for the teenager's actions. But
KSDK reports
that the school was scheduled to administer ACT testing today — surely reason enough for any right-minded servant of the people to spring into action.
"He just went through the front doors," James
tells the daily
. "He did not drive around inside the school. I don't know any motivation."
Is not civic duty motivation enough? The admiration of his peers, the legends whispered on the winds about the boy who bought everyone an extra day to prepare? You can't purchase that kind of status; it can only be earned.
Police have sent the case to juvenile court, and no specific charges have been announced. The SUV has since been removed, and classes are set to resume on Thursday,
according to KMOV
.
No word on whether our hero will be in attendance upon the school's reopening to soak in the adulation he is obviously due, but one thing is certain: His fellow students owe him one.