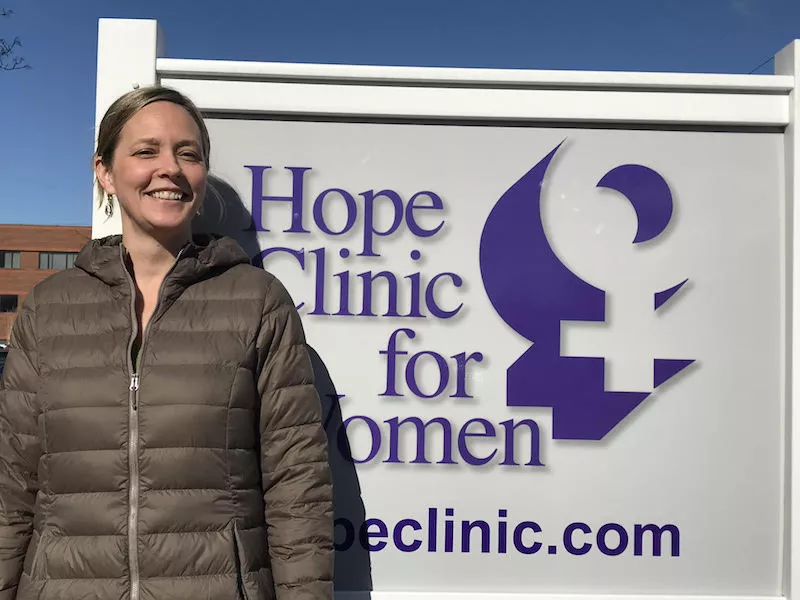 ALISON DREITH
Dr. Erin King is the executive director of Hope Clinic for Women in Granite City, Illinois.
Across the country, states are cutting off access to abortion services, denying women the essential reproductive health care they need. Emboldened by the Trump administration's Supreme Court picks, conservative lawmakers are growing more and more confident that
Roe v. Wade
will be overturned — and they're already taking steps to outlaw abortion when that happens.
Here in the Midwest, Illinois is largely viewed as an island of access in a sea of hostility towards reproductive rights and abortion access. In the past weeks, the Ohio state Senate approved a ban that would bar women from seeking abortions after just six weeks of pregnancy. In Missouri — a state with just one abortion clinic in operation — lawmakers are also moving to outlaw abortion after six weeks, which is essentially an outright ban for everyone. Missouri has also introduced a "trigger law" that would immediately make abortion illegal in the state if Roe is overturned.
It is absolutely critical that Illinois remain a place where women can access to the care they need. At the Hope Clinic for Women in Granite City, where I provide abortion care, we already receive more than half of our patients from Missouri. In fact, in 2017, more than 5,500 women from outside states traveled to Illinois in search of abortion care.
We need to protect the ability of healthcare providers in Illinois to provide the essentials of reproductive healthcare. The Reproductive Health Act, introduced in the Illinois House by state Representative Kelly Cassidy, would do just that.
It would enshrine the protections of
Roe v. Wade
into Illinois law, ensuring that no matter what happens in Washington, D.C., women in Illinois and surrounding states have a safe haven in which to seek care. The Reproductive Health Act would repeal a decades-old law that includes criminal penalties for doctors who offer abortion care. By removing these provisions from the criminal code, the act will ensure that abortion and other types of reproductive care are treated as the health care that they are, and that providers will not need to fear criminal penalties for providing the care that they have determined is best for a particular patient's medical circumstances.
It would also recognize that trained advanced practice clinicians can provide abortion care. A 2018 report from the National Academies of Sciences, Engineering and Medicine (NASEM) — an independent body that provides non-partisan, objective guidance to policy makers — finds that many abortion procedures can be performed safely by an advanced practice clinicians, including physicians assistants, certified nurse midwives and nurse practitioners.
Finally, the legislation would increase access to abortion by ensuring that anyone who has private insurance coverage in Illinois can use that coverage to pay for abortion services. The same NASEM report makes clear that limits on insurance coverage for abortion significantly impact the equity of care by creating additional barriers for low-income women. Illinois' Reproductive Health Act would erase those barriers, helping low-income women find access to safe and timely health care.
In January, New York State passed its own Reproductive Health Act, ensuring access to abortion in the Empire State regardless of what happens to Roe at the Supreme Court. Other states are considering similar bills.
Illinois can, and must, be among the states to take action to secure abortion access in state law at this precarious time.
As one of the few remaining strongholds in the Midwest for women seeking reproductive health care, Illinois has a responsibility to stand up for abortion access – letting women know we are here for them when they need care and to set an example for the rest of the country.
Dr. Erin King is an obstetrician/gynecologist at Hope Clinic for Women in Granite City, Illinois, and a St. Louis resident. The RFT welcomes interesting essays on topics of local interest. To contribute, contact Editor in Chief Sarah Fenske at sarah.fenske@riverfronttimes.com