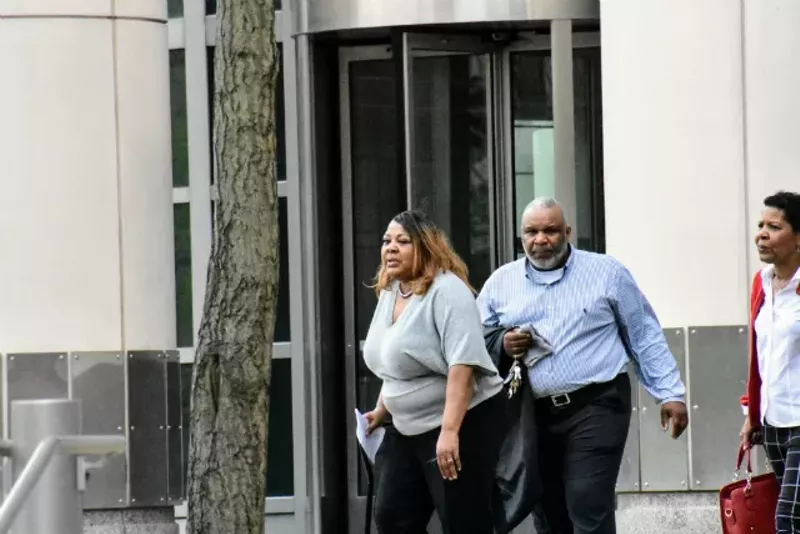 DOYLE MURPHY
Former St. Louis Police Office Terri Owens (left) leaves federal court on Tuesday with her family.
A former St. Louis cop was sentenced today to five years probation for her role in a crooked chiropractor's bribery scam.
Terri Owens, 57, was paid by Central West End chiropractor Mitchell Davis and wife Galina Davis to provide accident reports.
The couple used the reports to solicit crash victims for services. The Davises focused on potential patients in poor areas, offering them free services and then filing exaggerated insurance claims, according to prosecutors with the U.S. Attorney's Office.
Owens was one of four ex-cops indicted as part of the scheme along with the Davises. She pleaded guilty to conspiracy in December 2017.
During an emotional hearing today, Owens told Chief Judge Rodney Sippel that she loved her job as a police officer and was sorry for the shame she had brought the police department and her relatives, many of whom attended the hearing.
"I am very sorry and remorseful for the crime I committed," she said.
Owens had been a key component of the Davises' scam, selling them reports for as little as $5 apiece. Although the price was low, the volume was high. Prosecutors claimed in court filings that she accepted $15,000 in bribes in 2016 alone. She had taken over for a fellow officer, Cauncenet "Sunny" Brown, who left the department in 2011, according to court records.
In October 2016, Owens decided to quit the scam, throwing the Davises into a panic. Galina Davis was caught on recorded phone calls frantically searching for a replacement.
"[W]e are in big trouble," she says in one of the taped calls. "Terri Owens says that she no longer wants to do anything."
Galina Davis then went to another former cop, Marlon Caldwell, for help, offering him a $1,000 finder's fee if he could recruit someone to replace Owens. He eventually led them to Officer Mark Taylor, who told them it would be "no problem" for him photograph documents with his phone and send them to the couple.
All four of the former officers have now been sentenced. Caldwell got thirteen months, Brown got ten months and Taylor was sentenced to 30 days in prison.
Mitchell Davis was ordered to serve 30 months in prison and pay more than $1 million in restitution and fees. Galina Davis got two years probation.
Owens' attorney, Scott Rosenblum, said his client was of little risk to re-offend and suffered from chronic pain.
"I have never represented an individual who has been more remorseful and incredibly sad about the way her career ended," he said in court.
Owens had been a decorated member of the police department, earning multiple commendations during her 26-year career. She told the judge she liked interacting with the community.
"Walking the foot beat — I loved it," she said.
Owens pleaded with the judge to give her probation and community services, possibly speaking to new cadets as a cautionary tale.
"There has to be some good to come out of this," she said. "I would love to give back."
Sippel obliged, ordering her to serve 40 hours community service as part of her sentence along with paying $78,000 in restitution.
We welcome tips and feedback. Email the author at doyle.murphy@riverfronttimes.com or follow on Twitter at @DoyleMurphy.