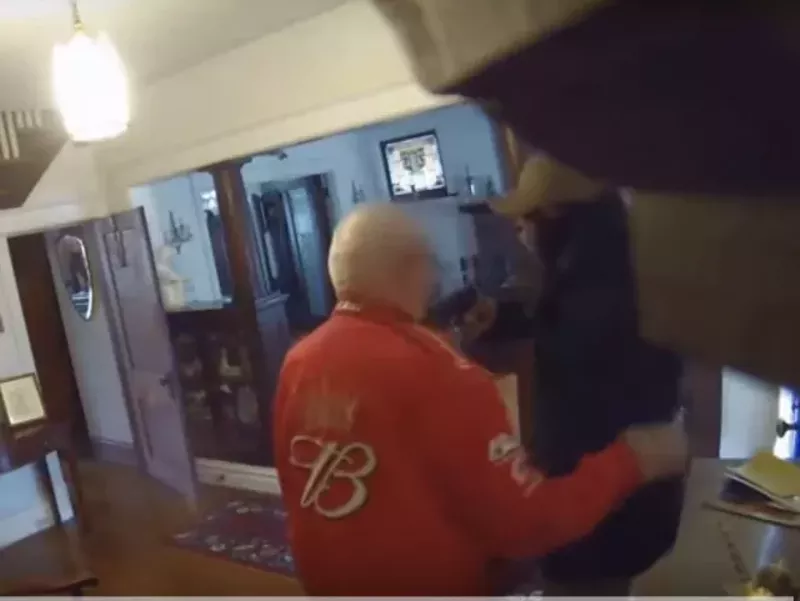 COURTESY SLMPD/YOUTUBE
A 79-year-old was pistol whipped by a burglar, a brutal attack captures on surveillance video.
A burglar in a skull mask repeatedly pistol whipped a 79-year-old man during a violent home invasion, authorities say.
St. Louis police released footage of the frightening attack this afternoon as they hunt for the gunman. The attack happened about 1 p.m. on Friday in the 3600 block of Lafayette Avenue, which overlooks Interstate 44 in the Tiffany neighborhood of near south city.
The 79-year-old was on the porch when the robber forced him inside the house at gunpoint. A surveillance video shows them in the living room.
"What the hell is this?" the man asks as the invader backs him inside and shuts the door behind them.
The white-haired victim repeatedly shouts at his attacker to "get out of here." In response, the burglar slaps him in the head with a handgun, clubbing him again and again as the elderly man asks, "What's the matter with you?"
The beating continues even as the man cries out in pain. Police say the burglar stole the man's cell phone and other property. In the video, the victim can be heard saying that he doesn't have a gun as the attacker mumbles and searches his pockets.
Police say the burglar eventually left on foot. EMS transported the victim to the hospital for treatment.
Police described the suspect as 25 to 35 years old, maybe six feet tall and about 150 pounds. He was wearing a dark pea coat, khaki pants, tan ball cap, dark shoes and a mask with the design of a skull on front.
They ask anyone with information to call CrimeStoppers at 866-371-8477.

We welcome tips and feedback. Email the author at doyle.murphy@riverfronttimes.com or follow on Twitter at @DoyleMurphy.