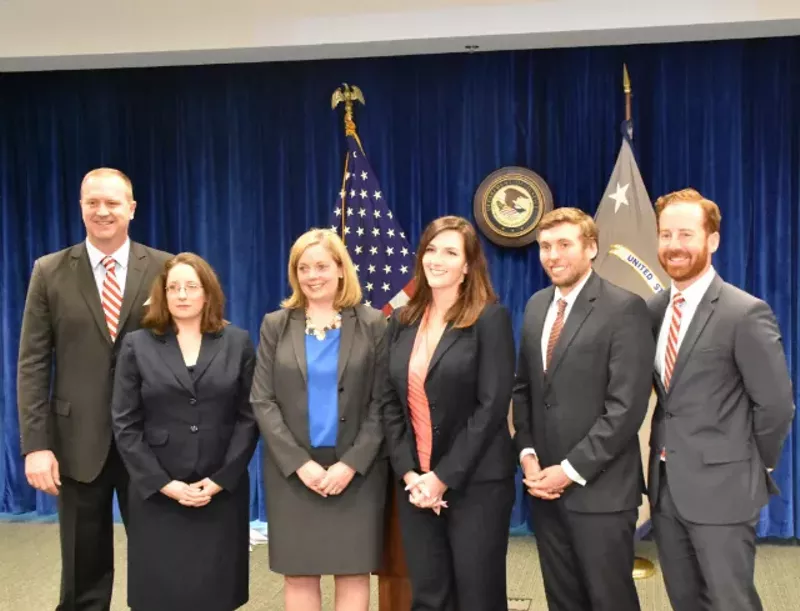 DOYLE MURPHY
Attorney General Eric Schmitt (far left) with five assistant attorneys general deputized as federal prosecutors. From L: Natalie Warner, Jennifer Szczucinski, Katherine Dolin, Greg Goodwin and Jordan Williams.
Missouri Attorney General Eric Schmitt is sending five of his prosecutors to the U.S. Attorney's Office in St. Louis, where they'll use the heavy hammer of federal sentences to tackle violent crime in the metro.
The assistant attorneys general were essentially deputized as federal prosecutors during a swearing in ceremony today, making them special assistant U.S. attorneys. Schmitt described the arrangement as "unique" and "unprecedented" during a news conference this afternoon in St. Louis.
"If major Missouri communities, like St. Louis, are going to be ranked on national lists, let it be for how we stopped and turned back the tide of violent crime and made our communities safe," Schmitt said during a news conference this afternoon.
Schmitt expects them to bump up the number of criminal prosecutions at the U.S. Attorney's Office by 200 or 300 cases over the next twelve months.
It is part of the Safer Streets Initiative that Schmitt introduced shortly after succeeding Josh Hawley as the state's top law enforcement official. As part of the plan, two or three state prosecutors will also be dedicated to federal offices in Kansas City and one in Springfield.
But Schmitt is focusing the most resources toward St. Louis, where murders have dropped in the past sixteen months but remain high compared to other cities nationwide. He says he began speaking with Jeff Jensen, the U.S. Attorney in the Missouri's Eastern District, about addressing the city's violent crime problem even before officially taking office.
There is a close relationship between the two offices. Two of Schmitt's top hires, first assistant Attorney General Tom Albus and deputy Attorney General for Criminal Litigation Cristian Stevens, both spent long stretches of their careers as federal prosecutors before they were hired by the state.
Jensen, who was not at the news conference, released a statement describing violent crime as the "most pressing problem" facing his office.
The new special assistant U.S. attorneys include former longtime assistant St. Louis Circuit Attorneys Jennifer Szczucinski and Natalie Warner, who spent years prosecuting violent crimes in the city. Szczucinski told reporters she is eager to return to St. Louis as part of the Safer Streets plan.
"We've seen and we continue to see how violent crime plagues this community," she said. "It tears apart families. It tears apart communities."
The others sworn in this afternoon are Katherine Dolin, Greg Goodwin and Jordan Williams — all experienced prosecutors.
Schmitt says the attorney general typically has to be invited by local prosecutors to get involved in cases, which usually happens when the local office has a conflict of interest or lacks the specific expertise or resources of the attorney general's office.
That does not happen as much in larger cities, such as St. Louis, where prosecutors regularly handle everything from low-level drug cases to murders.
Schmitt says he has had productive discussions with St. Louis Circuit Attorney Kim Gardner and St. Louis County Prosecuting Attorney Wesley Bell about ways to combat violent crime.
However, the U.S. Attorney's Office has its own jurisdiction, which means the five new special assistants will not need a local invitation to pursue cases in the metro area.
Federal prosecutors had already bulked up the office's caseload under Jensen, including a sharper focus on gun crimes. Penalties for firearm possession are harsher under federal laws, tacking on a minimum of five years to sentences when combined with violent crimes.
"For us, in this office," Schmitt says, "the opportunity that we have to take advantage of some of those enhanced penalties for violent crimes is something we intend to work with our federal partners on and make sure that people are serving the maximum sentences available by law."
We welcome tips and feedback. Email the author at doyle.murphy@riverfronttimes.com or follow on Twitter at @DoyleMurphy.