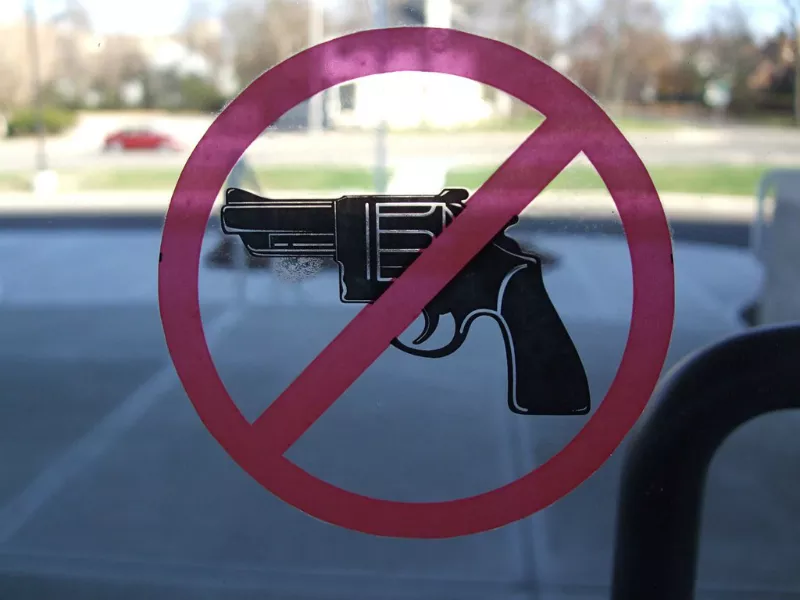 Gun restrictions on college campuses could be a thing of the past.
Republicans really make no damn sense. They're always saying that they want less government and more freedom, but they seem to take every opportunity to twist, strengthen and invent entirely new laws to force on private citizens and institutions.
Take, for example, what happened in the Missouri House last night with
House Bill 575
. The original version of House Bill 575 was written to allow universities and colleges to designate faculty or staff members as "campus protection officers" — and allow them to carry a gun on school campuses if they are authorized to carry concealed weapon.
This is one of the many bills of its type to roll through state legislatures in the wake of the tragedy at Margery Stoneman Douglas High School in Parkland, Florida. And because it remains one of the most disgusting organizations in the history of the United States, the NRA seized on this unprecedented slaughter to try to exploit it as a case for
more
firearms in the hands of barely qualified and possibly mentally ill gun owners instead of
fewer
.
Indeed, before House Bill 575 could be voted on in the House, Missouri State Representative Jered Taylor (R-Nixa) made it even more extreme, adding in an amendment allowing not just designated "campus protection officers" but allowing
everyone
with a conceal-carry in Missouri to do so on college campuses.
As the House explains in a summary: "This bill also prohibits the state, political subdivisions, and public institutions of higher learning from imposing
any policies or contractual requirements that would have the effect of prohibiting employees or students from the carrying of concealed firearms
into locations where concealed carry is not otherwise prohibited by law" (emphasis added). Previously, concealed carry was prohibited in elementary and secondary schools and "higher education institutions." By striking "higher-education institutions," Taylor effectively made them open to anyone authorized to conceal-carry a firearm. And in Missouri (more on that in a minute),
that is just about everyone
.
And here's the truly insane part: Both the bill and Taylor's crazy-ass amendment
passed the House last night, 98-52
. It now goes to the Senate.
In essence, the bill ensures that universities (always an enemy of Republicans looking to keep the public uneducated and take down some mystery "elitists") can't make the rules on their own campuses.
But that's not how Taylor is spinning it. He's
up on Twitter
saying it will protect women on college campuses from rape.
Notice how he tagged Missouri's greatest shame
after Phyllis Schlafly
, Dana Loesch, and her
desperate-not-to-appear-to-be-a-beta-male
-even-though-he-has-two-earrings-and-a-fancy-mustache husband? Taylor seems to be aching for the NRA spokeswoman's approval. Pay attention to him, Mommy Mossberg! Give him a cookie! (Or some
feral hog meat
, whatever.)
If these people
really
wanted to protect women from violence, they'd make it harder for violent men to get weapons, not easier. Women aren't asking for guns at colleges. They're demanding their safety in all situations, including on campus.
Remember
how stoked the NRA was when the Missouri legislature overruled Governor Nixon to ram through Senate Bill 656
in 2016? It eliminated the need for a permit to carry a concealed weapon, along with erasing requirements for background checks. Handing violent criminals and known domestic abusers deadly weapons
doesn't do anything to help keep women safe
.
It's almost like these idiots are only concerned with sucking up to the NRA and don't care about women's safety at all. But that couldn't be true, couldn't it? Someone tag Dana and Chris Loesch; surely they have a great explanation.
Email the author at jaime.lees@riverfronttimes.com