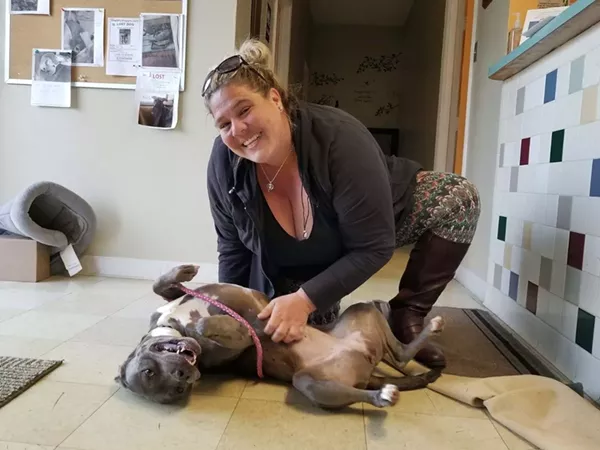 COURTESY OF KATIE MARTIN
Katie Martin and Gracie, reunited this morning.
This morning, after driving hundreds of miles from her new home in Arizona back to Missouri, Katie Martin reunited with her chocolate pit bull, Gracie, whom she had adopted as a rescue more than five years ago.
But Martin's second dog, Frank, won't be coming home to Arizona with her. Instead, she says, the Franklin County Humane Society rehomed her dog to a new owner who pled guilty in 2016 to multiple felonies for animal abuse. And that man and his wife refuse to give Frank back.
Martin discovered the conviction while researching Frank's new owners online.
"I was sick to my stomach," says Martin. "I don't understand how the Humane Society adopts an animal to someone with that record."
The Franklin County Humane Society did not respond last week to multiple voice messages seeking comment. Martin says that she previously spoke with an employee who explained that the branch is small and lacks the resources to do background checks on prospective adopters and their households.
JEFFERSON COUNTY SHERIFF'S OFFICE
The mugshot of Brandon Lynch from his 2014 arrest for domestic assault and animal abuse.
If the Humane Society had checked court records on Brandon Lynch, however, they would have found that Jefferson County prosecutors charged him in 2015 with felonies for animal abuse and stealing animals, as well as to two additional felonies for domestic assault and unlawful use of a weapon.
In 2016, Lynch pleaded guilty to the four charges. He was sentenced to probation instead of a four-year jail term and required to fulfill 100 hours of community service.
In a probable cause statement written by a St. Francois County Sheriff's deputy, Lynch's ex-girlfriend claimed that Lynch, then twenty, had dragged her in his truck and shot her new boyfriend's dog.
On December 7, 2014, the ex-girlfriend said, Lynch visited her new boyfriend's home and "stated he was going to kill the dog and walked to his vehicle," a truck where the dog sat in the back seat. Attempting to save the dog, the victim said she wedged herself in the truck's door as Lynch accelerated, dragging her about two blocks before finally coming to a stop — which gave the dog a chance to leap out.
The report continues: "[The victim] stated that Lynch reached in the vehicle, grabbed a '38 special revolver, brown handle, black barrel,' and shot at the dog."
According to the victim, Lynch fired two more times. The police report notes that one bullet entered the animal's "shoulder/left back" and exited under its front-right leg. The dog was transported alive to an animal hospital, the report says.
Martin tells
RFT
that she immediately alerted the Humane Society to Lynch's history, but she's received no response.
"That was public record, I could Google that and find that out," she says. "So, for the Humane Society to say we don't have the resources to do a background check, I call BS."
Martin says she never planned to leave her dogs in Missouri for so long. In December, she moved from Overland to take a job in Arizona, and she says that a friend agreed to take the two pets until Martin completed the move. In Martin's telling, the friend then notified her that the dogs would be cared for by a third party, a "foster lady."
"I tried contacting my friend to ask her for the foster's information, and she kept telling me, 'I can't just give you her number,' that I'd have to wait until she talked to her," Martin says. "I'd keep asking her, 'Have you talked to her? I want to go get my dogs.'"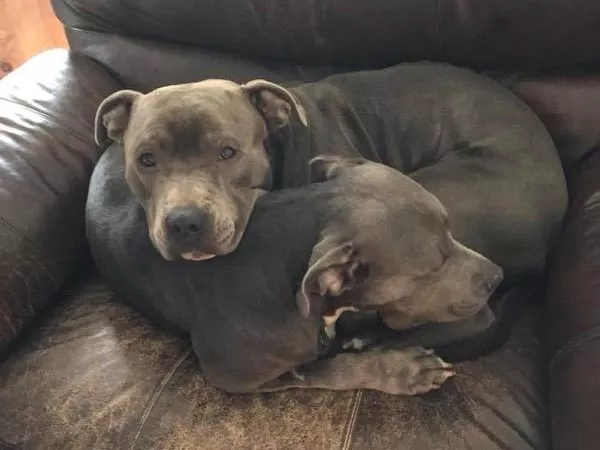 COURTESY OF KATIE MARTIN
An undated photo of Gracie and Frank.
Two weeks ago, Martin says, the friend confessed that the "foster lady" had actually surrendered the dogs to the Humane Society. However, even that doesn't appear to be the case — in an email Martin provided to
RFT
, a shelter manager explains that the two dogs "had been found roaming around Wildwood Estates in Franklin County" west of St. Louis.
"From what the Humane Society told me, I don't think this foster lady even existed," Martin says now.
She still doesn't know whether her former friend actually surrendered the animals or, worse, simply abandoned them to the streets.
"This has been traumatizing," Martin says.
Frank, now renamed "Whalin," was adopted to a married couple in February. Since last week, Martin and the new owners of Frank/Whalin have exchanged heated private messages and debated in a subsequently-deleted comment section beneath a post on the Humane Society's Facebook page.
In a Facebook message to
RFT
last week, Brandon Lynch's wife, Pam Marie Lynch, wrote that her family had legally adopted the dog. Martin, she says, is leading a harassment campaign against her family.
"She knows there is nothing she can do to get him back. And it's just pathetic that it has come to this," Lynch wrote. She maintains that the dog is "happy [and] WELL taken care of."
"It's unfortunate," the message continued, "that she no longer has the dog. But that was, and is not my problem. Instead of her ATTEMPTING to make us look unfit to have this dog... Perhaps she should look at the fact that it is her fault as to why the dog is no longer in her possession in the first place. I legally own this dog. There is nothing she can do about it."
Pam Lynch did not respond to questions about her husband's felony convictions. "Attorneys AND authorities are already fully aware of everything going on," she wrote.
Her message ended, "Please don't contact me again."
Update, 2:50 p.m.:
In a statement posted to Facebook this afternoon
, the president of the Franklin County Humane Society Board of Directors, Susie Blatt, said that it is not "standard policy" for animal shelter agencies to conduct criminal background checks.
While the statement acknowledged "the recent publicity concerning a dog adopted from us to a man convicted of animal abuse," Blatt did not address Lynch's specific convictions or the ownership dispute over Frank/Whalin.
Rather, Blatt contended, "We believe that people who support animal shelters by adopting animals and paying the adoption fees are animal lovers, not abusers. It would be time and cost prohibitive for us to check the criminal records in every state for every adult who applies to adopt."
Before thanking the organization's local backers, Blatt ended the statement by suggesting "This unfortunate situation could have been prevented had the dog been microchipped by his original owner."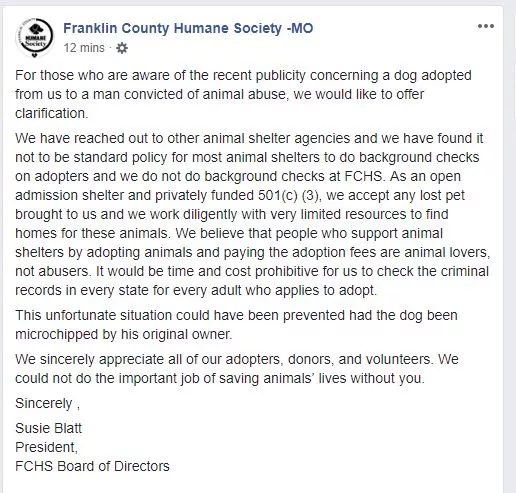 Follow Danny Wicentowski on Twitter at
@D_Towski
. E-mail the author at Danny.Wicentowski@RiverfrontTimes.com