DOYLE MURPHY
Alex Garcia is still hoping immigration officials will stay a deportation order.
An act of Congress could spring Alex Garcia from the Maplewood church where he has spent nearly eighteen months locked in a stalemate with immigration agents — but odds aren't high of even that working.
Garcia, a 38-year-old father of five, took sanctuary in September 2017 in Christ Church after the department of Immigration and Customs Enforcement, or ICE, told him in a letter they planned to enforce a 2000 order to deport him.
See Also: ICE Ordered Alex Garcia to Report for Deportation. He Took Sanctuary in a Maplewood Church Instead

His family in Poplar Bluff and supporters have
worked frantically ever since
to keep him in this country with his wife and kids, all of whom are United States citizens. Running out of options, they have turned to U.S. Representative Lacy Clay (D-St. Louis),
who has been supportive of his cause
.
Clay has promised to sponsor what is known as a private bill or private legislation to protect Garcia from deportation. In the past, Democrats and Republicans have used private bills as a last-ditch effort to seek permanent resident status for people in the country illegally.
Generally, legislation applies broadly across large classes of people, but a private bill focuses on one person or a small handful of people. Members of Congress use them for an array of purposes. Of the eighteen introduced so far this year, there are private bills nominating a soldier for the Medal of Honor, seeking designations for ships and requesting an honor for former Kansas Senator Bob Dole.
But the majority seek permanent legal status for specific people. In a news release, the St. Louis Inter-Faith Committee on Latin America says Clay has promised to sponsor a bill for Garcia; the organization is hoping for co-sponsors. A spokesman for Clay confirms that the congressman plans to introduce a bill in the future.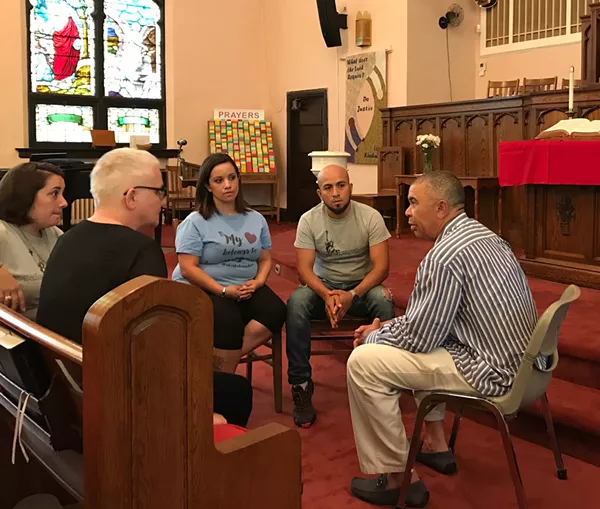 Camille Respess
Rep. Clay meets in May 2018 with Alex and Carly Garcia, as well as Sara John of the St. Louis Inter-Faith Committee on Latin America and Revered Rebecca Turner (left) of Christ Church.
It is rare for a private bill to become law, and it would likely be even tougher under the Trump administration. Just getting one introduced used to be enough to buy their beneficiary time, sometimes years, while a bill is pending. That is no longer the case. ICE has reversed its practice of delaying deportations while bills are pending.
In May 2017, then-acting director of ICE Thomas Homan
issued a letter
outlining a new, hard-line policy on private immigration bills. The agency will move forward with deportations even when a bill is pending. And the agency will only consider issuing a temporary stay of removal if the chair of the U.S. Judiciary Committee — or a designated subcommittee of the Senate or House — sends them a written request. Even then, stays will be capped at six months with no renewals, according to the new policy.
A construction worker who lived for thirteen years in Poplar Bluff, Garcia had been checking in with ICE and had received multiple stays of deportation before the Trump administration implemented a "zero tolerance" policy for people in the country illegally. The most public manifestation of the administration's approach has been the separation of families seeking asylum at the southern border. But Garcia and his family say ICE's refusal to issue him another stay has also split them apart, far from the border.
Garcia's wife, Carly, drives their kids nearly three hours one-way to see him on weekends. With her husband unable to work, she has had to move out of their house and move in with her parents. Last September, she went with an advocate from the Inter-Faith Committee and the family's attorney from the MICA Project to Washington, D.C., to speak to lawmakers about potential solutions.
If Garcia is deported to his native Honduras, his attorney says, he would have to wait ten years before he would even be considered for re-entry. Instead, he has lived in the church. There is no law preventing ICE from removing him, but the agency has a policy against entering places of worship to take people into custody.
Hoping for a solution,
Garcia's supporters are trying to rally enough support
to push the yet-to-be-filed private bill through Congress. They have created an
online petition for the cause
and are planning simultaneous rallies from 5 to 7 p.m. Tuesday at Christ Church in Maplewood and Casa Grande restaurant in Poplar Bluff.
Supporters plan to write letters and sign the petition at the events.
We welcome tips and feedback. Email the author at doyle.murphy@riverfronttimes.com or follow on Twitter at @DoyleMurphy.