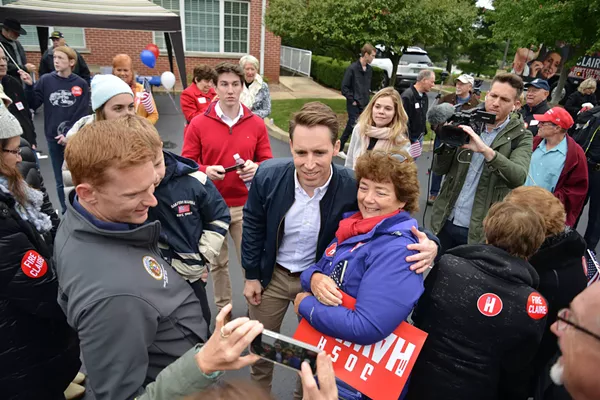 TOM HELLAUER
Josh Hawley, perpetual grandstander.
Senator Josh Hawley (R-Missouri) is BIG MAD that the Federal Trade Commission — which functions as the U.S. government's watchdog for unethical business practices — is allowing tech giants Google and Facebook to skate through their recent bad behavior with a slap on the wrist.
"The approach the FTC has taken on these issues has been toothless," Hawley wrote in a letter to the commission's chairman, which was
first reported
earlier this morning by
The Washington Post
.
The letter
runs through a litany of concerns about the way the FTC has failed to react to the compounding crisis of how tech firms use personal data. Hawley contends that consumers are being failed by both the companies and Washington.
Which is all very
interesting
, and certainly Hawley's ire seems so very
genuine —
though
perhaps
it is notable that Hawley's climb to this particular high horse occurred only after Hawley departed the office of Missouri Attorney General
under a cloud of criticism
for helming a
"half-hearted investigation"
into the use of a text-destroying app Confide by the staff of then-Governor Eric Greitens, a fellow Republican.
In that case, Hawley made early headlines by
declaring
that he took "very seriously the mandates of transparency and open government." But when it came time to put his office's investigatory muscle to the task of determining whether government officials were breaking the law by communicating through an app that destroyed potentially public records, the results were laughable.
Citing a lack of evidence, Hawley's office
concluded
that there had been no wrongdoings by the governor's office. But the investigation interviewed just eight of Greitens' staff members about their use of Confide — and Hawley agreed to limit the investigation's interviews to just fifteen minutes. It also failed to retrieve any text messages.
After Hawley's office closed the investigation last year, additional reporting from the
Kansas City Star
and a lawsuit by attorney Mark Pedroli further destroyed any suggestion Hawley's "investigation" had included any actual investigating.
As the
Star's
Jason Hancock reported
in October
(emphasis added):
[D]ocuments uncovered as part of Pedroli's lawsuit would show it was not only eight Greitens staffers who had Confide accounts but actually 27. That includes Greitens, who admitted to using Confide to communicate with his staff.

Text messages obtained from the governor's office showed Greitens staff openly discussing the use of Confide not only among themselves but also with people outside the governor's office. They also appeared to show staff discussing the use of Confide to conduct public business.

Adding to the irony: We now know (thanks, again, to the KC paper's great reporting) that Hawley's own chief of staff was using Confide while overseeing Hawley's office. That's a fact
the office conveniently failed to address before the Senate election
. (The AG's office is
also now facing a lawsuit
for Hawley's refusal to turn over emails requested via the state's Sunshine laws.)
Which is to say that when now-Senator Hawley writes a letter blasting a government agency's weak investigations, it should at least raise an arched eyebrow of wry recollection. It's the equivalent, perhaps,
of showing up at a flatbed truck party with a utility trailer
, or blaming the Democrats for laziness when you
engineered an early retreat
from the Attorney General's Office to go play in Washington as a senator.
This isn't to say that Facebook and Google deserve a light touch — both companies are now facing mounting pressure over a pattern of misleading policies and privacy breaches, including Facebook's involvement with Cambridge Analytica, which improperly accessed data on 87 million users prior to the 2016 election. But Hawley leading the charge is just too rich to ignore.
In his letter sent today to the FTC, the Missouri senator complained about the cycle of lax regulation and scandal around tech companies. It sounds terrifically familiar.
"Big Tech companies adopt an 'ask forgiveness rather than seek permission' mentality to their repeated deceptions of consumers and encroachments on use privacy," Hawley writes. "A handful of their most egregious practices are discovered long after they are initiated — usually by the media — and companies offer only half-hearted apologies. Occasional, clear lines are breached, as with Facebook's violation of the FTC consent decree. Too often, though, public shaming is the only consequence."
For Senator Hawley, the media reports, lawsuits and public shaming about his own half-assed probe did nothing to stop him from beating incumbent Democratic Claire McCaskill and immediately becoming one of the GOP's Trumpish golden boys.
Facebook and Google can only hope to be so lucky.
Follow Danny Wicentowski on Twitter at
@D_Towski
. E-mail the author at Danny.Wicentowski@RiverfrontTimes.com