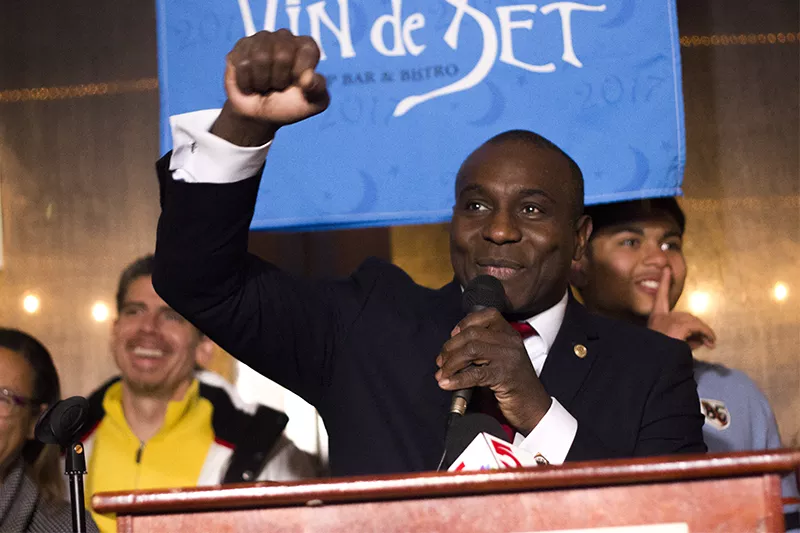 DANNY WICENTOWSKI
Board of Aldermen President Lewis Reed.
Two hours before the final election results
revealed a sweeping victory for the political status quo in St. Louis
, challenger Jamilah Nasheed was feeling confident. Absentee votes put her down just handful of points to the three-term incumbent president of the Board of Aldermen, Lewis Reed.
It is just after 7:30, and attendees to Nasheed's campaign party are just starting to file into the chandelier-lit Mahler Ballroom. Upstairs, the Democratic state senator from St. Louis takes a break from greeting supporters to do some trash talk.
"I don't think Lewis has anybody that energized to come out and vote for him," she notes nonchalantly. "So I think he may come in third."
It's bold to jab at a politician like Reed, whose place as aldermanic president was never seriously threatened in the twelve years before yesterday's election, let alone in a three-way race like the one. Nasheed, a popular legislator used to winning elections for the General Assembly, collected more than $500,000 in campaign contributions to unseat Reed
and dubbed him "Lyin' Lewis"
while blasting the results of his long tenure in city government. (The feeling was mutual, as Reed had called her "Double Agent Nasheed" while accusing her of working on behalf of Rex Sinquefield.)
But at her watch party, Nasheed waves off questions about their clashes. The election is about the big issues facing the city, she says, and the critical role the board president will have in deciding things like
airport privatization
and the proposed city-county merger.
What worries Nasheed, though, is the temperature. A bitter cold has infiltrated March, and the twenty-degree weather has resulted in voter turnout in the low teens.
"It's something we shouldn't be proud of," Nasheed says of the low turnout, "especially at at time when this race will be a very defining moment in history of St. Louis."
The opportunity to shape the St. Louis' next defining moments has led to a campaign season that exacerbated deep divisions within the ranks of activists eager to oust Reed. The incumbent president's positions — including backing public funding for sports stadiums and providing
a key vote
to consider airport privatization — put him at odds with the burgeoning progressive movement in St. Louis.
But after a bitter season dubbed #Aldergeddon2019, neither Nasheed nor fellow challenger Megan Green ended up besting Reed. In the end, every incumbent on the Tuesday's ballot won, and the story was no different in the race for the aldermanic presidency.
Most of the aldermen and women were reelected
by
resounding, double-digit margins
. But Reed's success came with different math — he won just 35 percent of the vote. Fewer than 1,600 votes separated him not only from Nasheed but also Green.
For progressives, the disappointment is compounded by the dead-heat finish, where both Nasheed and Green earned 31 percent of the vote. The result presents an uncommon picture of a split St. Louis, and a confounding question for progressives.
Indeed, it's often said that St. Louis is divided — but what does it mean when it's divided into thirds?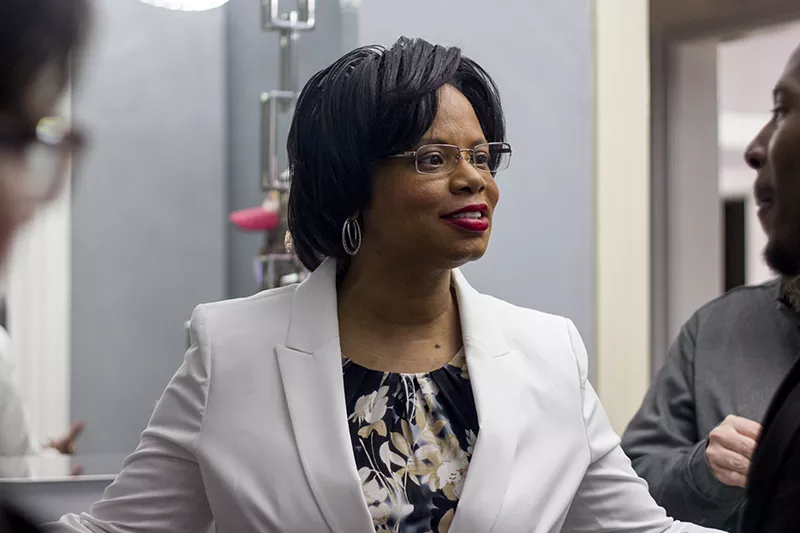 DANNY WICENTOWSKI
State senator Jamilah Nasheed (D-St. Louis).
Less than three miles south, the tension is starting to seep into the
atmosphere of Megan Green's election watch party at the Ready Room. The news of new info swings the room's mood up and down with each refresh of the city's election website.
"We spiked up, and now we're back down again," Green says. "So it's hard to say."
It's not just weather driving lower turnout. Many potential voters care about the issues the board president will be able to tilt, Green says, but the position is rarely a household name outside of political watchdogs.
"It's different than what we saw for the mayor's race; there isn't quite the awareness around it," she says. "There's still a lack of education around what the president of the board even is, why it matters."
In the crowd at the Ready Room are activists who have attempted — at times through
outlandish costumery
— to reach those voters. At the heart of Green's campaign is her dedication to progressive policies, including her vow to halt efforts at airport privatization.
But even at Green's watch party, the question of whether it's smart to have two progressive-leaning candidates running to replace Reed creeps into conversation like a bad smell. Memories of the five-way 2017 mayoral race, when progressive darling Tishaura Jones lost to Lyda Krewson
by less than 900 votes
, remain bitter in activist circles.
St. Louis is a city where the Democratic machine continues to win at the ballot box in all but a handful of ward races. If progressives play the spoiler, are they actually standing in the way of progress?
DANNY WICENTOWSKI
15th Ward Alderwoman Megan Green.
An hour later, at 10 p.m., the up-and-down spiking of the vote count finally subsides.
At Lewis Reed's election watch party, the enclosed patio section of Vin De Set swelters like a winter sauna under the influence of multiple heat lamps. But it is excitement that boils through the small crowd as Alderwoman Marlene Davis takes the mic.
"What have we done?" Davis asks those assembled, leading them in a call-and-response. "Did we work hard? Who did we work hard for?"
The crowd answers, "Reed! Reed! Reed!"
When Reed finally emerges to make his victory speech, he's all smiles. After twelve years, St. Louis has just ensured he would do the job for another four. Reed's reelection to a fourth term is unprecedented, and to Reed, it is a message that voters still believe that St. Louis is becoming a better city under his leadership.
"We have a lot of difficult days ahead," Reed tells the crowd, quieting the celebration for a moment as he mentions the city-county merger, the airport and the continued development of the NGA site in north St. Louis.
"That's going to take all of us working together," he says. "These things that we're working on, these things will redefine St. Louis."
Reed, of course, will have the opportunity to guide those matters. Meanwhile, Green will remain on the outside looking in, an alderman in a city with 28 of them, and a place where individual lawmakers — especially ones that manage to piss off people like Reed, and get lousy committee assignments — rarely get much done.
While Reed and his supporters celebrate, a familiar, grim ritual plays out at the other election watch parties. The music is cut, the supporters gather and watch their preferred candidate face up to the reality of the loss.
Back at the Ready Room, Green addresses the crowd from a bare stage.
Green, a self-described policy wonk, is generally measured public speaker — but here, in the waning moments of a campaign that came up just short, she talks more like the socialist radical her bitter critics
have argued she is
. With emotion in her voice, she rattles through issues she championed in the campaign, from stadium funding to tax abatements to airport privatization.
"None of these things change with us not winning today," Green tells the crowd of supporters, who still have sufficient energy to enthusiastically boo at the mention of Rex Sinquefield.
"What does change is we have a whole new group of mobilized people," she continues. "We're going to show up to City Hall. We're going to sit in if we have to — and we are going to make the lives of the status quo miserable if we have to."
Across town at the Mahler Ballroom, Nasheed is also firing up her disappointed supporters — and, yes, firing at Green.
"If it wasn't but for her being in this race," Nasheed says to a chorus of cheers, "we would have won."
Nasheed continues, referencing the the "egos that came into play" in the election, and she repeats a favorite claim from earlier appearances: That Green's presence represented everything progressives should "hate," with her core backers vowing to support racial equity even while "trying to reduce black representation" by voting for Green.
The result is exactly what progressives feared. Four more years of Reed.
"Because of the progressives' egos, we're still in the same condition," Nasheed says, "and that is the most unfortunate situation that we're dealing with today."
At this point, Nasheed is getting fired up herself. She's a natural political brawler, and the spotlight of defeat is still, after all, a spotlight.
"Individuals got into this race with a big ego, and everything they didn't want, they just got tonight," she says, her voice rising, getting on a roll. "And that's Lewis Reed, a man who has forgot about north St. Louis, a man that—"
But here Nasheed trails off, and a long second passes. Then another. The election is over. Reed is the president. It's his city, and until the next election, Nasheed will have to deal with that.
"You know what," she says quickly, "let me call him and congratulate him."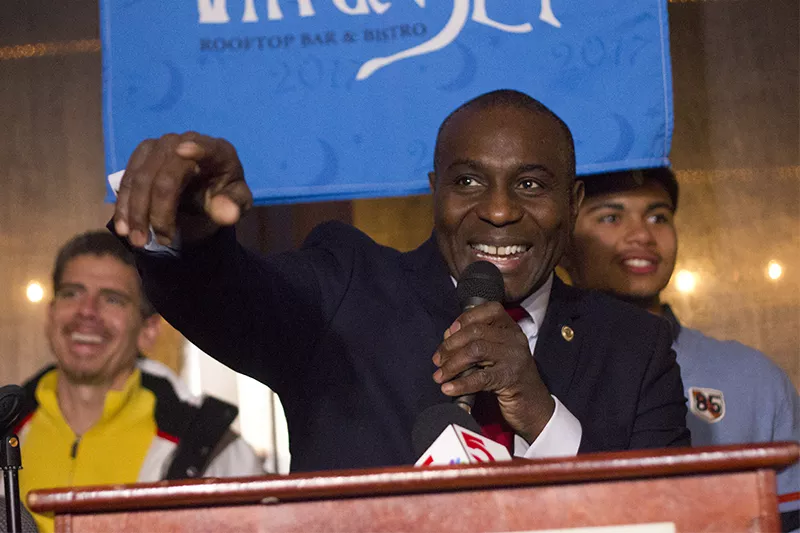 Follow Danny Wicentowski on Twitter at
@D_Towski
. E-mail the author at Danny.Wicentowski@RiverfrontTimes.com