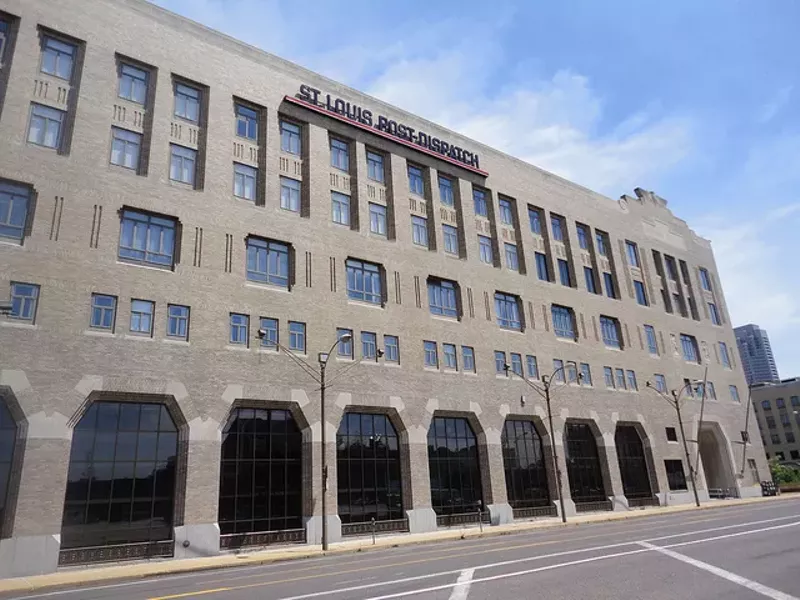 FLICKR/PAUL SABLEMAN
In addition to shedding jobs, the St. Louis Post-Dispatch will soon be leaving its longtime home on Tucker.
Earlier this year, the
St. Louis Post-Dispatch
confirmed that it
hoped to interest up to fifteen senior employees in a buyout offer
. Fourteen staffers signed up by the March 4 deadline, with some well-known bylines among them.
Doug Moore, a nineteen-year veteran of the daily who penned some of its most interesting stories, has accepted the offer. So has editor Christopher Ave, who's directed the paper's political coverage for the last eleven years.
Each announced the news this morning on social media. Moore, who is also the secretary for the executive board for the United Media Guild, wrote on Facebook that he'd unexpectedly received a different job offer and decided it was time to go.
In a
long Twitter thread
, Ave wrote that leaving was "a painful but necessary decision. I wish the paper only the best and I feel bad for leaving my brothers in arms. (and sisters of course). An exciting new challenge awaits, one that I will tell you about presently. For now, as the smell of election-night pizza lingers and the adrenaline rush of deadline fades, here's to journalism — it's been a thrilling, frustrating, beautiful ride."
Jean Buchanan, who served as the paper's projects and investigative team editor, has also accepted a buyout. She's been with the paper since 2004. The assistant metro editor/nights, Lisa Eisenhauer, was also on the list.
Reached for comment, Tracy Rouch, a spokeswoman for the paper, did not directly address whether a layoff (or more) will be necessary. In a statement, she said only, "The
St. Louis Post-Dispatch
has accepted a total of 14 represented and non-represented employee voluntary separation packages from areas including news, advertising, online and production."
The departures, which are expected to take place by the end of this week, come along with parent company Lee Enterprises' decision to outsource copyediting and design duties to workers in Munster, Indiana. The
Post-Dispatch reported
that nine St. Louis-based employees would lose their jobs as a result.
In a story Monday, the
Gateway Journalism Review reported
that Eisenhauer and letters editor Frank Reust would be departing:
"Eisenhauer – who has tirelessly chronicled the layoffs, buyouts, resignations and deaths of P-D staffers wrote in an email, 'I couldn't bear to stay after seeing the way the copy desk was rounded up and told their jobs were going to a design/copy editing mill.'"
In a statement, Rouch said the changes would be effective May 2. "This change will result in a reduction of eight represented positions in the newsroom," she said. "The Lee Design Center provides this service for nearly 50 Lee daily newspapers and 300 weekly and specialty publications."
We'll update this story with more buyout news as we learn it.
Editor's note: A previous version of this story contained inaccurate information about one person on the buyout list. That person has not officially decided to accept the buyout. We regret the error. We also updated the story to include details about an additional editor's departure and change Muncie to Munster, since that is where the copy-editing duties are going. D'oh.
We welcome tips and feedback. Email the author at sarah.fenske@riverfronttimes.com