COURTESY OF UNIQUE SOULS
Children at Unique Souls learn life skills and get tutoring help.
For the past year, Uranda Atkins had done everything in her power to secure a building for her nonprofit organization, Unique Souls.
The north city native had found the perfect building in the Jeff VanderLou neighborhood, a vacant owned by the city's Land Reutilization Authority, and signed all of the necessary forms. She'd received the support of her community, where members sent letters of support to the city. It took almost half a year for an approval from Alderman Sam Moore, but finally, it was all coming together. It would provide more space for Atkins' students to work one-on-one with tutors and learn life skills such as how to use a stove. Now all she needed was to tie up some loose ends.
Files in hand, Atkins was making her way downtown when she passed the building Unique Souls would soon occupy. The building, however, was on fire.
And that would prove catastrophic to her plans. Without consulting Atkins, the city tore down the building following the fire. Just like that, she was back at square one — hosting the kids in her own house, just like the old days.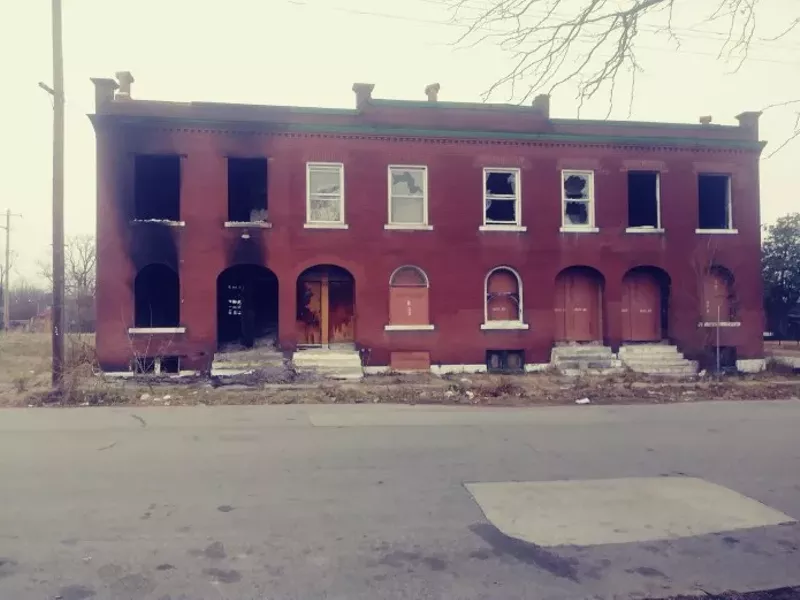 COURTESY OF UNIQUE SOULS
Atkins' dream building was destroyed in a fire.
When Atkins first opened her doors in 2014, she only had five or so children taking advantage of her services. As the months progressed, more and more kids packed into her house. One night, 50 kids wandered inside. "I'm like, 'I don't have enough space for this,'" Atkins says. "I can't continue to do this. It's a fire hazard."
In addition to forming a 501(c)3, Atkins decided the kids needed a space of their own. Unique Souls started by occupying a space with a local community center, but after that fell through, Atkins searched and found the LRA-owned vacant building.
Atkins didn't just want to use the building as a way to help the kids who came through her doors, but the larger north St. Louis community as well. Although the building was surrounded by a church and park, it was a blight on the area. By buying it, Atkins hoped to rid the community of at least one problem. "Crime and drugs are so high because of the building," she says.
As Atkins starts the process of looking for another building, she has launched
a campaign on Indiegogo
. The money will go towards buying a building and improving pre-existing resources.
If Atkins cannot raise the desired amount of money, she still won't stop. "Our motto is, failure is not an option, so if this campaign does not work I will try to help as many people as I can with the funds I have," she says.
In addition to her job as a medical assistant, Atkins and another volunteer bring the kids into their homes twice a week. In the future, Atkins hopes to keep their organization open six days a week. But before that, Atkins will have to find another building, again.