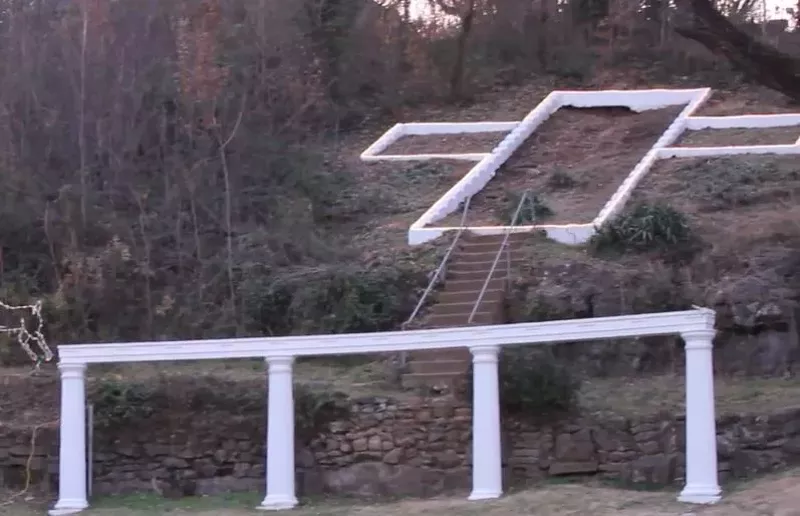 In 2017, thjis 60-foot long cross in Neosho sparked debate over religious symbols on public land.
Missouri Representative Hardy Billington (R-Poplar Bluff) is on a mission from God. Unfortunately, it's not the type of mission that requires driving to Chicago at night while wearing sunglasses, but rather one to make the separation of church and state just a bit less separate.
In a House committee hearing Tuesday, Billington presented a bill that would force plaintiffs advocating for the separation of church and state — those suing to stop the public display of crosses on government property, or seeking to block prayer in public schools — to disclose their real names. No more Jane Doe or Jane Roe. In these cases, and only these cases, Billington would require the legal system to out the person suing.
Currently, when it comes to identification, a judge can balance the interests of the public against the interests of the people filing suit. But Billington seems to believe that a new law is necessary to make sure anyone who doesn't share his religious beliefs has no shot at anonymity. "Except if the party in interest is a minor, in any action involving the separation of church and state, such action shall be prosecuted in the name of the real party in interest,"
his bill states
.
During Billington's comments on Tuesday, the freshman representative explained that he'd been inspired to file the bill because of an incident seven years ago, when he erected a ten-foot-tall crucifix that said "Jesus Saves."
Someone apparently complained that the cross was on public land, and although a MoDOT survey eventually determined the cross was on Billington's property (where it still resides, apparently), he believes it shows that "every day in this country, somebody is attacking the thing we believe in."
It's worth noting, though, that Billington's
beliefs
would be considered
rank bigotry
by more progressive Christians. He actively campaigned against the passage of marriage equality and
once asserted
that homosexuality is "killing people two to three times the rate of smoking." In 2012, he took out a newspaper ad supporting the
breathtakingly dumb (and obviously unsuccessful)
"Don't Say Gay" bill
that sought to restrict conversations about sexual orientation in public schools.
During the hearing Tuesday, Billington repeatedly singled out the Wisconsin-based Freedom From Religion Foundation, whose stated mission includes "challenging the entanglement of religion and government, government endorsement or promotion of religion."
The foundation has been busy in Missouri.
In 2016
, its complaint and threat of a lawsuit forced the Tipton school district to prohibit staff from leading prayers in school. In 2017, the nonprofit targeted a 60-foot long cross in a public park in Neosho — the city
opted to sell a chunk of the park
to a private entity rather than remove the enormous religious symbol.
While those cases never reached the point of a lawsuit being filed, Billington's bill is tailored to target anonymous plaintiffs in similar cases that actually make it to court.
The bill, Billington testified, "will guarantee that no individual or organization will be able to use our state court as a weapon to attack the right of the Missouri people to display any religious symbol, or hide behind unknown plaintiffs."
But to Tony Rothert, executive director of ACLU Missouri, Billington's bill requires an unconstitutional leap of faith.
"I think his arguments are either disingenuous or he has no idea how the legal system works," Rothert suggests.
And that's because, while it's common for cases involving separation of church and state to include anonymous complainants, those plaintiffs are only hidden from
public
identification.
A lawyer defending a city's courthouse nativity scene, for instance, would know full well who made the complaint. The attorney could depose them, or challenge their standing to a judge.
"Any lawyer filing a lawsuit would be risking a lawsuit if they were filing on behalf of a fake person," Rothert says. Of Billington's bill, he adds, "I think it's likely that the fears he's talking about are imaginary concerns."
What's not imaginary, though, is the fact that plaintiffs in these church-state lawsuits have reason to want anonymity. During Tuesday's hearing, Freedom From Religion Foundation attorney Ryan Jayne said he had clients who were threatened with murder if they did not drop a case.
Jayne argued that judges allow the use of pseudonyms only in "exceptional cases," and that Billington's bill would needlessly damage the independence of Missouri judges.
"This bill would lead to Missouri residents getting harassed, assaulted, or even killed," he said, "even when a judge knew about the danger and otherwise could have prevented it."
Follow Danny Wicentowski on Twitter at
@D_Towski
. E-mail the author at Danny.Wicentowski@RiverfrontTimes.com