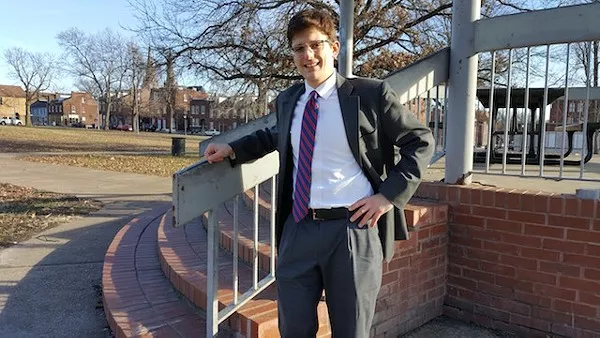 COURTESY OF ELAD GROSS
Attorney Elad Gross.
A St. Louis lawyer is asking the Missouri Attorney General to investigate the Joseph Wingate Folk Society, the shadowy nonprofit
behind an influx of dark money in races for the city's Board of Aldermen
.
Named for a former Missouri governor, the Wingate Society incorporated on January 30. Just weeks later, it donated $100,000 to a newly formed political action committee, Vote StL-PAC — which promptly began to spending money on ads supporting Board President Lewis Reed and other candidates in next week's Democratic primary.
Because the money comes from a nonprofit instead of a political committee, the true source of the donations will likely never be disclosed. That's a legal way of skirting campaign finance laws, but one that's drawn wide condemnation. Even some candidates who've benefited from the Wingate Society's ads on Facebook have denounced the group.
Attorney Elad Gross, himself a former assistant attorney general for the state, wrote in a letter yesterday to Attorney General Eric Schmitt that he'd checked — the Wingate Society never registered to receive donations with Schmitt's office. And by that, Gross wrote to Schmitt, it may have violated Missouri law.
It's possible, Gross conceded, that the group has received only unsolicited donations, which would put it on safe legal footing.
But, as he wrote to Schmitt, "Missourians still deserve transparency in their government, and, when it comes to nonprofit corporations attempting to buy our elections, your office has the authority to investigate and shut down these groups."
Gross is now asking for a formal investigation, writing,
Under Missouri Revised Statute 407.095, you have the authority to issue emergency orders stopping the Joseph Wingate Folk Society from participating in a scheme to hide the names of political donors. You can also seek court orders to retrieve the corporation's records and provide voters with transparency, and you can initiate a criminal investigation if the evidence indicates wrongdoing.
He's also asking the Missouri Ethics Commission, which supervises campaign financing, to take a look.
Gross, who is running for attorney general as a Democrat, previously earned headlines for suing Eric Greitens' dark-money nonprofit. He later subpoenaed former attorney general Josh Hawley in a related case.
We reached out this morning to the press office for Attorney General Schmitt; we'll update this post if we hear back.
We welcome tips and feedback. Email the author at sarah.fenske@riverfronttimes.com