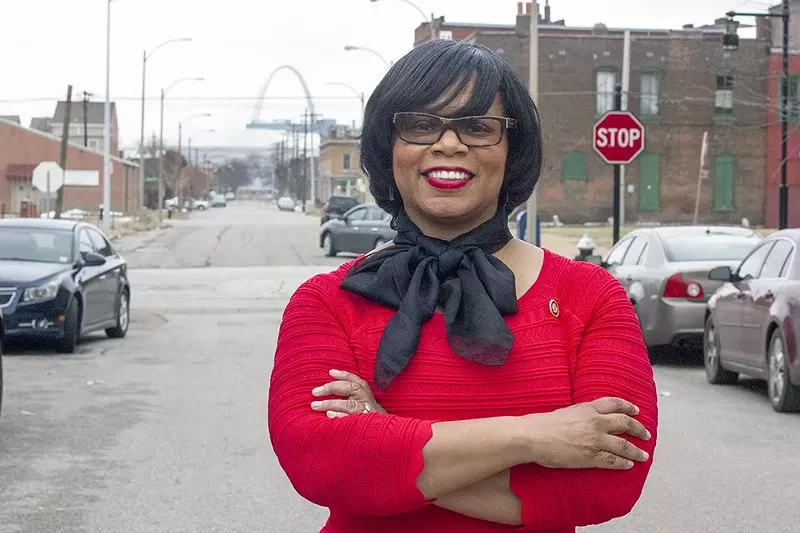 DANNY WICENTOWSKI
Jamilah Nasheed leads the fundraising score board for the March 5 primary in St. Louis.
One week before the Democratic primary that will decide half the seats on the St. Louis Board of Aldermen, including its presidency, candidates are reporting some big numbers.
Candidates for aldermen have gathered a collective $630,834 in donations, according to reports filed as of Monday's deadline. And the three-way race for the presidency appears likely to easily top $1 million, with candidates there raking in a combined $964,564.
The reports, which were due eight days before the March 5 election, cover all contributions received by February 21.
Among the contenders for the presidency, state Senator Jamilah Nasheed (D-St. Louis) alone reports $543,161 in donations. She's trailed closely by the incumbent, board president Lewis Reed, who has raised $304,220. The third contender, Alderwoman Megan Ellyia Green, has brought in $117,273.
As of the eight-day report, Reed had the most cash on hand: $184,304.
And the race has brought in more money than even those high totals suggest, since they do not include independent expenditures on the candidates' behalf. Ads like the ones
that have appeared on Facebook within the last week
touting Reed, as well as ward challengers including Sunni Hutton and Debra Carnahan, were paid for a group called Vote StL that is working independently from the candidates. That group's efforts, fueled by $75,000 in dark money, come in addition to the totals reported by candidates. (More on that in a minute.)
Among those running for ward seats, incumbent Alderwoman Christine Ingrassia has taken in the most donations this cycle, with a reported $83,189 in donations. Ingrassia, who represents the 6th ward, is being challenged by not only Carnahan but also entertainer Cedric Redmon and engineer Henry Gray. Her totals far dwarf theirs; even Carnahan has taken in less than half as much as Ingrassia.
In Ward 4, incumbent Sam Moore has raised $62,545, more than ten times any of his three challenges. And in the 20th ward, incumbent Cara Spencer's $62,415 total far surpasses the $14,872 collected by Hutton, a community development manager.
Carnahan and Hutton's totals do not include any independent expenditures made on their behalf. And Hutton, for one, has denounced the Vote StL expenditures and
asked that its ads be taken down
.
But independent committees like Vote StL don't have to listen to such requests — by law, they are required to act without coordinating with the campaign. And in this case, getting at who's truly behind the expense is difficult, if not impossible.
That's because, four weeks ago, lawyers filed paperwork to form a corporation with an innocuous-sounding name. The Joseph Wingate Folk Society was named for the most progressive governor in Missouri history, a fearless fighter of corruption. Its aim? "To promote education and active voter participation in Missouri state and local elections."
In reality, it appears to be a dark money machine aimed squarely at St. Louis City Hall.
Within weeks of its incorporation, the Joseph Wingate Folk Society cut a check for $75,000 to the brand-new Vote-StL PAC. Vote-STL then promptly spent $50,000 on political advertising to push various candidates for the city's upcoming Democratic primary, its records show.
That includes Facebook ads for Lewis Reed and incumbents Jeffrey Boyd and Carol Howard, who are all facing challengers from the left; Hutton and Carnahan, who are taking on incumbents; and Jake Banton, Jesse Todd and Bret Narayan, who are all running in open seats.
The expenses all appear to be legal. But thanks to the Wingate Society's nonprofit status, voters will likely never know who's funding its efforts.
That said, publicly filed records leave a few tantalizing clues. The lawyer who drew up the incorporating papers for the Wingate Society is Chuck Hatfield, a politically connected Jefferson City operator who previously served as chief of staff and counsel to Governor Jay Nixon. And the treasurer on the Vote-StL committee, which took the Wingate money, is Kathryn Jayne Drennen ... who also happens to be the treasurer of two other political action committees: the Lyda Krewson Leadership PAC and the LouPAC. (Drennen did not respond to a call seeking comment yesterday.)
Oh, and here's another clue: Vote-StL is spending the money at Show Me Victories, the firm run by veteran operative Mike Kelley, which worked on Mayor Krewson's campaign.
Krewson previously endorsed Reed's reelection bid.
As for the overall totals, the city's mayoral elections have attracted funding numbers that dwarf these. (Krewson alone raised more than $1 million in her successful 2017 campaign.)
But it's been quite some time since there was a true challenge for the aldermanic presidency; Reed has held the seat for twelve years, and this is the first time he's faced a well-funded challenger, let alone two. Most observers believe he remains the frontrunner, but the fact that his challengers have raised a combined $660,000 suggests election night could be interesting.

We welcome tips and feedback. Email the author at sarah.fenske@riverfronttimes.com