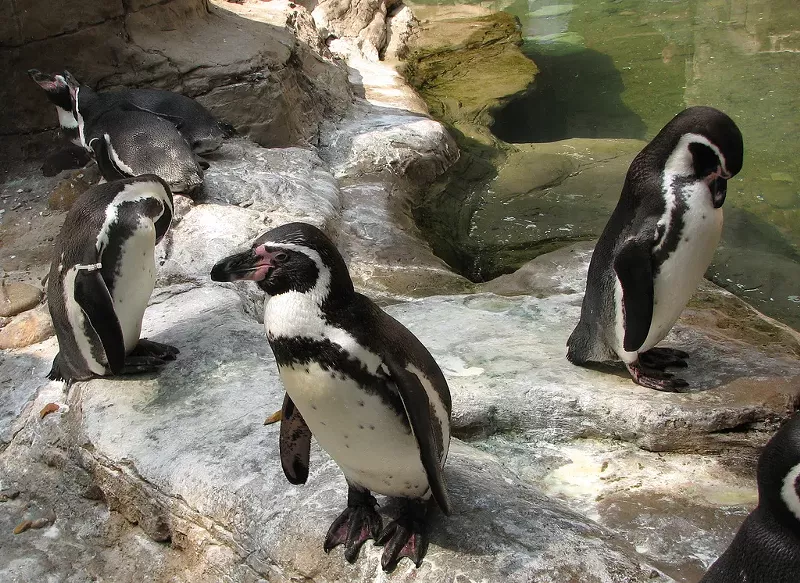 Awww, is it too cold for the widdle penguins at Saint Louis Zoo??
It's late February, which means that St. Louis has had just about enough of winter. Our tolerance for this season tends to run out right around Groundhog Day when the promise of only six more weeks of winter still sounds like torture. We, as a species, were not built to spend an extended amount of time in cold weather.
Many penguins, on the other hand, are born live in
the land of the ice and snow
. They have a thick layer of insulating feathers, they can store air in their plumage for insulation and they can even control blood circulation to their extremities with a heat-retention arterial structure called the humeral plexus.
But the Saint Louis Zoo is treating its youngest penguins like fuzzy little weaklings. It's been unseasonably cold in St. Louis for what feels like about
84 years
now, so the caretakers at the zoo have brought their little babies indoors.
KMOV (Channel 4) reports
that a two-month-old king penguin and a three-week-old Humboldt penguin are currently being reared inside so they don't freeze to damn death.
Penguins may be seen as the zoo species most naturally suited to frigid weather, but some varieties are actually just weak-ass little animals like us mammals. For example: Humboldt penguins are from South America, so they'd rather kick back with some ceviche and
chicha de jora
than throw snowballs. Same here, penguins. Same here.
We feel you, penguin friends. Sorry about all of this. Let's get together and share a pork steak this summer… if summer ever comes.
Email the author at jaime.lees@riverfronttimes.com