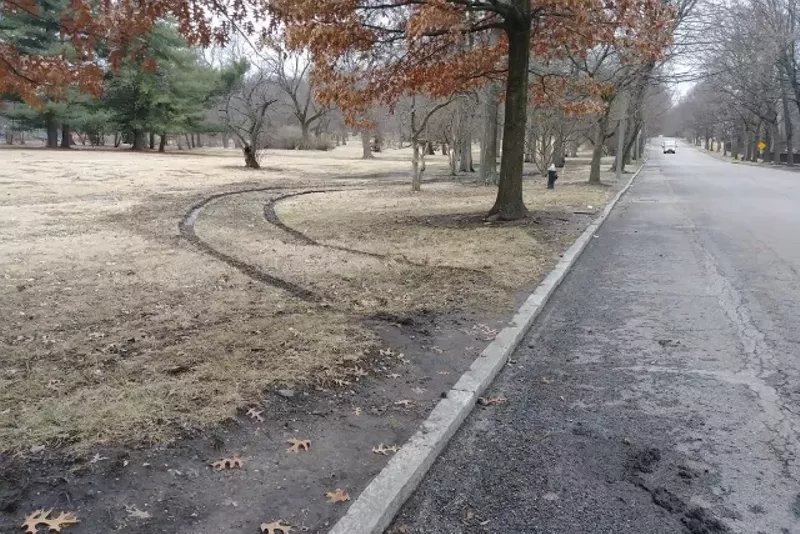 The only sign of the missing van was a set of tire tracks in Tower Grove Park.
A real weasel stole a family's wheelchair-accessible van at Tower Grove Park — and apparently then drove it through the rain-soaked grass for the hell of it.
Suzanne Bettonville returned from lunch and geocaching with friends last Thursday, February 21, to find a set of muddy tire tracks leading away from where she had left the Dodge Caravan,
according to an online post
.
The van was her only vehicle, and crucial to transporting her eighteen-year-old son, who has Duchenne muscular dystrophy. The van was black and has some dents on the corners of the back bumper. It had damaged and missing panels under the the doors and a United Access decal on the back.
Bettonville is hoping someone sees it, but she's also trying to figure out how to replace it. She has started fundraising pages on
Facebook
and
GoFundMe
.
Given her son's needs, it's not like she can just pick up a cheap used car, she says.
"He can only ride in a wheelchair van, so I cannot just go out and buy another car for myself to get around,"
she told Fox 2
. "He has to have a wheelchair van."
We welcome tips and feedback. Email the author at doyle.murphy@riverfronttimes.com or follow on Twitter at @DoyleMurphy.