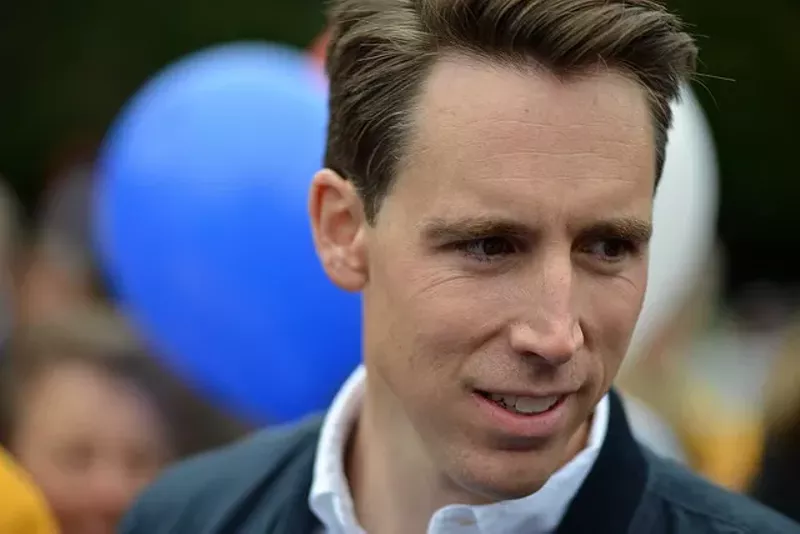 TOM HELLAUER
U.S. Senator Josh Hawley will have to answer questions from an attorney suing the governor.
U.S. Senator Josh Hawley (R-Missouri) will have to answer questions about his actions in a case involving Missouri's Sunshine Law — under oath.
Attorney Elad Gross said in a press release this morning that the Cole County Circuit Court had issued the subpoena at his request yesterday, compelling Hawley to testify about the actions he took — or did not take — as the state's attorney general.
The questions are related to a public records request Gross made to the office of Governor Mike Parson, demanding to see communications between Parson and various dark money groups or individuals associated with them. The governor's office said it had unearthed 13,000 pages of such records, but that it would take six months and $3,600 to produce them, Gross says. Gross then filed suit.
Gross, a former assistant attorney general, alleges that Parson and Hawley "cooperated to prevent the release of public records that would hurt Hawley's campaign for United States Senate in 2018."
Gross is now running for attorney general as a Democrat.
As Gross explains, "At the time of Gross's Sunshine Request, Hawley was Missouri's Attorney General, and he was in charge of enforcing Missouri's Sunshine Law. Despite Gross referring the case to his office, Hawley did not take action against the governor. Instead, he decided to represent the governor against Gross. ....
"Some of the groups and individuals central to Gross's Sunshine Requests were major donors or supporters to Hawley's campaign. Gross asked Hawley for a voluntary interview. When Hawley did not respond, Gross asked the court to issue a subpoena requiring the senator to answer Gross's questions under oath and bring any records he has with him."
Hawley's office did not respond this morning to a request seeking comment. We'll update this post if we hear back.
We welcome tips and feedback. Email the author at sarah.fenske@riverfronttimes.com