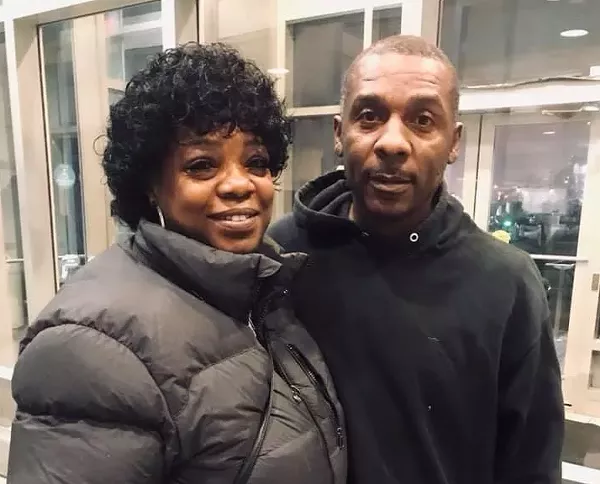 COURTESY OF ARCHCITY DEFENDERS
David Dixon, right, with longtime friend Patricia Swinney, was bailed out of St. Louis' Workhouse Tuesday evening — but it wasn't easy.
Last week, a host of civil rights organizations
filed a class-action lawsuit challenging St. Louis' cash-bail system
. And in the days since, they've gotten a crash course in just how impossible the city's system is to navigate.
In fact, even with cash on hand and attorneys ready to go, it took the Robert F. Kennedy Human Rights organization no less than five days to post bail for a pair of St. Louis defendants.
The organization has gotten involved with similar efforts in cities around the country. But its managing attorney, Wade McMullen, says that in many ways St. Louis proved uniquely unnavigable.
Of one local policy, McMullen says, "It's extremely unusual. And there's no rational reason for it unless you take the facts and say, 'This is a monumental burden designed to prevent people from being able to post bail.'"
As McMullen explains, cash-bail reform was a focus of the late Robert F. Kennedy; his efforts in the 1960s led to changes in the federal system. To this day, in federal court, the presumption is that most criminal defendants will only see significant periods of incarceration after they've been convicted.
Not so on the local level. And even as a host of activist groups — and
the Missouri Supreme Court
— have put cash bail in their sights, in St. Louis it remains the default. People awaiting their day in court are stuck for an average of 291 in the city's
hellish Workhouse
before ever being convicted of a crime.
A
lawsuit filed last week by ArchCity Defenders and Georgetown Law's Institute for Constitutional Advocacy
, among others, challenges that system. And when McMullen's organization heard about the litigation, it offered to post the necessary cash to get some of the people featured in the suit out of jail in the mean time.
There was just one problem: As McMullen explains, the system in St. Louis is uniquely designed to prevent people from posting bail, even when they have the funds.
A status report filed by attorneys in the case Tuesday details the shitshow that ensued when the Robert F. Kennedy Human Rights organization attempted to post bail for two men, David Dixon and Jeffrey Rozelle.
When they first offered to post $30,000 to release Dixon and $15,000 for Rozelle, it was Friday afternoon. That was a huge problem: The city only permits bail to be posted on weekdays between 9 a.m. and 5 p.m.
The organization got assurances from Circuit Court Presiding Judge Rex Burlison that it could post the money via a cashier's check once the clerk's office reopened, according to the report. And so on Monday, it put someone on a plane from New York City with the checks in hand.
No dice. When the organization's emissary showed up at the clerk's office, according to the status report, they were told bail had to be in cash — cashier's checks would not be accepted. Told about the judge's words, the clerk insisted they would have to be in writing.
When they reached Judge Burlison, though, they learned that he now wanted the orders to come from judges who'd handled the two defendants' original cases. They arrived at a different judge's courtroom at 4:10 p.m. — only to be told he'd gone home for the day. When they returned to the clerk's window to look for an alternate solution, they were told the bonding office, too, had closed early for the day.
It wasn't until after 6 p.m. the next day, Tuesday, that the organization was finally able to get the men out of jail, says Rebecca Gorley, a spokeswoman for ArchCity Defenders.
In many ways, that's America in 2019. "It's kind of an open secret that the criminal justice system in municipalities across the country is actively being used to keep humans in cages," McMullen says. "There are so many hoops that family members have to jump through to get loved ones out."
But in other ways, the problem is also uniquely St. Louis. McMullen says he has simply never encountered a jurisdiction that won't accept a cashier's check — which, after all, is guaranteed by a bank. "It's like they were expecting someone to walk around with $45,000 in actual cash bills," he marvels. "It's absurd."
For ArchCity and the Georgetown lawyers, getting Dixon and Rozelle out of jail was only one small step in a much larger legal battle aimed at systemic reform. But
the Close the Workhouse campaign
, of which ArchCity is a part, is also calling for some short-term fixes to how the city handles bail payments.
"We know Mr. Dixon and Mr. Rozelle are among hundreds of people who have been detained and confined in cages because of the City's complete disregard for their rights, their freedom and their well being," it said in a statement Tuesday. The statement then asks that the city begin accepting cashier's checks and staffing the clerk's office after-hours.
"Until we end pretrial detention and close the workhouse once and for all, the City should do everything in its power to make this process understandable and accessible to poor people and Black people in the region," the group says.
We welcome tips and feedback. Email the author at sarah.fenske@riverfronttimes.com