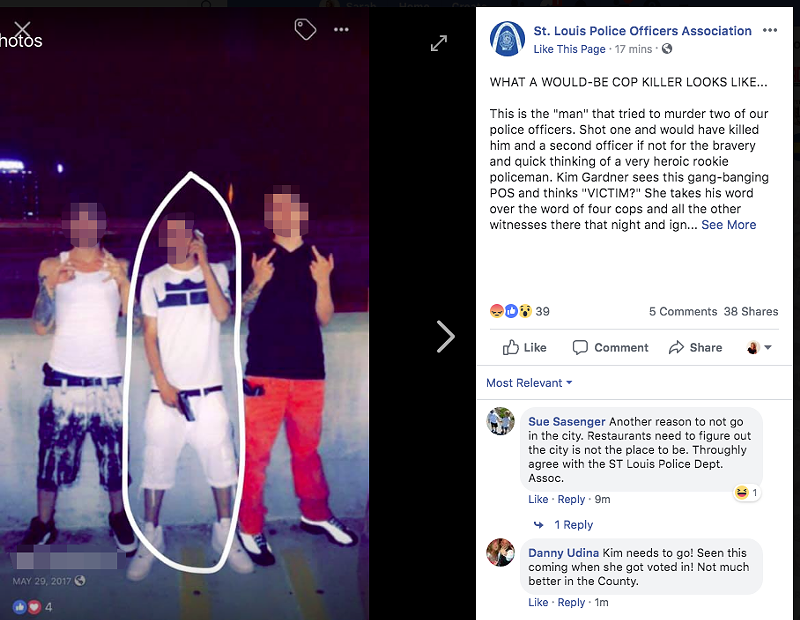 The union representing St. Louis police officers put a 22-year-old shooting victim on blast this afternoon — posting a photo of the young man and calling him a "would-be cop killer," "a gang banging POS" and a "thug."
The man, who had previously been identified only as S.D., is alleged by prosecutors to be the victim in
an April 2017 incident at the south city bar Bomber O'Brien's
.
Prosecutors say that after S.D. left the bar, St. Louis police officers William Olsten and Joseph Schmitt ambushed him, with one officer first climbing into the back of his van and then, after he fled the vehicle, slamming him down in the parking lot. When the young man's gun went off, the second officer, Schmitt, opened fire, hitting him multiple times in the arms and legs. S.D. was reportedly left with serious injuries.
After St. Louis police investigated the incident, they recommended charges be filed against S.D. But when prosecutors in the St. Louis Circuit Attorney's Office got the case,
they ended up going in a much different direction
— instead charging Schmitt and Olsten.
Olsten and Schmitt both face charges of first-degree assault and armed criminal action. Schmitt was also charged with unlawful use of a weapon.
The police union, suffice it to say, is fighting mad.
The St. Louis Police Officers Association
published the post
around noon on its Facebook page, which is open to the public.
The post names the young man. It also includes a photo of him posing with a gun, and then calls out both him and Circuit Attorney Kim Gardner. (We've airbrushed out the man's name and his face, as well as a face of an unnamed companion; otherwise, it appears above as posted.)
The post reads:
This is the "man" that tried to murder two of our police officers. Shot one and would have killed him and a second officer if not for the bravery and quick thinking of a very heroic rookie policeman. Kim Gardner sees this gang-banging POS and thinks "VICTIM?" She takes his word over the word of four cops and all the other witnesses there that night and ignores the video and forensic evidence. Cops are not safe! And as long as they're not safe, neither are you.

If you were a cop, would you risk your life and your freedom defending someone from a thug like this knowing that Kim Gardner will charge you with murder or attempted murder. If you think cops in St. Louis are in a position to protect you, you are DEAD wrong. They are under siege by a prosecutor who is herself, accused of very serious crimes like suborning perjury and misusing campaign funds. The criminals are in charge now. They own the streets. Who will be their next victim and who can stop them? Right now, nobody.
The police union, and its bombastic spokesman Jeff Roorda in particular, have a long history of trying to claim that they're the innocent victims in a war on police. After Dallas police officers were gunned down in 2016, Roorda drew widespread condemnation for a Facebook post
blaming the deadly incident on President Barack Obama
.
That post was later deleted.
A search of court records shows that S.D. does not have a criminal record in Missouri. Prosecutor say he was legally permitted to possess a firearm.
In a statement, the Circuit Attorney's Office said, "To protect the defendant's rights to a fair trial, the Circuit Attorney's Office does not comment on pending investigations. It's reprehensible for the Police Officer's Association try to circumvent the legal process by disparaging a crime victim on social media. The only place this matter should be litigated in is a court of law."
Interestingly, in the photo posted by the police union, S.D. is posing with Isaiah Hammett, who rather than being a "cop killer" was in fact
shot to death by St. Louis Police in June 2017
.
Hammett was killed in a SWAT raid on his family's south city home. Police claim he fired first, setting off a firefight. The acting chief at the time had suggested that Hammett saw the SWAT team coming thanks to the surveillance camera on the house.
The report generated by the
police department's own investigation of the incident
, however, notes at the camera was no longer functioning.
Editor's note: We updated this post soon after publication to include a statement from the Circuit Attorney's Office.

We welcome tips and feedback. Email the author at [email protected]