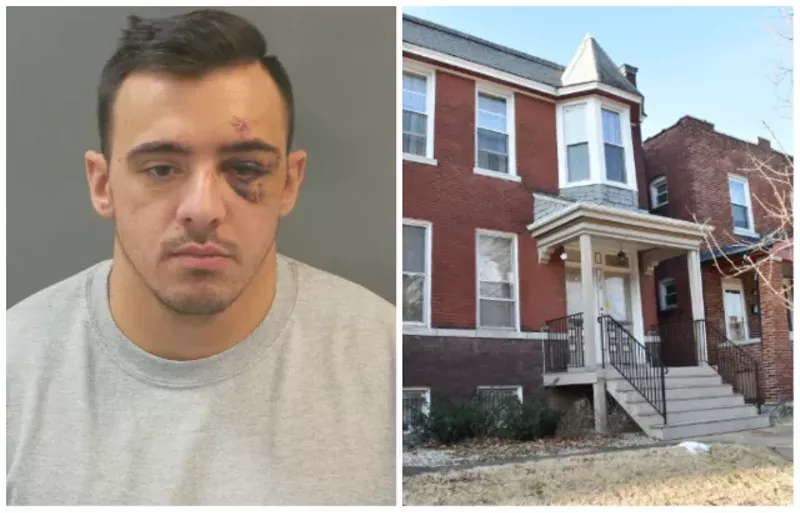 SLMPD/DOYLE MURPHY
St. Louis police Officer Nathaniel Hendren will be on house arrest if he posts bail, a judge rules.
This morning, the St. Louis police officer charged with killing another cop in a bizarre game of Russian Roulette faced a judge, who sharply criticized his attorney's assertion that the incident was "a tragic accident."
If Nathaniel Hendren did, in fact, pull the trigger under those circumstances, said Judge David Roither, that was "an intentional act."
"The firearm was unholstered," Roither said. "That is an intentional act. The firearm was unloaded. That was an intentional act."
Roither presided this morning over a bond-reduction hearing for Hendren,
who is charged with involuntary manslaughter
in the death of Officer Katlyn Alix.
Cops, reporters and relatives of both officers filled the courtroom. Circuit Attorney Kim Gardner sat up front behind her prosecutors. Alix's husband, also a police officer, sat in the second row, glaring at Hendren.
According to a probable cause statement, Hendren and a partner were on duty after midnight on January 24 when they went to his south city house and met Alix. She was off duty. The partner later told investigators Hendren unloaded a revolver and then reloaded one bullet before spinning the cylinder.
Hendren and Alix then took turns pointing the gun at each other and pulling the trigger, according to the statement. The gun fired during Hendren's turn, and Alix was shot in the chest, authorities say.
COURTESY SLMPD
Officer Katlyn Alix was killed by a fellow cop, police say.
Roither bristled at the assertion from Hendren's attorney Talmage Newton IV that the shooting was an accident.
The judge, who explained that he trains his kids in proper firearm use, worked step-by-step through the process of reloading the revolver, spinning the cylinder and ultimately pulling the trigger. He punctuated each step with "that is an intentional act."
"The only accident," Roither said, was that Hendren looked at the odds and thought "his luck was not going to run out."
Circuit Attorney Gardner has accused police of blocking her investigators' efforts to obtain blood samples from Hendren and his partner. In a letter to Police Chief John Hayden and Public Safety Director Jimmie Edwards, she wrote, "there was probable cause at the scene that drugs or alcohol may be a contributing factor in a potential crime."
Edwards denied the accusation
(and Newton
has also pushed back on rumors about drugs being at the scene
). Still, Alix's family has now hired high-powered defense attorney Scott Rosenblum to ensure the investigation is properly handled. He joined the family this morning in court.
During the hearing, Newton requested that the conditions of Hendren's $50,000 cash-only bond be changed to allow his client to be released after posting just ten percent of the total. The jailed officer has virtually no savings or other assets and his family could provide little help, Newton said. (Hendren was booked into the St. Louis City Justice Center the day after the shooting, but jail records indicate he is now being held in Jefferson County.)
Newton added that
two other city cops who were charged on Monday with first-degree assault
in a separate shooting were also given $50,000 bonds, but they were allowed to post ten percent.
Hendren is an ex-Marine who joined the force fourteen months ago, Newton said. He assured Judge Roither that the now-suspended officer was no flight risk or danger to the public.
But Roither wasn't so sure.
"I have no trust that your client is not a danger," the judge said.
Assistant Circuit Attorney Rachel Smith argued to keep Hendren's bond the same. He "betrayed his oath," she argued, and disregarded both his training and the life of Alix.
Alix's husband, Officer Anthony Meyer, and her sister, Jessica Durbin, were also allowed to speak to the judge. Meyer spoke in barely a whisper, so quiet that Roither had to lean forward and no one in the audience could hear.
As Meyer returned to his seat, he stared at Hendren. But Hendren, dressed in an orange jail uniform, never lifted his head.
Durbin sobbed during her statement. She described Alix as her "best friend" and argued against changing Hendren's bond.
"There is a huge hole in my heart," Durbin said.
Roither doubled Hendren's bond to $100,000 but ruled that he could post ten percent. That means instead of paying the full $50,000 of the original bond, Hendren will now be able to post $10,000. If he's able to come up with the money, he will be on house arrest and will have to surrender any guns, Roither ruled.
After the hearing, Alix's family left without commenting. Hendren's family would also not speak about the case, Newton told reporters.
We welcome tips and feedback. Email the author at doyle.murphy@riverfrontttimes.com or follow on Twitter at @DoyleMurphy.