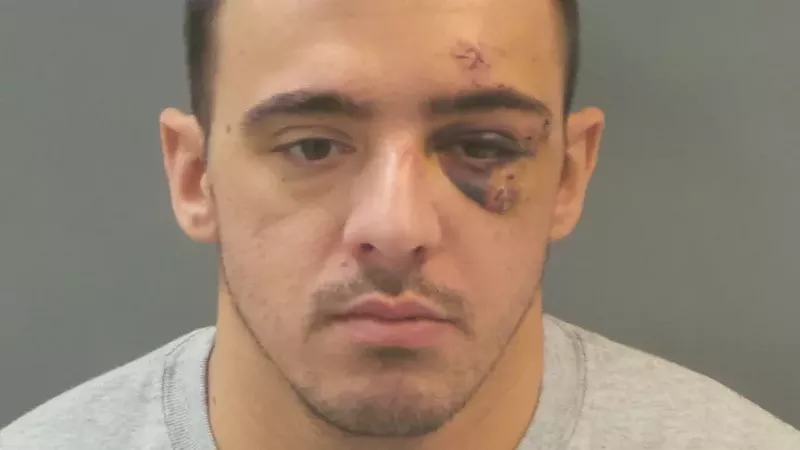 ST. LOUIS POLICE DEPARTMENT
Nathaniel Hendren is facing charges, including involuntary manslaughter, in the killing of Officer Katlyn Alix.
The attorney for a
St. Louis cop charged in the killing of a fellow officer
says the shooting was a "tragic accident" and blasted rumors surrounding the case.
Officer Nathaniel Hendren, 29, is accused of firing a fatal round into the chest of fellow officer Katlyn Alix, 24, early Thursday morning while the two played a version of Russian Roulette.
"We are aware of the rumors, innuendo, and salacious gossip surrounding the accidental death of Officer Katlyn Alix," Hendren's attorney, Talmage Newton IV, said in a written statement. "There is no evidence, nor will there ever be, that this was anything more than a tragic accident."
Newton said his client is "devastated" by Alix's death. "Spreading rumors and creating unsupported theories is dishonorable on the part of the public, the police department, and the media. Our thoughts and prayers continue to be with Officer Alix's family during this difficult time," Newton added.
Addressing one of the rumors swirling around the case, Newton told the
RFT
that any claims of cocaine being found at Hendren's apartment in the Carondelet neighborhood are "categorically false."
"There will be no cocaine found from that apartment," he said in an email.
The probable cause statement filed by the St. Louis Circuit Attorney does not say anything about drugs. However, citing
a letter
Circuit Attorney Kim Gardner sent to the police chief,
KMOV reported today
that investigators within the prosecutors' office believed there was "probable cause at the scene that drugs or alcohol may be a contributing factor in a potential crime." They asked that blood be drawn from Hendren and his partner, only to see their request blocked by police, the
letter said
.
Ultimately, Gardner wrote, Hendren was instead given a breath test and his urine was collected. (Those are considered less reliable than blood tests.) And, she wrote, Internal Affairs collected the samples. Gardner called that "an obstructionist tactic."
"We have the expectation that those samples will be turned over to our office immediately as part of the ongoing investigation," she wrote, pointedly.
According to authorities, Hendren and his partner were on duty when they went to Hendren's house and met Alix, who was off duty. The partner told investigators that he grew uncomfortable while the other two were playing with a gun. He says he had started to leave when he heard a shot.
He and Hendren put Alix in their patrol car and took her to the hospital, where she was soon pronounced dead.
Hendren made his first court appearance today. The visitation for Alix is also underway this afternoon at Kutis Funeral Home in south city. Her family has asked the media not to come.
Editor's note:
We updated this story after publication to include new details about a letter from Circuit Attorney Kim Gardner.
We welcome tips and feedback. Email the author at [email protected] or follow on Twitter at @DoyleMurphy.