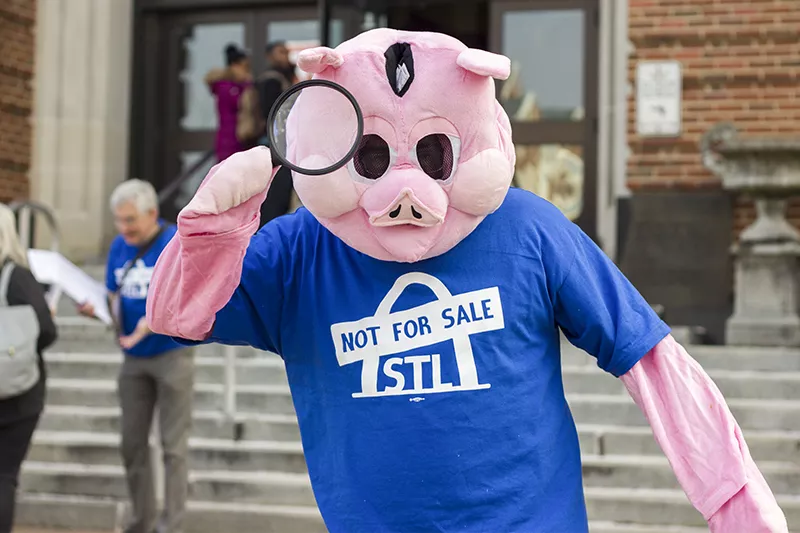 DANNY WICENTOWSKI
This pig has been busy enlisting local pols to commit to opposing plans to lease St. Louis' airport.
A group of local activists hoping to force a public vote on any deal to privatize St. Louis' airport has been carrying around an oversized pledge sheet — and asking city politicians and candidates for office to sign it.
By signing the pledge, the elected officials and candidates are vowing that they will vote against any privatization deal for St. Louis Lambert International Airport. That's a bold stance since there is not currently a deal on the table. But with city-hired consultants actively seeking one, and demands for a public vote recently
hitting a roadblock
, the STL Not for Sale group has decided to up the ante.
How's that going? Well, let's just say a giant pig has been haunting meetings and forums, trying to enlist the politicians on site into signing. And, hey! He's having some success. Two of the three major candidates for the president of the Board of Aldermen have signed the pledge (the incumbent, Lewis Reed, is the holdout). So have seven incumbents on the board and a number of challengers.
Here's the latest list of those who've taken the pledge to vote against privatization, as of this morning:
Megan Ellyia Green, President of the BOA Candidate

Jimmie Matthews, President of the BOA Candidate

Jamilah Nasheed, President of the BOA Candidate

Robert Dillard, 4th Ward Candidate

Christine Ingrassia, 6th Ward Alderman

Annie Rice, 8th Ward Alderman

Dan Guenther, 9th Ward Alderman

Larry Arnowitz, 12th Ward Alderman

Derrick Neuner, 12th Ward Candidate

Tony Pecinovsky, 14th Ward Candidate

Darryl Gray, 18th Ward Candidate

Jeffery "Dhoruba" Hill, 18th Ward Candidate

Sunni Hutton, 20th Ward Candidate

Cara Spencer, 20th Ward Alderman

Tonya Finley-McCaw, 22nd Ward Candidate

Lorie Cavin, 24th Ward Candidate

Bret Narayan, 24th Ward Candidate

Shane Cohn, 25th Ward Alderman

Glenn Burleigh, a spokesman for STL Not for Sale, the anti-privatization group pushing the pledge, says that Danny Sample, a candidate in the 24th ward, has indicated he'd like to sign but hasn't been able to do so physically just yet.
Burleigh says the pledge became necessary after privatization opponents got bad news two weeks ago: Alderwoman Cara Spencer's bill
requiring any vote on privatization to go to a public vote
was scuttled by a last-minute flip from Alderman John Collins-Muhammad. That effort now needs a miracle to pass this session — basically, one of the three "no" votes in committee would have to reintroduce it. That hasn't happened yet.
STL Not for Sale is continuing to gather signatures to force a public vote through a petition process. But in the mean time, it's also pushing local politicians to just say no to any deal, even though there's not one being proposed just yet.
The list above is a handy cheat sheet for those who've agreed to do just that; we'll update it again before the March Democratic primary so you know where people stand.
We welcome tips and feedback. Email the author at sarah.fenske@riverfronttimes.com